Looking for a way to bring life and color back to your tired, overgrown hanging baskets?
By mid to late summer, many potted plants and hanging baskets begin to lose their vibrant look. Plants that were once filled with hundreds of blooms and dense foliage begin to slowly wither away.
Listen In Below To This Week's Latest Garden Podcast!
But that doesn't mean its time to kick them to the curb! You can easily give those overgrown, tired plants a second life in just a few simple steps. And it will add instant color and beauty to your landscape well into late fall.
Why Overgrown Hanging Baskets Fade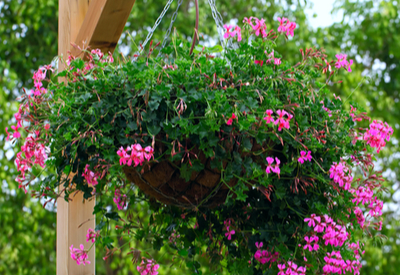 Most hanging baskets begin to fail by mid-summer for one of two reasons. They have either become root bound in their container, or have depleted the soil of all nutrients. In some cases, they fail from a combination of both.
Root Bound: As roots expand in a basket or container, they continue to grow in search for nutrients. When they hit the hard edge of the container, they start to wrap and weave over and over. Eventually, the roots become wound so tight, that they can no longer absorb water or nutrients.
Soil Depletion: At the same time roots are growing, they are continually absorbing and taking nutrients from the potting soil.
As spring turns into summer, those valuable minerals and nutrients begin to disappear from the soil.
Although they can be added back in the form of fertilizers to help supply nutrients to the plant, eventually, the roots take over so much soil space, that water and liquid fertilizers run out of the container as fast as it can be applied.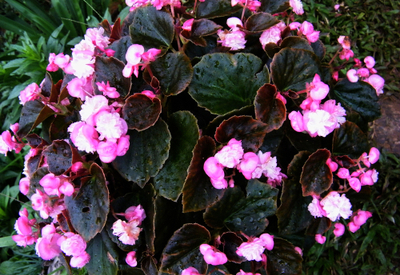 In either case, at this point, plants no longer sustain enough energy to provide blooms. The result is a worn-out, overgrown plant that looks like it's ready for the compost pile.
But by giving cramped roots new space and soil to expand, you can extend their beauty and life all the way to late fall.
And when it comes to providing that new space and soil, two methods word best. Re-planting directly into the landscape, and replanting into large containers.
Both methods are excellent ways to salvage plants, and add big color to your home.
Landscape Planting
One of the best ways to give new life to tired, overgrown hanging baskets is to plant them directly into flowerbeds, or throughout the landscape.
It provides a massive splash of color to perennial beds, or can be the focal point of an annual planting. Once placed into the soil, the roots expand and plants rejuvenate quickly.
To transplant, remove the plant from the basket and break apart the edges of the roots. You may need a knife in some cases to free the roots. Don't worry, a few severed roots will not harm the plant. Next, dig a hole twice the depth and size of the root ball. Product Link : Hori Hori Garden Knife
Mix in a generous amount of compost to the planting hole, and water thoroughly. The loose, nutrient filled soil gives the plant an easy path to excellent root growth. The compost, meanwhile, provides plenty of fresh nutrients to the plant.
Re-Potting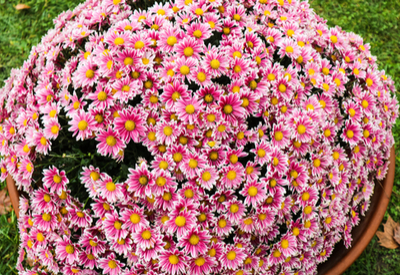 Looking for big color on a porch or patio, or perhaps the front steps of your house? Re-pot old hanging baskets into large containers and give them new life.
If you have ever priced large planted containers, you know they can be quite expensive. Save big and plant your own with over-sized hanging basket plants! This works great with clearance baskets and containers too. By mid-summer, you can get the older plants for pennies on the dollar. Product Link : Large Deck Planter Boxes
Use containers at least twice the size of the root ball. Remove the plant, break the edges and plant with fresh, new potting mix. Adding in a bit of fertilizer when planting will help the plants re-establish quickly. Both worm castings and compost are excellent choices and work well with annuals.
Water well, and within a few weeks, your tired, overgrown hanging basket will have a great new home and fresh blooms.
Be sure to check out more flower and landscape tips on our Perennials Page.
Share Your Love Of Gardening
Want to showcase your backyard garden or gardening tip on This Is My Garden? Email us today with your garden tip or photos of your garden at info@thisismygarden.com, and you might be our next feature! This article may contain affiliate links.