If you're looking for a great way to quickly and easily preserve a big tomato harvest, today's article on how to freeze tomatoes is just what the doctor ordered!
For the home gardener, tomatoes are a crop that seem to ripen all at once! For week's on end, you wait patiently for one single tomato to turn from green to red. And before you know it, you have bushels and bushels sitting on the counter. Although canning is a great way to preserve tomatoes, it's not the only way.
Listen In Below To This Week's Latest Garden Podcast!
Here are 3 easy solutions to freeze tomatoes and preserve for use the whole year around. All without ever having to heat that kitchen up once with canning!
3 Great Ways To Easily Freeze Tomatoes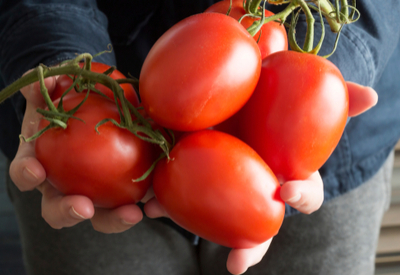 FREEZING WHOLE – One of the easiest ways to preserve a tomato harvest without canning is to simply freeze them whole – skins and all.
It's as easy as harvest, wash, dry and freeze!
As with preserving any vegetables from the garden, select only firm, blemish-free fruit for freezing. Wash in cool water, and allow to dry thoroughly.
Seal the tomatoes in an air tight freezer bag or container, and use as needed throughout the year. Vacuum sealers work great for storing! Product Link : Vacuum Sealer + Starter Bags Kit
FREEZING WITHOUT THE SKINS
For many recipes, its best if the skins of the tomatoes are removed.
The traditional method was to place the tomatoes in scalding hot water, and quickly place into an ice-bath. That process works, but it can be difficult and hot on the hands to peel the skins off. There is an easier way – and it involves no scalding hot water at all!
Wash the tomatoes in cool water, and slice off the top stem. Dry off the tomatoes and place in the freezer on a shallow pan (baking pan work best). Allow the tomatoes to freeze for two to three hours. Remove from the freezer and run under cold water. The skins will slip off easily from the tomato!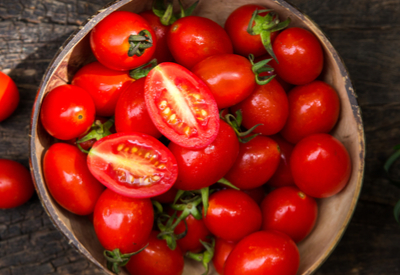 All that is left is to pack and freeze the now-peeled tomatoes in an air tight container or freezer bag. Product Link : Gallon Freezer Bags
FREEZING TOMATO HALVES – If making homemade pasta sauce, salsa or marina are in your future, you will love this quick method for freezing ready-made sauce tomatoes!
This works particularly well with Roma, Amish Paste, San Marzano, and other paste-style tomatoes.
Wash tomatoes in cool water and slice in half. Using a spoon, scoop out the inner seed core and discard.
Next, using the method from above, place the half-tomatoes on a baking pan and freeze for two to three hours. Pop out of the freezer, remove the skins under cold water, and freeze! You are left with ready-to-use sauce tomatoes!
For more on vegetable gardening, check out our Vegetable Garden Tab on the website.
Become A Contributor To This Is My Garden
If you have a great gardening tip, or simply want to a few pictures of your backyard garden – drop us a line! Email us today at info@thisismygarden.com, and you could be our next feature! This article may contain affiliate links.