Planting fall bulbs are an excellent way to brighten up your spring landscape!
There is nothing like a big splash of early-season color to ring in spring. Especially after a long, dark, and cold winter.
Fall planted bulbs such as Tulips, Glory of the Snow, Daffodils and more are wonderful choices for glorious blooms to signal the coming of warmer weather. They not only create early interest in flowerbeds, but are wonderful for cutting and bringing indoors.
Planting Fall Bulbs – When and How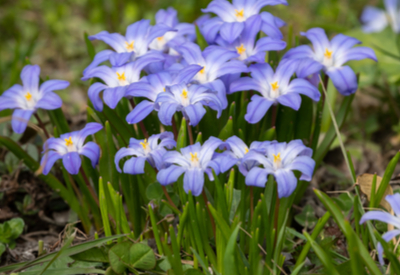 Fall bulbs should be planted in the soil a few weeks before the soil begins to freeze. Depending on the region you live in, that can be anywhere from September to December.
In the south and southwest, bulbs can go in the ground in November and December. For much of the Midwest and northern climates, planting is usually done in mid-September to late October.
How To Plant
When planting fall bulbs, the key is in creating a nutrient-filled planting hole that will feed the bulb as it grows.
Dig holes to at a depth of 2 to 3 times the width of the bulb. There are many excellent choices on the market now for digging perfect holes for bulbs. A small spade shovel, or a digging tool such as a Hori-hori will also work well too. Product Links : Bulb Planter –  Hori-Hori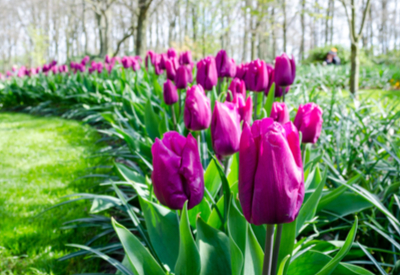 Fill the hole half-way up with compost or a good potting soil mix. This will surround the bulb with readily available nutrients to help produce bigger blooms in the spring. Bulbs will also benefit greatly from adding in a bit of fertilizer such as worm-castings to the soil. Finish by covering the rest of the planting hole wiht the remaining soil.  See : Worm Castings – The Amazing All Purpose Fertilizer
Once planted, water in the bulb and cover with an inch or so of mulch to insulate the bulbs from the coming winter months.
There are many spring flowering bulbs to choose from, but here are some of our favorite.
Tulips
Tulips are always at the top of the list when it comes to beautiful spring color. And there are endless varieties in all types of shapes and colors to choose from!
From red, to purple, yellow, white and everything in between – tulips can turn a spring landscape into a showpiece.  Product Links – Tulip Triumph Assorted Bulbs , Purple Rain Mix Bulbs
Chindoxa – Glory Of The Snow – Chindoxa, or Glory of the Snow as they commonly called, are usually one of the first plants to bloom in the spring. As the name implies, blooms of this plant are usually so early that they often get covered by a late snow.
They can be found in white and pink varieties, although blue is by far the most common. The plants grow to about 6 inches in height in small clumps.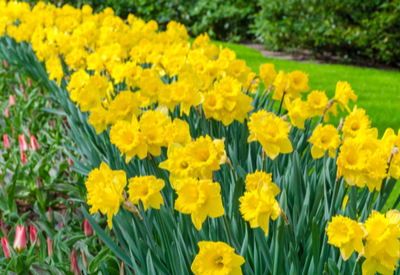 Each bulb produces a clump that will have up to a dozen star shaped blooms. The blooms will fade in late spring, but the plants stubby green leaves stay bright and true until fall. Once planted, they can be left in the ground year-round. They are hardy in zones three through 8. Product Link: Pink Glory of the Snow Bulbs
Dafffodils
Daffodils are a great choice for those with pesky deer or rodent problems. In addition to their beautiful blooms, animals for the most part leave them alone.
Daffodils are one of the hardiest bulbs around, and beyond initial planting, require zero maintenance. Their bright green foliage shoots up in early spring, topped by white or yellow blooms that brighten up the barren landscape.
Once they finish blooming, the foliage dies back until next spring. Bulb Links : Daffodil Butterfly Bulbs – Mixed Yellow/White Daffodil Bulbs
Become A Contributor To This Is My Garden
If you have a great gardening tip, or simply want to a few pictures of your backyard garden – drop us a line! Email us today at info@thisismygarden.com, and you could be our next feature! This article may contain affiliate links.