Returning Home To Garden
There is nothing quite like returning home, especially when it's to 20 acres of beautiful dairy land! Take a look at Cathy Vincent's garden below in the beautiful state of Wisconsin, and on land in her family since the late 1800's.
Garden of : Cathy Vincent
Location : Humboldt, WI
Cathy Vincent's 20 Acre Dairy Land Garden
My name is Cathy Vincent and I live in Humboldt WI.
I grew up on a dairy farm and moved away to the city when I was 15. Now I am 49 and my husband and I just moved into our new home across the street where I grew up. My parents saved each of us kids farm land in case we ever wanted to come home again.
I am happy to be home on land that has been in my family since the late 1800's. I am on 20 acres of land. We moved in the end of may 2016 and I began my garden. I am an organic gardener and I love it!
When I arrived we only had 1 bumble bee, who did a wonderful job of pollinating my fruit trees (that were sitting in my driveway waiting to be planted).
One of my main focuses was to create a habitat for my pollinator friends. By the end of summer I had a hum of different types of bees.
My garden consists of 4 apple, 4 cherry, 2 peach trees, strawberries, raspberries, goji berries, boysenberries, gooseberries, and rhubarb.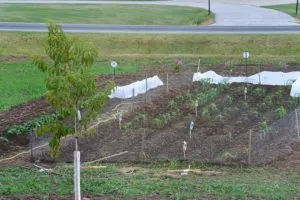 In summer I love to plant all heirloom varieties, that way I can save my seeds. I have now doubled the size of my garden for next year. I included a few pictures of my garden from this past summer.
– Cathy Vincent