When it comes to creating focal points in the landscape, climbing perennials are a big winner!
Climbing perennials are a great way to fill any garden with color and texture. They are perfect for covering an arbor, trellis, tall fence, pergola or walkway arch. The key is to choose the right plant for the right location and need.
Here are 4 excellent choices for climbing perennials to create a beautiful vertical focal point in your home landscape.
4 Great Climbing Perennials To Add Vertical Beauty To Your Landscape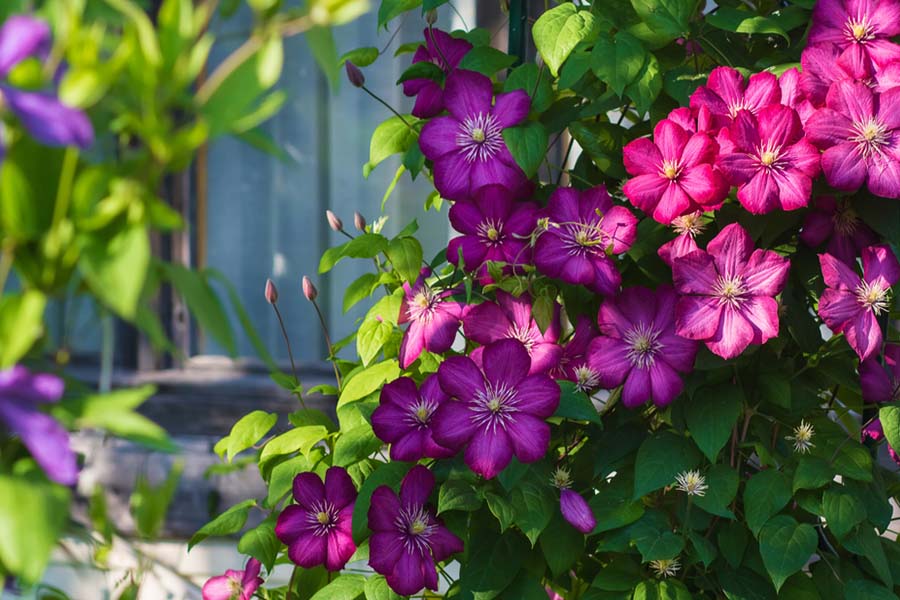 Clematis :   (Zones 4 – 9)
Clematis is a hands down favorite among gardeners when it comes to climbing perennials. They are known for their gorgeous foliage, covered in big, showy blooms of blue, purple, white, pink or red.
There is an almost endless variety of species to choose from. Some varieties of clematis can grow upwards of 30 feet.
There are also dwarf varieties that grow only 3 to 5 feet high, making them perfect for patio gardens.
Clematis grows best in full sun, with fertile, well-drained soil. Product Links : Red & White Star , Happy Jack Purple
Climbing Rose : (Zones 5 – 9)
When it comes to filling an arbor, pergola, or trellis with overpowering color, you can never go wrong with a climbing rose!
Many varieties of climbing roses bloom continuously all summer, making them a great compliment as other perennials come in and out of bloom. Adding to their allure, they come in every color imaginable.
From tangerine to apricot, to all shades of red, white, pink and more, there is a climbing rose for every occasion.
For a big pop of color, plant a climbing rose together with a clematis for an unbelievable show of blooms!
Product Links : Joseph's Coat (apricot) – Eden Climber (pink)
Wisteria : (Zones 5 – 9)
For big climbing power, wisteria is the king. This hardy perennial can grow for 20 years or more! As it grows, it develops interesting knotty wood trunks and branches that add winter interest as well.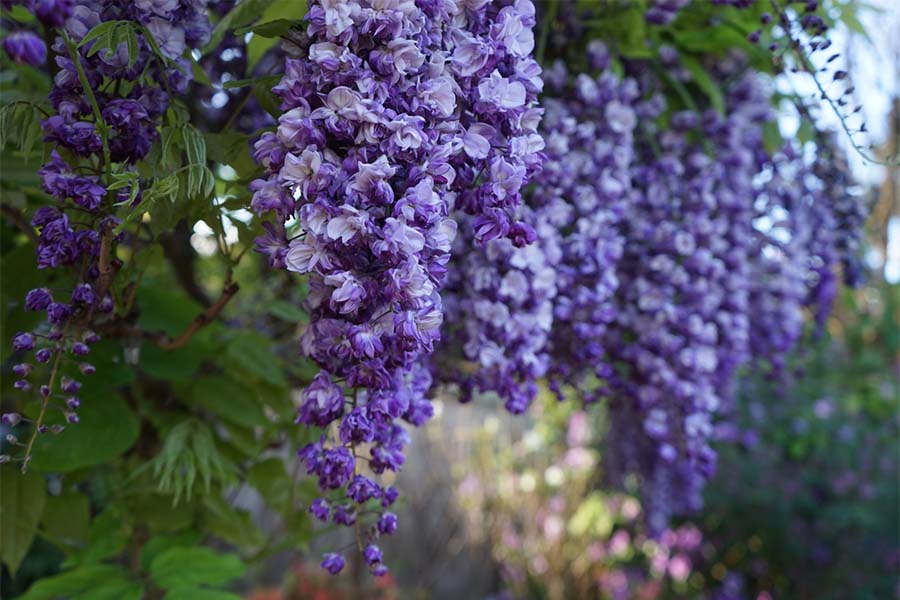 Wisteria will bloom in late May and June, with large, fragrant, pendant flowers that dangle off the foliage of the plant.
It takes some thought before planting. Wisteria will grow bigger each year, and needs a sturdy support system to support its growth. They make an excellent choice for sturdy, long-term structures like pergolas or heavy-duty arbors.
Non-invasive varieties like Amethyst Falls are easier to manage and control.
Hops : (Zones 4-9)
If you are looking for a unique climber, try hops! Although known and grown mostly by homemade beer enthusiasts as a main ingredient for their home brew, hops can make for an interesting perennial in the landscape.
Hops will grow up to 25 feet or more in a single year! With all of that growth, they can make quite a statement on an arbor, trellis, or fence line.
In mid-summer, beautifully textured hop cones form on the foliage, creating even more interest.
Hops need to be cut back to the ground each year, and grow new shoots from the crown.
So how about adding some vertical interest to your landscape this year with a few perennial climbers!
Share Your Garden, Tips and Advice With The World!
Would you like to have your garden featured on This Is My Garden? Do you have a garden or landscape tip you would like to share?
Drop us a line today at info@thisismygarden.com and share your garden or garden tip today!. You can also use the "Feature My Garden or Garden Tip" buttons at the top of the website to submit your entry. This article may contain affiliate links