If you are looking for a home-grown crop to add great flavor and nutrition to your dinner table, then its time to grow cauliflower!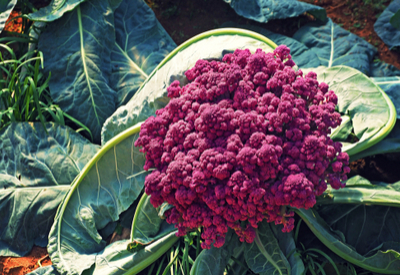 Cauliflower is a true, one-of-a-kind Superfood that is power-packed with nutrition. It is an incredible source of vitamin C, K and E.
And it's also rich in minerals – from calcium and potassium, to magnesium, iron, zinc and phosphorous.
All of those nutritious ingredients provide a long list of health benefits as well.
Like helping to improve and build the immune system – and helping with inflammation, heart function and even brain health.
It all adds up to a lot of healthy reasons to grow cauliflower in your own backyard.
And you might just be surprised how easy it is!
How To Grow Cauliflower – Tips and Tricks
Cauliflower is a member of the Brassica family (broccoli, kale), and like it's relatives, prefers cooler weather. Cauliflower will develop tiny button-sized heads if it becomes stressed from mid-summer heat.
That means its best to plant in early spring for a mid-summer crop. In many areas, it can also be planted in late summer for a second fall crop.
For spring planting, it's best to start seedlings indoors 4 to 6 weeks before the last frost.
Once the threat of frost has passed, set plants in rich, fertile soil. Cauliflower requires plenty of Nitrogen and Potassium, so amending the soil with compost or aged manure will ensure plenty of nutrients on hand for good growth.
When planting, space plants 18 to 24″ inches apart, with at least 24″ between rows.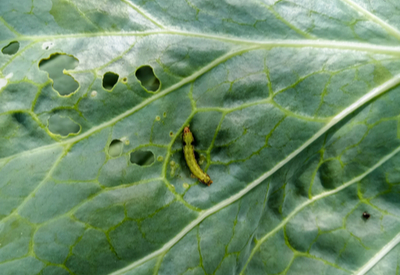 For a late season crop, sow seeds directly into the garden 10 to 12 weeks before your anticipated first frost of fall.
A mid-summer planting matures faster due to the warmer soil, so that leaves plenty of time for growth.
There are many great varieties to choose from including purple and yellow cauliflower!
The key to success is to choose a variety that matures fast enough in your climate zone before heat (summer) or frost (fall) sets in. See Seed Links : Multi-Color Mix, Purple, Yellow, White  –  Snowball (Early White)
As the cauliflower head develops, be sure to cover the head with it's leaves for it's last few weeks before harvest.
This will naturally blanch the head of the cauliflower to ensure that it will be white and tender for eating.
Cauliflower does well when planted with or near beans, broccoli, brussel sprouts, cucumbers, and corn.
Protecting Your Crop
Cauliflower can be affected by a handful of pests, most notably cabbage worms. Inspect the leaves and heads daily, and hand-pick any worms to keep damage to a minimum.
If you are prone to heavy infestations, row covers are an easy and inexpensive option to protect crops from damage.  Product Link : Row Covers
Heads can be harvested when they reach 6 to 8 inches in diameter. For more vegetable garden tips – check out our Vegetable Garden tab on the blog.
Be A Contributor To This Is My Garden
Want to showcase your backyard garden on This Is My Garden?
Perhaps you have a few tips on vegetable or flower gardening. How about becoming a contributing editor to This Is My Garden and share your story.
Simply email us at info@thisismygarden.com, and your garden or garden tip might be our next feature!
Help make This Is My Garden the best garden site around and share your garden knowledge with fellow gardeners! This article may contain affiliate links.