Evergreen shrubs are a great way to keep color and texture in your landscape. And more importantly, color that will last all year long!
In the spring, summer and fall, bringing color to your landscape is easy. All it takes is a few annuals, hanging baskets, or flowering perennials.
But in the cold, grey days of winter, it's nice to have a little greenery in an otherwise barren landscape. And that is where evergreen shrubs are the perfect choice.

Evergreens, unlike deciduous trees and shrubs, keep their foliage all year-long.
But planting them helps more than just adding a splash of color and texture. It also provides excellent cover, protection and even food for many birds and wildlife.
Here are 4 excellent choices for adding all year color with evergreen shrubs:
4 Evergreen Shrubs That Add All Season Color
Wintercreeper
Wintercreeper is an excellent choice to add solid year-round color to the landscape. With its shapely mounds, it fits nicely into almost any setting.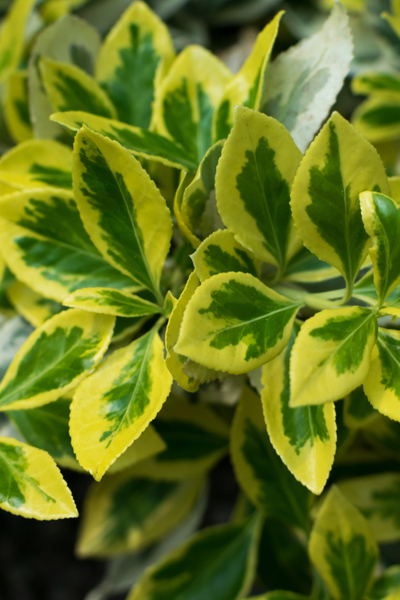 Many varieties have variegated leaf patterns to add additional interest. And in winter, that foliage turns to a pinkish/reddish color to stand out even more.
Wintercreeper performs well in shady locations, and is hardy in zones 5 through 8.
Arborvitae
When it comes to evergreen shrubs that can fit almost any need, Arborvitae are the answer.
These conical or pyramid shaped shrubs can be found in sizes from just a foot tall, to over 35 feet! They can make for an excellent hedge, as their foliage is thick and dense.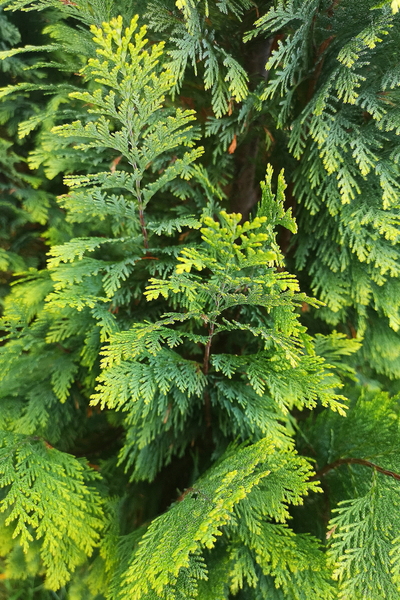 Even better, they are quick growers, and require little maintenance. Arborvitae hold there shape well, and require little pruning or shearing.
They are hardy in zones 5 through 8. Affiliate Link : Spring Grove 1 Gal. Arborvitae
Mountain Laurel
Mountain Laurel is an excellent evergreen shrub for those looking to grow in shady areas. They can perform well in even heavily shaded areas. But even better, they can be planted in mostly sunny locations too.
Mountain laurel plants will thrive in zones 5 through 9, and mature to about 6 to 8′ high and wide when left unpruned.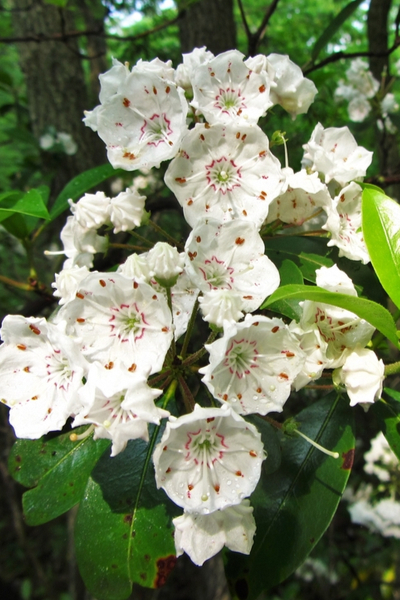 The dark green glossy foliage is beautiful the whole year round. And the bark tends to become twisted and gnarled, adding an extra layer of visual interest.
If that wasn't enough, Mountain Laurels also produce a gorgeous 1″ style cup flower in the early months of May and June that are simply stunning.
Boxwoods
There are more than 350+ varieties of boxwoods to choose from, with foliage ranging in all sizes and shapes.
Boxwoods are extremely easy to keep pruned, and are excellent choices for evergreen shrubs to use as hedges along walkways and fences.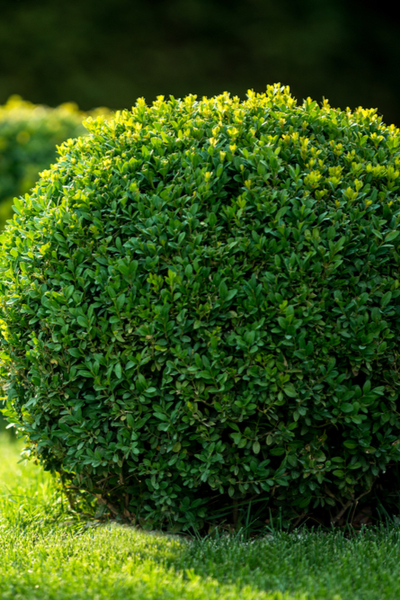 Their leaves can range from waxy dark greens, to variegated shades of light green and white. And do they ever hold their shape beautifully! In fact, it is one of the reasons they are a top choice for topiary artists.
In the home landscape, they are an excellent selection for those looking for a low maintenance, easy care evergreen.
And they can be used for porches and patios too. Varieties like Winter Gem can be placed in small containers to add instant patio color.
For more lasting color in the landscape, check out our Perennial Plants section on the blog.

This Is My Garden is a website dedicated to spreading the love and knowledge of gardening around the world. We publish two new garden articles each week. This article may contain affiliate links.