Nothing gives more visual interest and beauty to hanging baskets and container plantings than trailing plants.
Long, flowing foliage gives a basket or container a whole new level of excitement. Not only does it create a larger mass to catch the eye, but it also provides great complimentary foliage color to the big blooming annuals above.

The key is to choose trailing plants that require little maintenance, and grow well without taking too many nutrients from the soil. And it just so happens that we have 3 such great choices featured in today's article!
3 Great Trailing Plants For Baskets & Containers
#1 Trailing Verbena
Verbena is perfect for providing loads of overflowing color for containers, window boxes and hanging baskets.
The long trailing clusters of flowers add big interest as they spill down and over the side. The blooms are extremely bright, and actually are a great way to attract more hummingbirds to your landscape.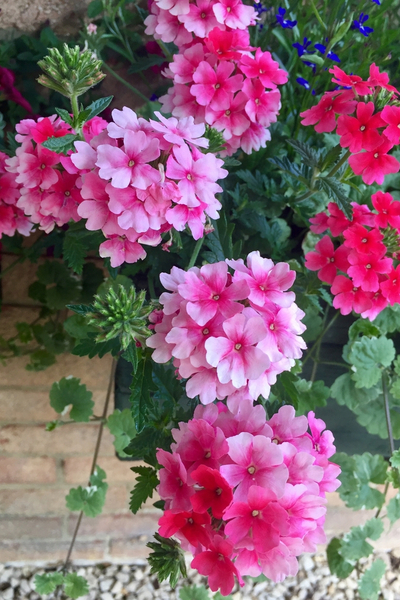 The trialing plant is available in a wide variety of colors, ranging from white, to purple, reds, violet and more. Verbena is highly tolerable of hot and dry conditions, making it the perfect companion for many annuals when planted in baskets and containers.
Verbena prefers full sun, and handles the heat of porches and patios that receive full sun. Seed Link : Verbena Quartz Waterfall Seeds
#2 Sweet Potato Vines
If you are looking for a trailing plant with big foliage power, then the sweet potato vine is for you!
Sweet potato vines add loads of interest and color as they cascade down over baskets and containers. Making them even more attractive, they are fast growers, and can fill open spaces quickly.
Sweet potato vines are available in colors ranging from light and dark green, to purple, dark black and even bronze.
They can handle full sun, but their foliage performs best when grown in areas that receive some shade.
#3 Black Eyed Susan Vine
Although this vine is technically a perennial, it is grown as an annual for containers and hanging baskets.
What makes the Black Eyed Susan vine so wonderful is it requires very little maintenance or nutrients to survive. They don't even require deadheading to keep on blooming.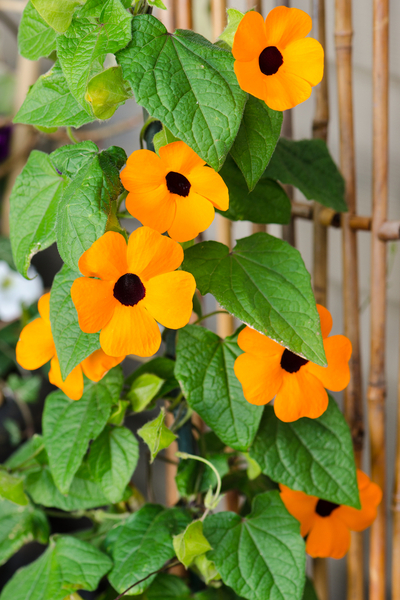 Mature vines can grow up to six feet or more in lenght. Their soft, star-like colorful petals bloom best in full sun. Black Eyed Susan vines work well as an accent plants with petunias and wave petunias. Seed Link : Black Eyes Susan Vine Seeds
For more on hanging basket planting, care and maintenance, be sure to see our entire category dedicated to these wonderful hanging planters! See : Hanging Baskets Care

This Is My Garden is a website dedicated to spreading the love and knowledge of gardening around the world. We publish two new garden articles each week. This article may contain affiliate links.