Nothing adds color, interest and beauty to an outdoor structure like climbing perennials!
They are the perfect way to provide a canopy of shade underneath pergolas and arbors. Or, to add a living hedge of foliage and flowers to fences, porches, lean-to's and more.

Climbing perennials can even be used to disguise poles, posts, and other unsightly features in the landscape.
But perhaps their best feature of all is just how easy they are to care for and maintain. In fact, once established, most climbing perennials can last for years with little maintenance!
Growing Climbing Perennials – The Two Secrets To Success
There are two major keys for to grow and maintain these sprawling beauties with success. The first is to select the best variety for your growing zone. While the second is making sure to plant it in the right location with the right soil conditions.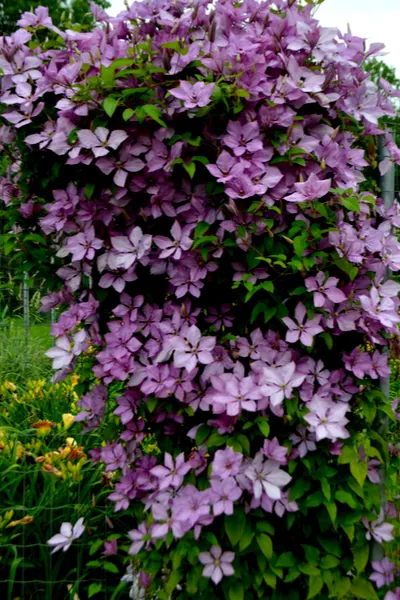 With that in mind, here are 3 excellent choices for climbing perennials – along with planting tips for each variety.
3 Perfect Climbing Perennials
Clematis
Clematis is a hands down favorite among gardeners when it comes to climbing perennials.
Known for their gorgeous foliage, these plants produce big, showy blooms of blue, purple, white, pink or even red flowers. And there is a near endless variety of species!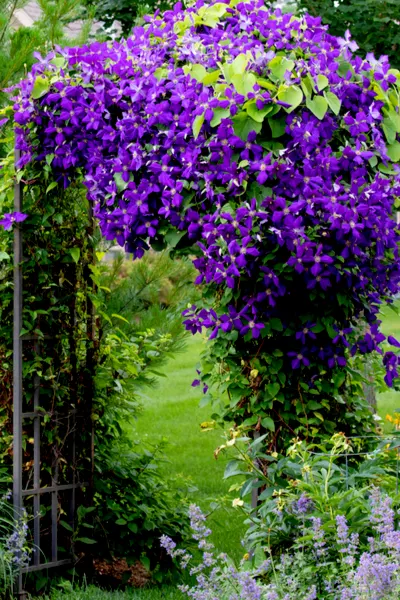 Believe it or not, there are some varieties of clematis that can grow upwards of 30 feet or more. But in addition to the long climbers, there are varieties for smaller spaces too – there are miniature versions of clematis that grow just 3 to 5 feet, making them perfect for patio gardens.
Planting Tips for Clematis
Depending on the variety, Clematis can grow in zones 4 through 9. Although this climbing perennial can survive some shade, it grows best in full sun. With that in mind, locate them in an area that receives at least 6 to 8 hours of daily sun.
Clematis needs fertile, well-drained soil to thrive. Amend the soil with plenty of compost at planting. In addition, they are heavy feeders, so fertilizing each spring will a balanced fertilizer will promote good blooming. Product Link : Jobes All-Purpose Organic Fertilizer)
Wisteria
For big climbing power, wisteria is the best in class. Once established, this hardy perennial can grow for 20 years or more!
Wisteria is known for its interesting growth pattern and big blooms. As it matures, it develops interesting knotty wood trunks and branches that bring winter interest as well.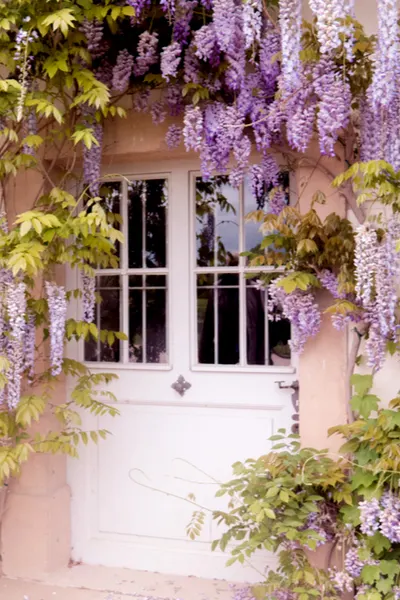 The blooms of Wisteria appear in late May and June, with large, fragrant, pendant-shaped flowers cascading down from the foliage.
Wisteria Care
Wisteria will grow in nearly all soils and requires very little long term care. With that said, adding in compost at planting will help this climbing perennial establish much faster.
When planting Wisteria, you will need to think long-term as for the location. Wisteria grows bigger each year, and needs a sturdy support system to support its growth.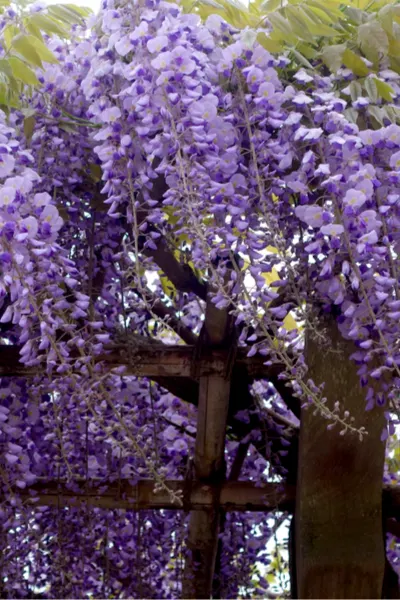 They are an excellent choice for strong, sturdy pergolas and arbors, but the structures need to be secure. Native, non-invasive varieties like Amethyst Falls are the best to plant, manage and control.
Climbing Rose
When it comes to filling an arbor or trellis with overpowering color, this climbing perennial is an excellent choice.
In fact, many varieties of climbing roses bloom continuously all summer, making them perfect for lasting color. But perhaps best of all, they come in every color imaginable!
From tangerine to apricot, to all shades of red, white, pink and more, there is a climbing rose for every occasion.
Climbing Rose Care
Depending on the variety, climbing roses will grow well in zones 5 through 9. Roses require full sun, so plant them in a location that receives at least 6 to 8 hours of sun.
In addition, the more rich and fertile the soil, the better. Add in generous amounts of compost when planting. Lastly, don't over-prune climbing roses. Unfortunately, excessive pruning results in far less blooms for this climbing perennial.
Here is to growing a climber or two in your landscape this year! For more great perennials to grow, check out our Perennial Plant section on the blog.

This Is My Garden is a website dedicated to spreading the love and knowledge of gardening around the world. We publish two new garden articles each week. This article may contain affiliate links.