Planting sunflowers in your landscape is like growing your own little slice of sunshine and happiness!
Sunflowers are becoming more popular than ever for growing in home gardens and flowerbeds. They are also finding their way into containers and pots to help brighten up porches and patios with stunning color.
It really is hard to beat the incredible beauty and elegance sunflowers bring to your landscape. From tall to small, big to large, and everything in between, the stately sunflower can be found in a vast variety of colors and sizes. From massive sunflowers that tower along a barn or fence row, to a myriad of mid-size and miniature varieties that can fill flowerbeds and containers with vibrant color, there is a sunflower to grow for every space and place.

But beyond their stunning beauty, sunflowers also lend a helping hand to other plants in your landscape. Their gorgeous big blooms are more than just eye-catching to humans, they also attract large numbers of honey bees and bumble bees.
And one thing is for sure, attracting these pollinating wizards is of great help in developing blooms and fruit all over your landscape. But the benefits don't stop there.
Attracting More Than Bees…
In addition to attracting pollinators, sunflowers also bring in a whole slew of beneficial birds as well. Birds that help to keep insect and pest populations under control. And in the process, keep the pests from damaging your annuals, perennials and vegetable plants. (See: How To Make Your Own Birdseed Mix)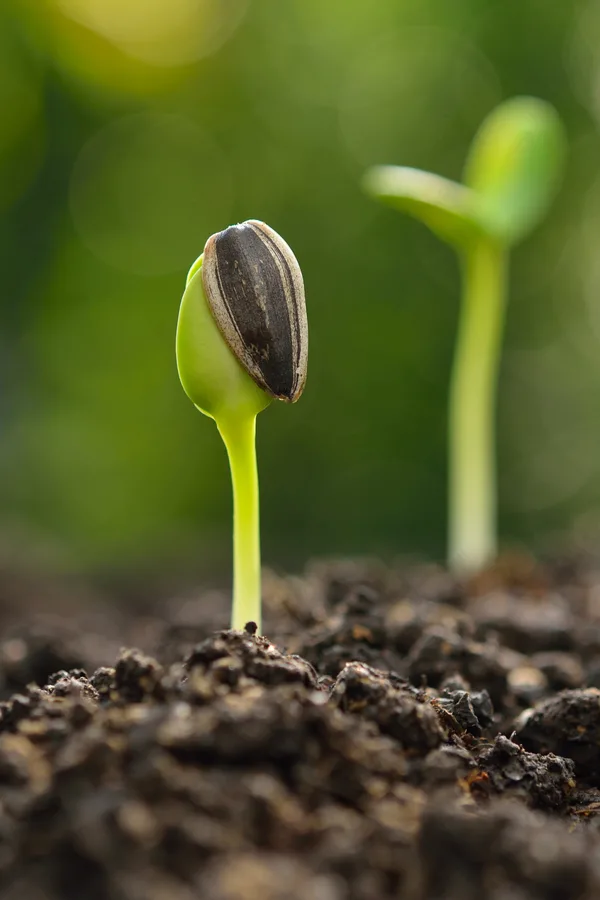 And if all that wasn't enough, there is of course, the healthy and bountiful seed crop sunflowers produce. Sunflower seeds are healthy and nutritious, and provide a great food source to you, and surrounding wildlife. And with seed heads that can contain as many as 1000+ seeds, can they ever produce!
Planting And Growing Sunflowers
Perhaps the best part of all to growing sunflowers is just how easy they are to plant and maintain. Sunflowers are fast growers that love warm soil. And because of that, they can be directly seeded into flowerbeds, gardens and containers.
In fact, they are better suited to direct seeding. That means there is no need to worry about growing transplants indoors. Even better, they can grow well in almost any soil condition, and require little maintenance other than a bit of water as seedlings. Simply wait for the soil to warm up completely in late spring, and plant away!
With that in mind, here is a look at few great varieties to use all over your landscape this year, including a few that are great selections for planters. If you are looking for an entire variety to grow, consider purchasing Sunflower Seed Variety Packs that are filled with a wide range of beautiful sizes and colors, all in one packet.
Growing Sunflowers – 6 Great Varieties To Grow!
Italian White Sunflower Seeds
If you are looking for a unique sunflower variety, Italian White sunflower is the perfect choice. Italian white sunflowers are an excellent mid-range flower growing between 4 and 6′ tall on average. Their strong steady blooms are both beautiful and elegant, with creamy light colored petals that light up any space.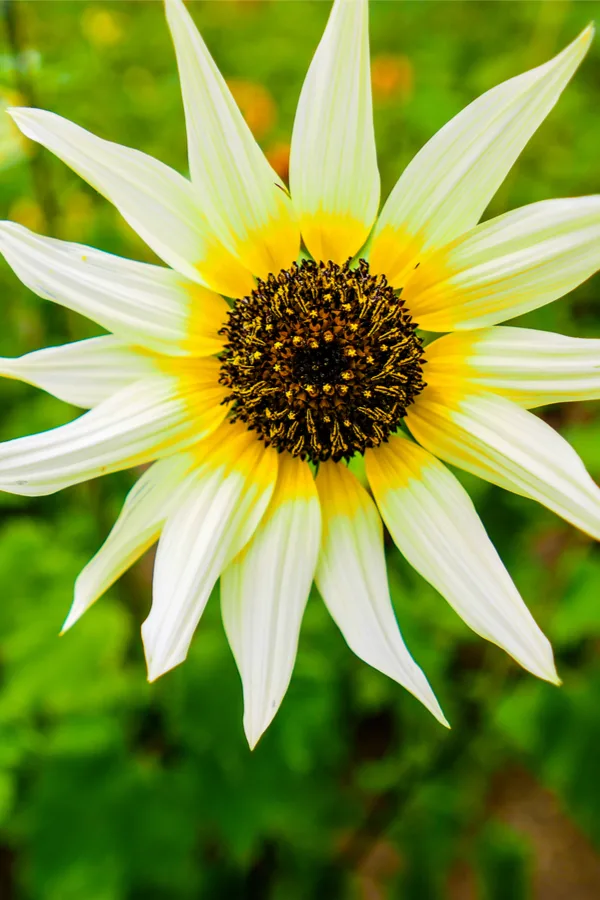 Heads grow 4 to 5″ in diameter on plants that are extremely heat and drought resistant. They look right at home as a garden border planting, or can be grown in groups to add a focal point to flowerbeds. They also perform well in large containers to bring color and size anywhere. Seed Link : Italian White Sunflower Seeds
Mammoth Grey Stripe Sunflower
The Mammoth Grey Stripe is a massive sunflower,. just as its name implies. In fact, it is known as the giant of all sunflowers. Stalks of the Mammoth Grey can reach up to 12′ high, and the flowering heads are magnificently huge!
If you are looking for a sunflower variety to harvest large amounts of seed, this is certainly a top choice. They are perfect for growing along a fence row, or up against a barn or building. The stalks are fast growing and extremely woody and strong. Seed Link : Mammoth Grey Sunflower Seeds
Skyscraper Sunflower
Another of the giants, the Skyscraper reaches soaring heights up to 10 to 12 feet tall. The flowering seed heads can be up to 14″ across, making these a great choice for seed lovers as well!. Seed Link : Skyscraper / Russian Mammoth Sunflower Seeds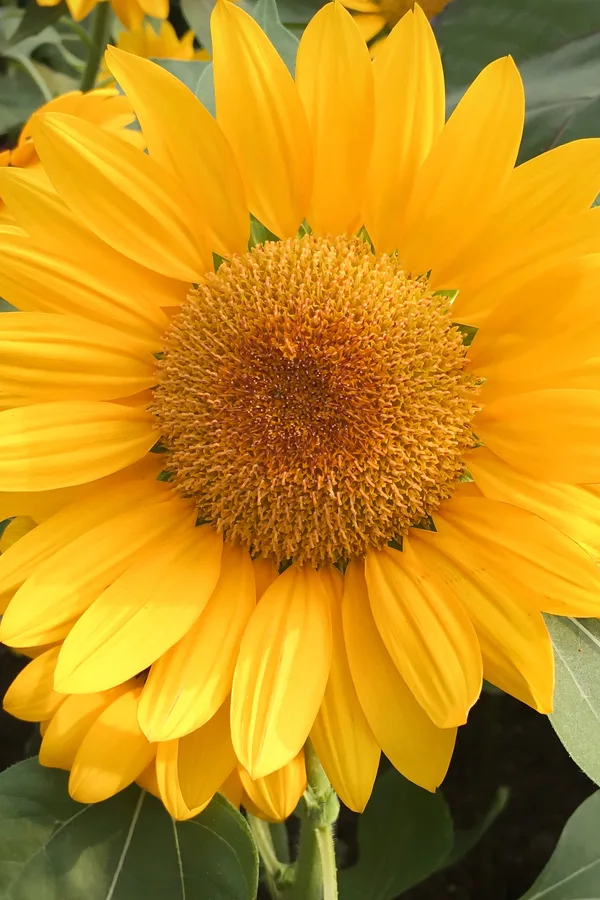 Autumn Beauty Sunflower
Autumn Beauty sunflowers are the ultimate sunflower border plant. Theses sunflowers grow 4 to 5′ tall, producing 10" heads with brilliant hues of bronze, gold,, mahogany and yellow. This variety also happens to be on the of most drought tolerant of all sunflowers, making it perfect for locations with overly hot summers.
The seeds also happen to a be a favorite of birds and wildlife, and can be left on the heads to help feed through the cold winter months. Seed Link: Autumn Beauty Sunflower
Growing Sunflowers In Pots & Containers
Sunflowers aren't just for the garden and flowerbeds. Here are two smaller varieties that are excellent for growing in pots and containers. Potted sunflowers will require a bit of watering now and then, but are much more forgiving than traditional potted annuals.
Firecracker Sunflower
The Firecracker is a great selection for small spaces, including pots and planters. Blooms are a fiery mix of an inner red circle with a burst of yellow on the outer petals. The flowering heads truly do look like a firecracker at the peak of explosion.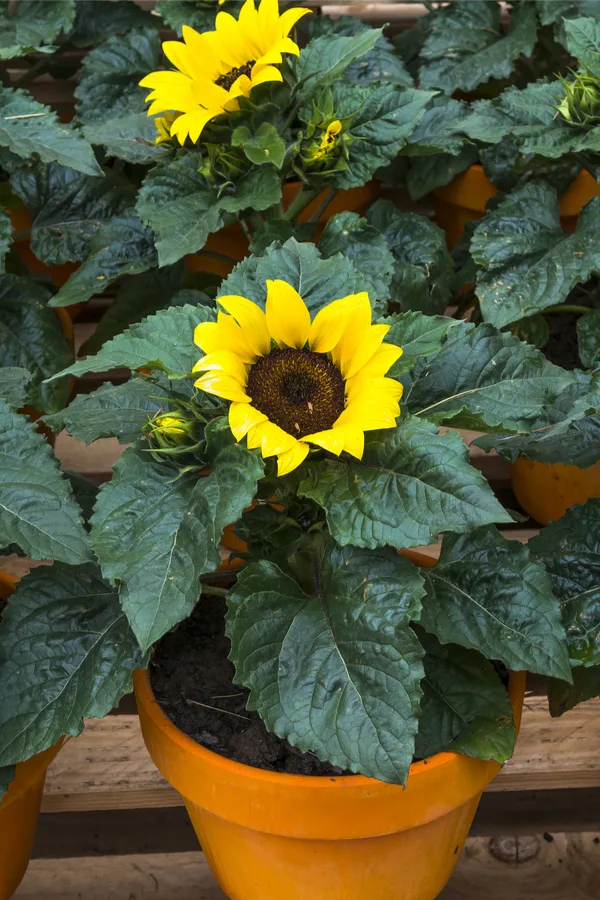 Plants grow to just 2 to 3 feet in height, making them perfect as a border plant, or small accent in flowerbeds. In addition, they grow well in pots and containers, and are perfect for adding height to plantings.
Junior Sunflowers
A true miniature when it comes to growing sunflowers. This variety makes for the ultimate potted sunflower plant! Growing only about a foot high, the Junior sunflower has a dark inner circle and bright yellow outer petals. Not only does it stay compact in pots, it also make a great hedgerow or bed edging plant as well. Seed Link : Junior Sunflower Seeds
Here is to planting and growing sunflowers in your landscape this year!
This Is My Garden is a garden website created by gardeners, for gardeners. We publish two articles every week, 52 weeks a year. Sign up today to follow via email, or follow along on Facebook here : This Is My Garden. This article may contain affiliate links.