The air is starting to turn cooler with each passing week, and that means it is time to start thinking about protecting your rose bushes and getting them ready for winter!
Roses are one of the most beloved perennials of all. And whether growing a hybrid tea rose, floribunda rose, shrub rose or one of the many other types of roses that can be found, a little protection from winter can go a long way toward how well it performs next year.
How you need to prepare your roses for winter all depends on the type of rose you are growing, and your winter climate. Today's article takes a look at just how those differences matter, and how to prepare for each type.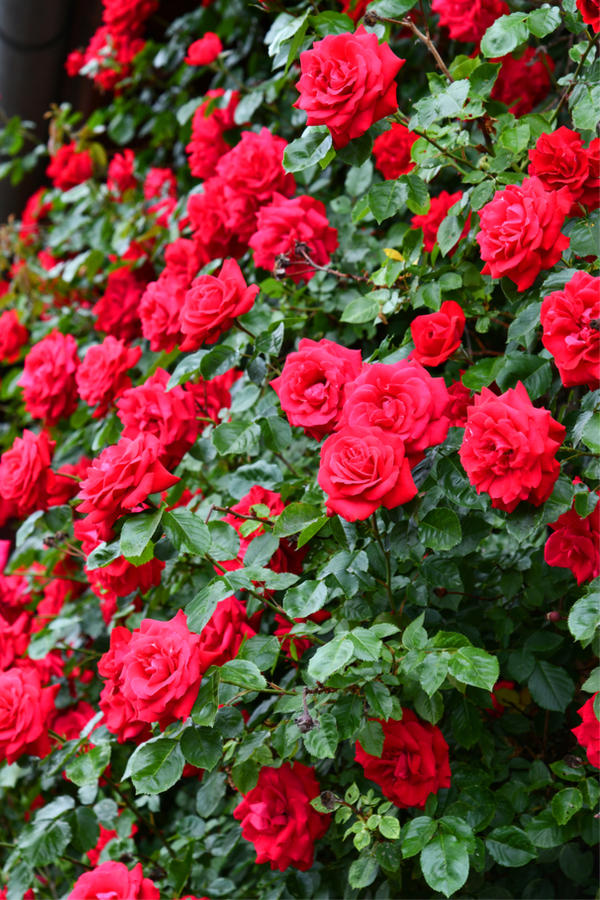 In general, depending on the variety and your location, the more harsh your winter, the more you will need to have additional protection for your roses With that in mind, here is a look at the basics of preparing your rose bushes for the upcoming snow, ice and cold.
How To Get Your Rose Bushes Ready For Winter
Pruning
When it comes to pruning rose bushes, fall is not the time for action. In fact, unless there is a damaged or broken limb, nothing at all should be removed from your roses.
Pruning is a signal to plants to regenerate and sprout new growth. And when this happens in late summer or early autumn, it can spell disaster for plants as they head into the long, cold winter.
Any new late season growth puts the rose bush at risk for damage. The tender new shoots and stems take power from the plant as they grow. Then, when the hard frosts and freezes begin, not only is the new growth killed off, but the entire bush is vulnerable to freezing out.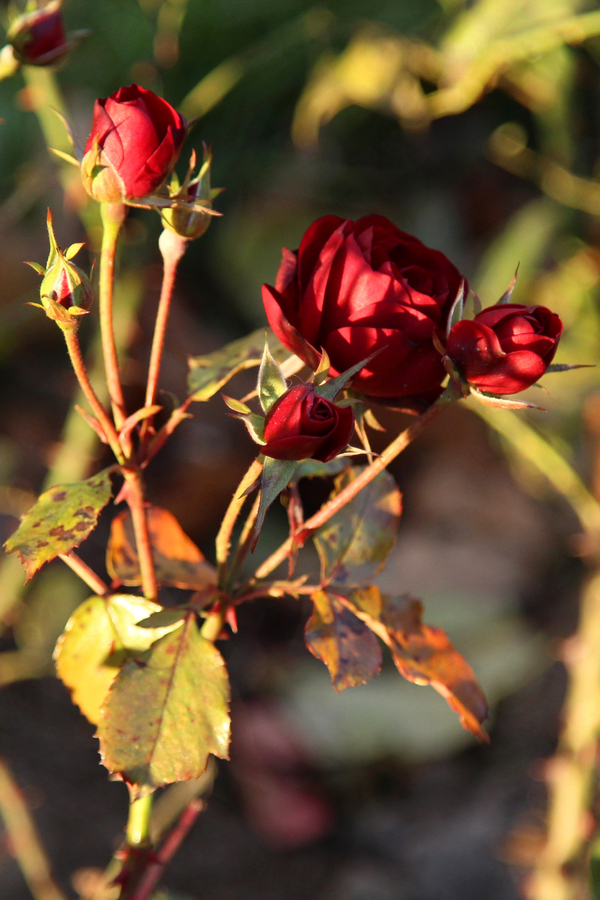 Instead, wait to prune until late winter or just before spring, when the rose bush is fully dormant. At this point, the rose bush will not attempt to generate any new foliage or growth until the warmth of spring is in the air.
If you do need to prune out any damage, always use a sharp, clean pair of pruners. Clean cuts will heal more quickly and are less likely to cause an issue for the rose bush.
Protecting Roses From The Cold & Snow – How To Get Rose Bushes Ready For Winter
When it comes to providing protection for your roses from the constant thawing and freezing winter can bring, the type of protection will depend on the type of rose bush you are growing. Here is a look at how to protect each of the common rose bush styles:
Hybrid & Tea Roses
Hybrid and tea roses are among the most popular of rose bushes, and just so happen to require the most protection.
Once mid-autumn has settled in, rake back the leaves that have fallen and gathered around the base of the rose bush. Allowing the leaves to remain is asking for trouble. Unfortunately, those leaves can harbor both insects and disease, so getting them out of the way is a must.
Once the base area has been cleared, apply a heavy six inch layer of sawdust around the limbs at the base of the rose bush. When it comes to hybrid and tea roses, this is where the grafts or stem unions are located.

By covering these, you protect the most susceptible part of the rose bush from dying out. If you cannot find access to sawdust, use compost. Compost helps to insulate and provide nutrients, and is a great choice for protecting roses.
Climbing Roses – How To Get Rose Bushes Ready For Winter
Climbing roses tend to have more issues with wintertime damage from wind than cold. Although their roots are usually fairly well established, their tall canes can be whipped by the wind. They can also sustain damage from heavy loads of snow and ice.
If your climbing roses are attached to a pergola or trellis, tie them off securely to the structure. This will keep any strong winter weather from breaking them off or injuring the canes.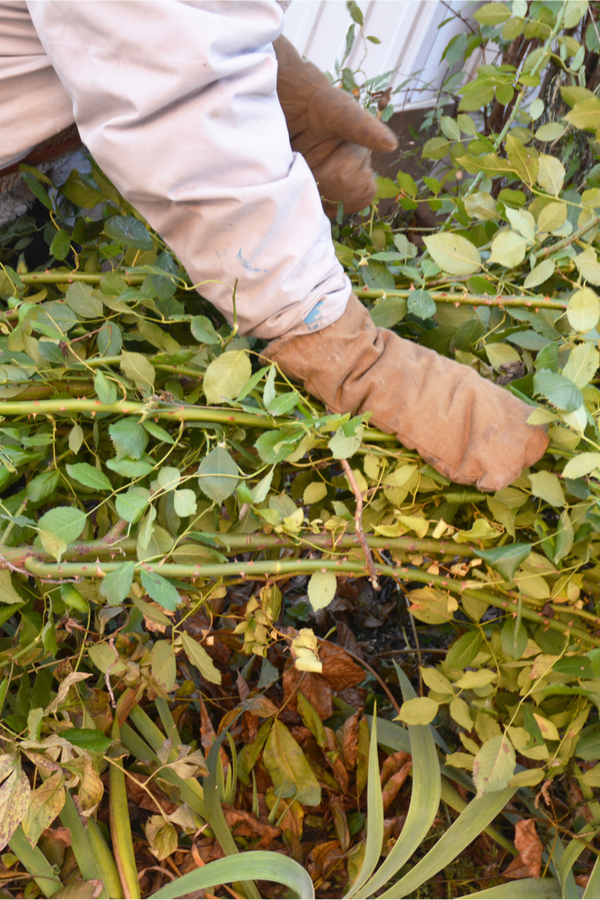 If your climbing roses are not clinging to any structure, the process is a bit different. Simply tying them up will not provide enough support or protection.
Instead, gather the canes together, and using a rope, tie them together. Next, lay the bundle down on the ground, covering the canes with six inches of straw, sawdust or compost. This will keep the canes strong from any damaging winter weather.
Protecting Shrub Roses – How To Get Rose Bushes Ready For Winter
When it comes to winter preparation of rose bushes, shrub roses are by far the easiest variety. With a strong root structure, shrub roses tend to be extremely tolerant of cold weather. As long as you don't live in an area with severe winter weather, little is needed to keep them safe.
To prepare shrub roses for winter, rake away any leaves around the base that have fallen from the rose. Much like with the other varieties, rose leaves just have too much potential to carry disease and hide pests.
Once the plant has fallen into dormancy, apply a three to four inch layer of compost around the base of the plant. This will help protect the base from constant freezing and thawing, and provide nutrients as it decomposes into next spring.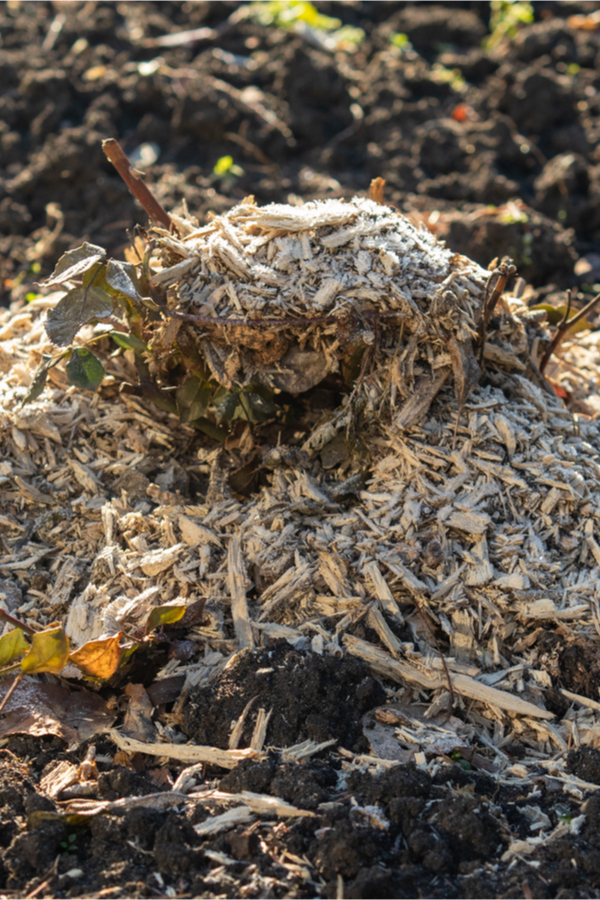 Fall Fertilizing – How To Get Rose Bushes Ready For Winter
Fertilizing of roses should only occur in the early spring and summer months. Once late summer and early fall have arrived, fertilizing at this point causes far more damage than good.
Fertilizing, just as with pruning, can force rose bushes into tender, late season growth. And this fragile growth can be both above ground, and within the rose bushes root structure. Late season growth like this creates a vulnerable position for the rose as winter arrives.
Here is to keeping your rose bushes protected this winter, and to beautiful blooms next spring and summer! For more on fall perennial care, check out What To Do With Black Eyed Susan In The Fall.
This Is My Garden is a garden website created by gardeners, for gardeners. We publish two articles every week, 52 weeks a year. Sign up today to follow via email, or follow along on Facebook here : This Is My Garden. This article may contain affiliate links.