Did you know planting and growing marigolds can help to repel all types of insects and pests – all while adding amazing beauty and interest to your garden, flowerbeds and containers?
Marigolds are absolute showstoppers in any garden. They really are the darlings of the plant world. Not just because they're easy to take care of, but also because they produce so many big, bright and colorful blooms. All with little to no coaxing or effort.
Marigolds are one of the easiest plants around to grow. Many times, planting them is as easy as scattering seeds into the soil. In addition, they are also superb self-starters. In fact, when planted in flowerbeds, they often return on their own year after year simply from the blooms that fall and seed the soil below.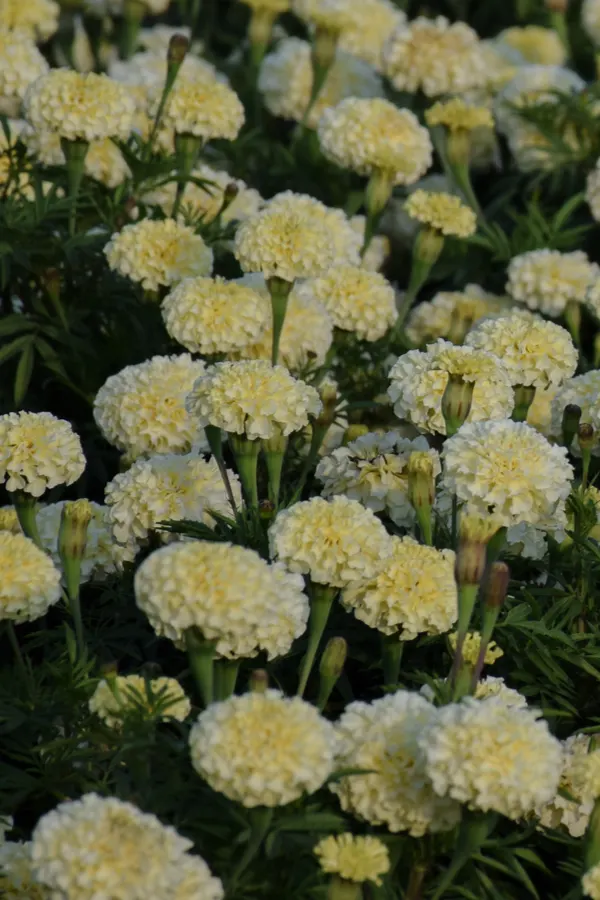 But perhaps best of all, marigolds often serve an even bigger role in gardens and flowerbeds – helping to repel a whole host of pests, including nematodes, whiteflies, hornworms, mosquitoes and more. See: The Benefits of Growing Marigolds In The Garden
The Scent Of The Marigold…
The scent of the marigold plant is extremely offensive to a long list of common garden pests. And with certain varieties of marigolds, such as the French Marigold type, the aroma is even more offensive. That is good news for gardeners, because planting them in and around your garden and flowerbeds can help to keep other plants safe!
With that said, it's hard to go wrong with marigolds, especially when planting any of the 5 fantastic marigold varieties highlighted below! Each boast big color, heavy blooms – and the uncanny ability to keep pests away. Here is an in-depth look at each, including seed links to each variety.
How To Repel Pests With Marigolds – 5 Of The Best Marigolds To Plant!
Orange Flame
The Orange Flame Marigold is aptly named, with blooms resembling that of a double-layered flame of red and orange. It comes from the French variety of marigolds, which means it's particularly effective against repelling nasty pests away from your flower beds and garden.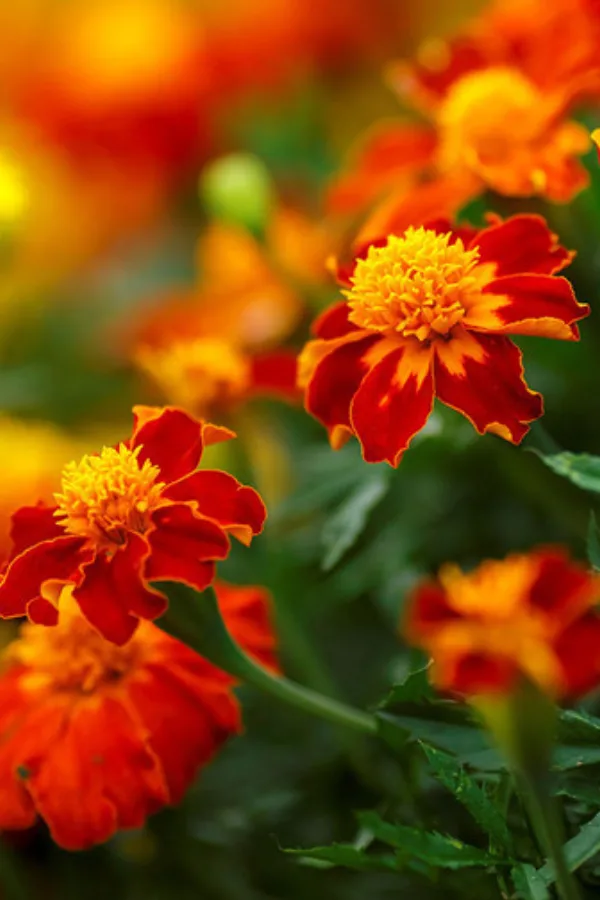 The compact flowering plant sports gorgeous double flowers. In addition, it grows from seed directly sown into beds with ease. It is perfect for placing in boxes, pots and border edges, all without being invasive to its neighbors.
Orange Flames can tolerate periods of drought with ease, and require little care. You'll need to water when first establishing in the soil or pots, but beyond that, they tend to handle dry conditions well.
This marigold type needs full sun in order to truly shine. The more, the better! To encourage more flowering, deadhead spent flowers on a regular basis to keep new blooms coming on. Seed Link : Orange Flame Marigold Seeds
Kilimanjaro White Marigolds – How To Repel Pests With Marigolds
Think marigolds only bloom in red, orange or yellow? Think again. The Kilimanjaro White variety (pictured at the top of the article) is stunning with its pure white blooms. Blooms that contrast nicely with its deep green foliage.
If you like white flowers this should be definitely on top of your to-grow list. Kilimanjaro is actually fairly rare and its white blossoms will definitely stand out from other annuals. Its scent is slightly sweet, and much like other marigolds, known to help repel everything from nematodes to mosquitoes.

Kilimanjaro are tall plants that need full, continuous sun in order to thrive. Once mature, they burst out with vanilla-white blooms that can be up to two to three inches wide.
Their flowering period is from mid-summer to frost, but it may have slower bloom cycles during periods of extreme heat. It's worthy to note that Kilimanjaro White is an heirloom variety, which means you can sow the seeds of spent flowers and watch it turn into its original parent.
However, nature and cross-pollination might occur if you have other marigolds in your garden or flower bed. If you grow other marigolds nearby, you may need to use fresh seeds every season. Seed Link : Kilimanjaro Marigolds
Orange Hawaii – How To Repel Pests With Marigolds
The Orange Hawaii is a towering giant compared to its other marigold kin. Make sure you leave enough room for these plants to grow to their full potential, and you can enjoy 4 inch beautiful orange flowers right up until the first frost.
Although its name suggests roots from the Hawaiian Islands, the Orange Hawaii actually hails from the mainland. With its tall stature and large blooms, it is more suited in the back or middle of your flower bed than the front. Like nearly all marigold varieties, Orange Hawaii grows best when getting its fair share of the sun.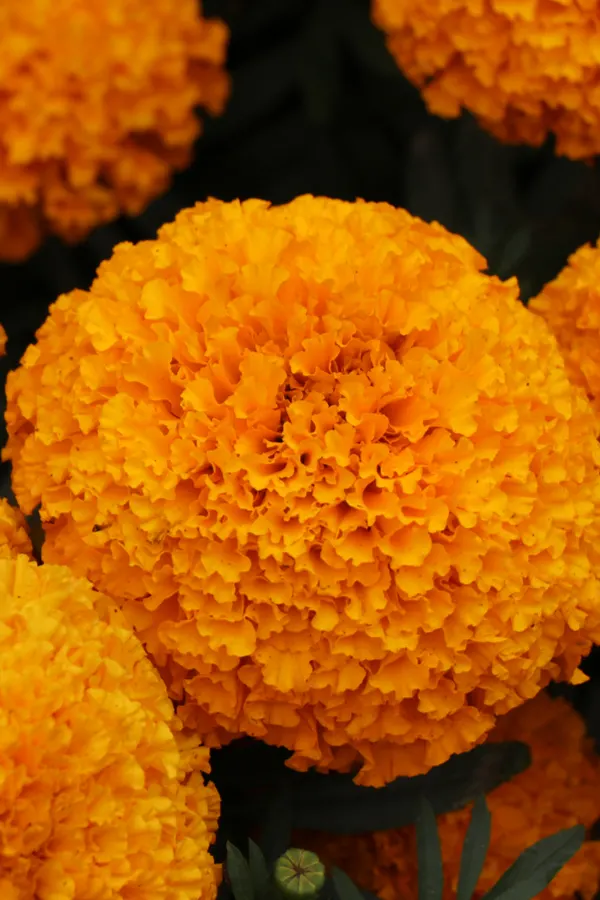 To make the most of your seeds or plants, seed or transplant after the threat of frost has passed. Pick a nice, sunny spot and plant with a bit of compost for added nutrients. This variety does not require a lot of additional nutrients, but does prefer soil that drains well.
The large blooms add big color to any space, all while helping to protect nearby plants from all sorts of invaders, from rabbits to mosquitoes, nematodes and more.
Orange Hawaii is large enough that it can withstand summer heat, but they will need a bit of additional watering during periods of extreme drought. Like most marigolds, they can benefit from a dose of all-purpose fertilizer a few times throughout the summer. Overall, they are an extremely low-maintenance annual.
Regular deadheading of the large spent blooms will keep the plant blooming strong all summer long. With the bloom's size, a large pair of scissors or garden shears are best for deadheading. Seed Link: Orange Hawaii
Bon Bon Border Mix – How To Repel Pests With Marigolds
Bon Bon Border Mix (sometimes referred to as Calendula Bon Bon), are often called pot marigolds and share the same pest repelling characteristics as traditional marigolds.
As the annual matures, the greenery gives way to brilliant, multi-colored blooms of double yellow, orange and apricot flowers. In fact, growing this marigold from seed is kind of exciting as you won't know which color you'll have until several months later!
This marigold variety is recommended to use as a border plant, but can also do well in pots and containers. It definitely grows in a more bushy style than most marigolds, but once it starts to bloom, it nearly covers the foliage with prolific flowering.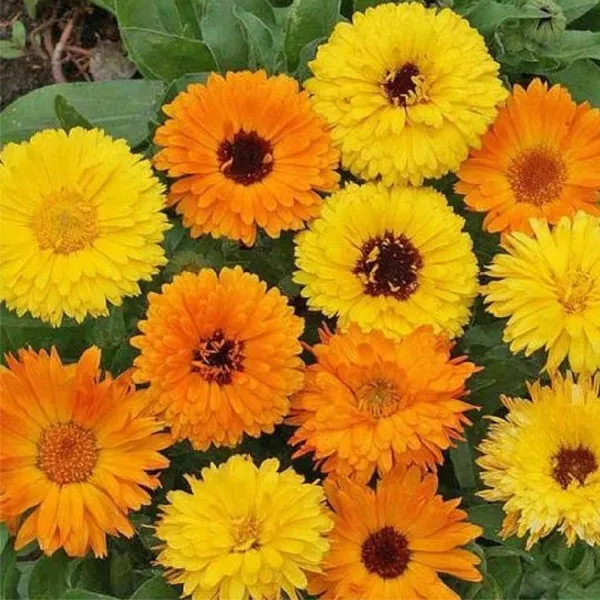 As a border plant, it is a great "first line of defense" for protecting plants behind it with its pest repelling qualities. As always, marigolds thrive in heat and where there's direct light, so plant Bon Bon marigolds in the sunnier spots of your garden or yard.
Growing requirements are practically non-existent, so you can sit back and take it easy and the plants will do their part. Seed Links : Calendula Mix Seed
African or Aztec Marigold – How To Repel Pests With Marigolds
The African Marigold is perhaps the most common type of marigold there is. It's grown around the world and known for its striking, bold-colored double blooms. It is also one of the best marigold varieties of all for keeping pests away.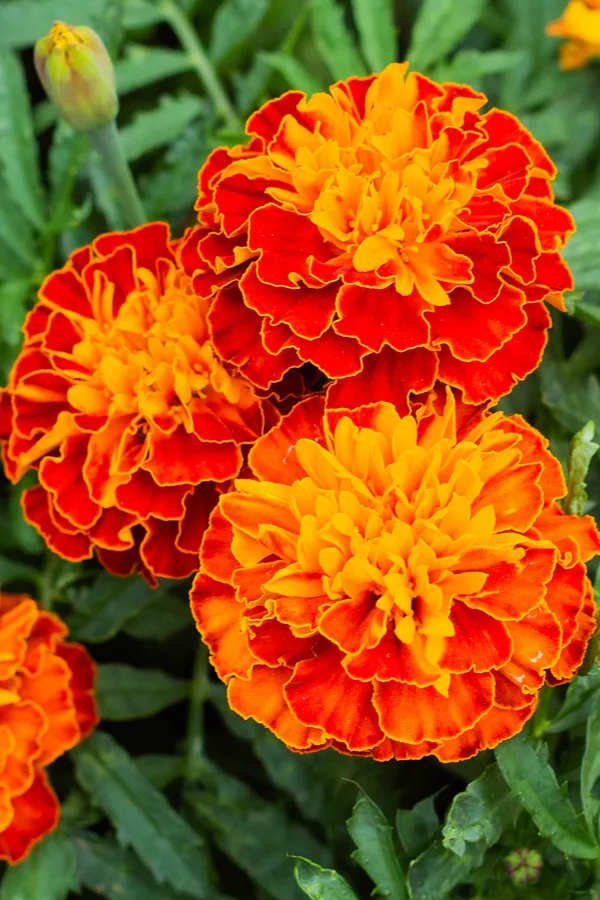 Aztec marigolds are more compact than their Mexican counterparts but produce the same amount of flowers in the right conditions. Gardeners love how the plant grows well even in sub-par conditions such as poor soil or part-shade. It can even tolerate a fair amount of drought.
It's one of the best plants for beginners and those who want something they can take care of easily and with minimal fuss. To get the most blooms, plant flowers in full sun and water them only when the soil is dry. Continue getting more flowers by manually removing the faded blooms and letting new buds form.
Here is to planting and enjoying some of the most beautiful marigold varieties around. And, to keeping pests away all the while!
This Is My Garden is a garden website created by gardeners, for gardeners. We publish two articles every week, 52 weeks a year. Sign up today to follow via email, or follow along on Facebook here : This Is My Garden. This article may contain affiliate links.