When it comes to starting seeds indoors, nothing can make the entire process more simple, easy and successful than having your very own seed starting stand. Especially when you can create it yourself for less than you ever imagined!
Starting your own vegetable and flower plants from seed is a great way to save on your garden budget. It also allows you the ability to grow a wide variety of plants.
Unfortunately, most greenhouses and big box stores carry only the most common varieties of plants. But when you can grow your own, your gardening options are wide open. The sky truly is the limit – from tasty heirloom vegetables, to unique flowers that can fill your yard with amazing color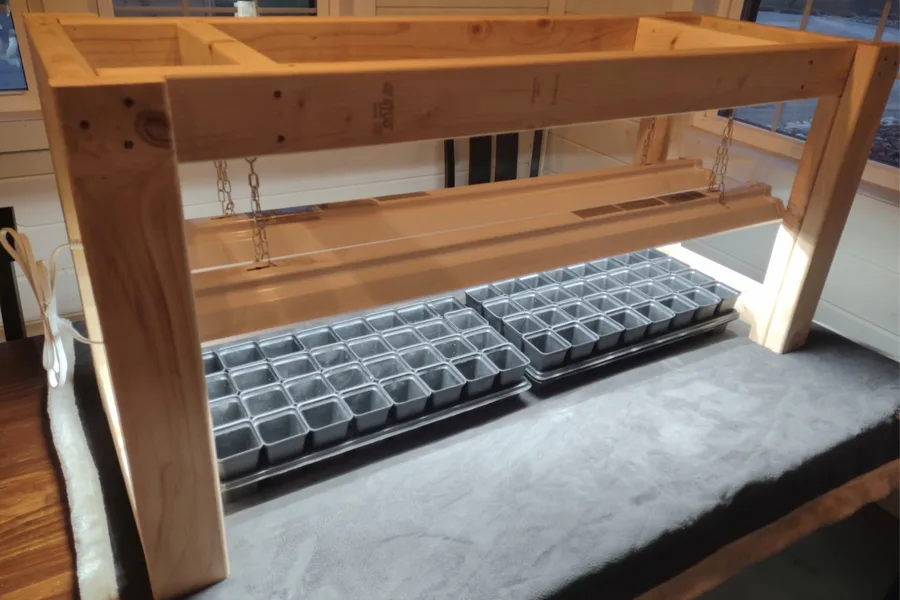 But perhaps best of all, growing your own plants from seed is an incredibly satisfying and rewarding experience. There is nothing quite like watching a tiny seed grow into a thriving mature plant. And whether filling it with flowers or vegetables, it gives a gardener a special feeling knowing they grew their own plants from scratch!
How To Build An Inexpensive Seed Starting Stand
The Basics Of Starting Seeds Indoors – Why Windows Are Not The Place To Start Seeds
Starting seeds indoors really is a simple and easy process. Even better, it requires very little in the way of special equipment. In fact, all you really need for success is a supply of good seeds, a loose, healthy seed starting soil mix, and plenty of light. But exactly how that light arrives to your young seedlings is extremely important.
Although a sunny windowsill may seem like a great location for starting seeds indoors, it unfortunately is not. Using a windowsill to start and grow seedlings actually poses several problems for plants.
For starters, even the sunniest of windows struggles to provide enough light for healthy seedling growth. There simply isn't enough daylight in late winter and early spring to power plants.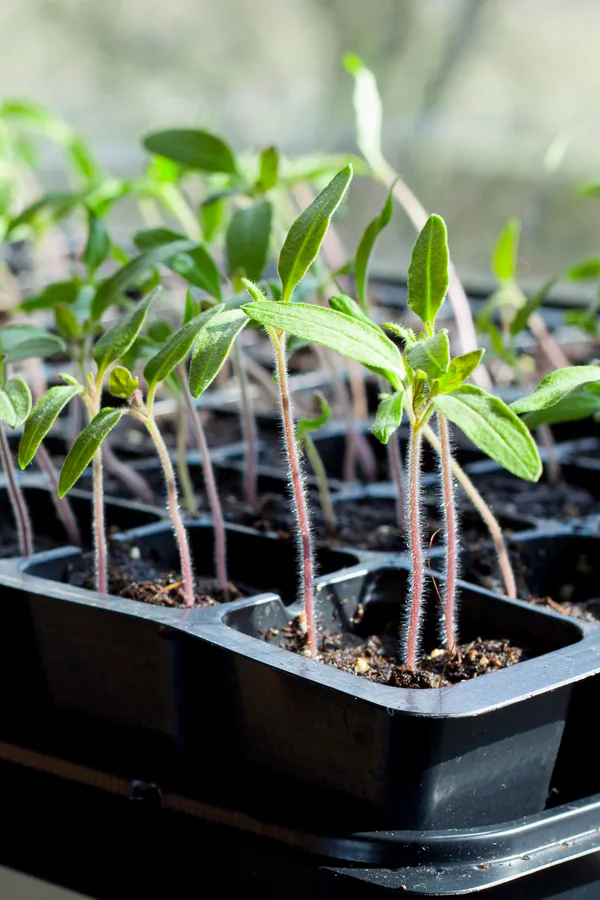 Furthermore, as a seedling grows, it naturally extends toward the light source to absorb its power. Because the sun is so far away, it causes seedlings to grow weak, spindly and crooked as they grow toward the light. It almost always results in feeble seedlings that can't stand up to outdoor life once they are in the ground.
So how do you grow strong, sturdy seedlings with ease? The answer is by using artificial light. And our handy DIY table top seed stand is the perfect way to supply that light with ease!
The DIY 2×4 Tabletop Seed Starting Stand – How To Build An Inexpensive Table Top Light Stand
The good news is that to start seedlings, you don't need fancy or expensive grow lights or grow light systems. In fact, ordinary LED or fluorescent shop lights will provide all of the light your plants will ever need! See : How To Start Seeds With LED Shop Lights
Although there all types of growing stands on the market, they can be quite expensive to purchase and maintain. Especially when you consider many come with specialized grow lights that can cost a fortune to replace.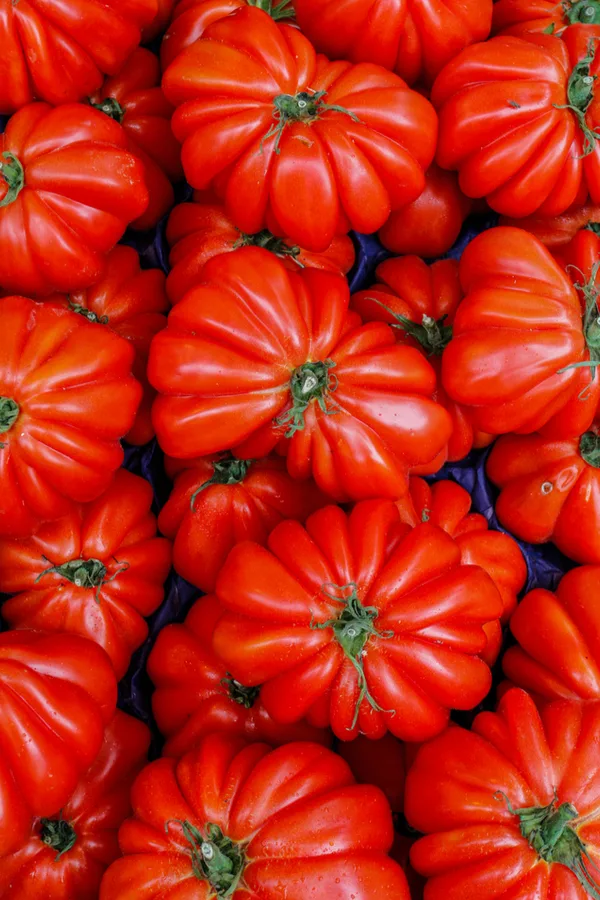 That is exactly why a few years back, we came up with our DIY table top light stand. It holds two ordinary and inexpensive 4′ shop lights that provide all the light your plants will ever need.
Ever since, the stand has been a big hit in our DIY Plans Store in our Etsy shop. Not only is it easy and affordable to build, it is small enough to fit on a table, or in the corner of any room on the floor.
The DIY Table Top Seed Starting Stand
At 24″ x 24″ x 51″ long, the stand fits in the smallest of spaces. Depending on the flat used, it can raise up to 144 plants in all, which is more than perfect for growing an entire garden worth of plants!
The stand is built using five (5) 8′ long 2×4's. The sturdy design allows it to be on the ground, or up on a table top for an easier working height. Using basic "S" hooks, the stand holds two (2) 4′ long shop lights.
The lights can easily be lowered or raised with a chain to keep them at the proper growing height above the plants. With a spacious amount of room between the lights and ground, plants have plenty of room to grow big before transplanting.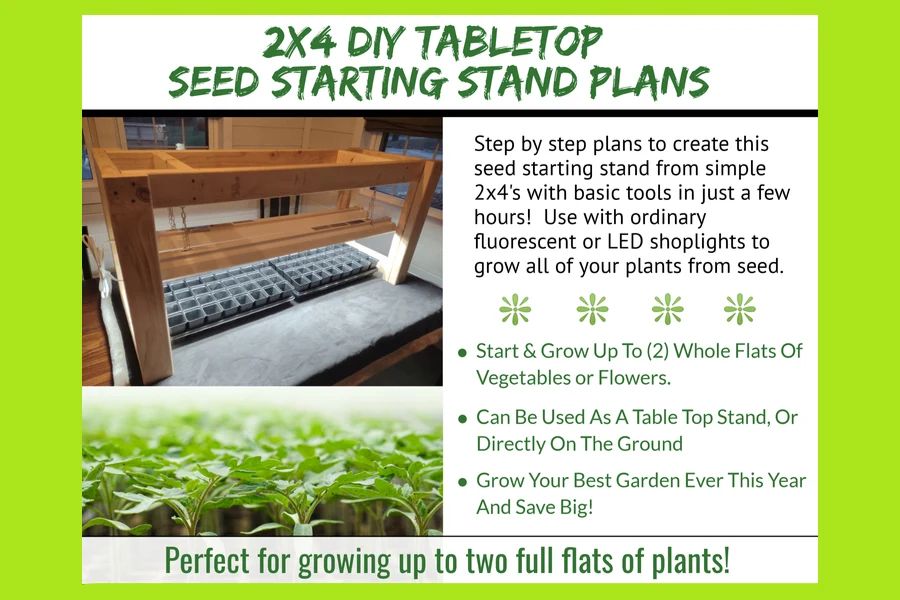 Assembling The DIY Seed Starting Stand
Cutting the pieces and assembling the stand is easy to do with just basic tools. In fact, if you have a tape measure, a power drill driver and a saw to make straight cuts to the 2×4's, you are in business!
The simple design uses the 2×4's to create sturdy legs and a solid frame for hanging the lights. It goes together easily with screws in just a few hours. Even better, if you don't have storage space, you can take it apart at the end of the growing season!
For more on starting seeds indoors, be sure to check out our article : How To Start Seeds Indoors. Here is to creating your own DIY table top light stand and growing your plants from seed next year!
This Is My Garden is a garden website created by gardeners, for gardeners. We publish two articles every week, 52 weeks a year. Sign up today to follow via email, or follow along on Facebook here : This Is My Garden. This article may contain affiliate links.