When it comes to being ready to plant, grow & maintain your garden or flowerbeds this year, there are four essential garden supplies that can really help make a difference between smashing success, or a less than desirable growing season. And it is ever important to have them on hand and at the ready right from the start!
Once spring arrives, gardening chores arrive in an instant. Before you know it, you are in the thick of planting, watering, mulching, fertilizing and more. And it can get overwhelming quickly!
One moment, you are planting a young transplant into your vegetable garden, waiting patiently for it to grow. Just like that, in the blink of an eye, it's time to fertilize. But wait! Now here comes an invasion of aphids and whiteflies – and you need a quick solution.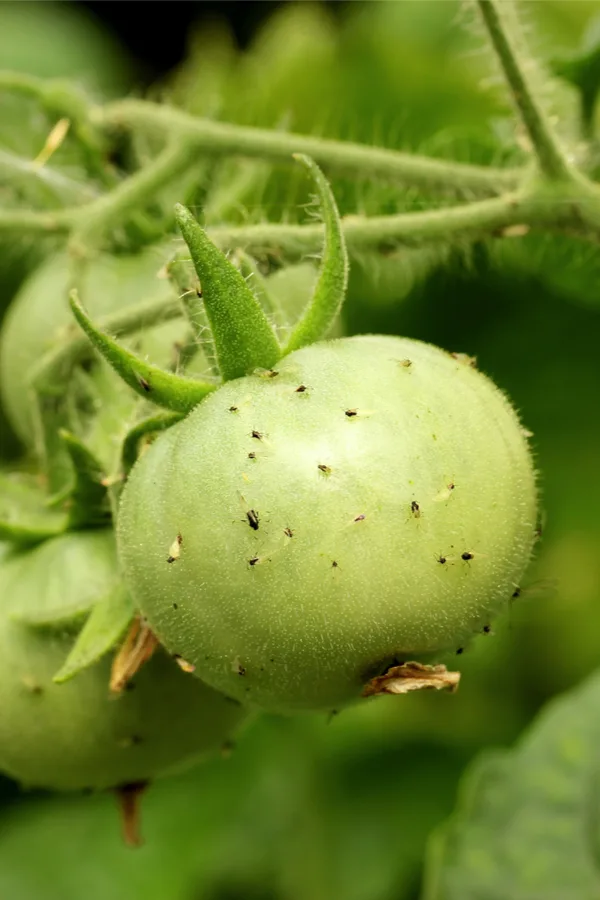 Waiting too long to fertilize or treat an insect issue can spell big trouble. In fact, a single pest issue can explode almost overnight if you are unable to treat the problem quickly.
Being Prepared – Having Essential Garden Supplies At The Ready
Unfortunately, when it comes to maintaining your garden and flowerbeds, timing is everything. And not being prepared, or more importantly, not having the right planting soil, supplements or remedies on hand when you need them most can spell disaster for your plants.
Whether you love flower gardening, herb gardening, vegetable gardening – or enjoy all three, it is important to be at the ready. With that in mind, here is a look at 4 essential supplies every gardener should have ready to go this spring!
4 Must Have Garden Supplies
#1) Compost
Above all else, having a good supply of compost on hand is an absolute must for any gardener. Not only for maintaining healthy soil, but for powering your plants to their best.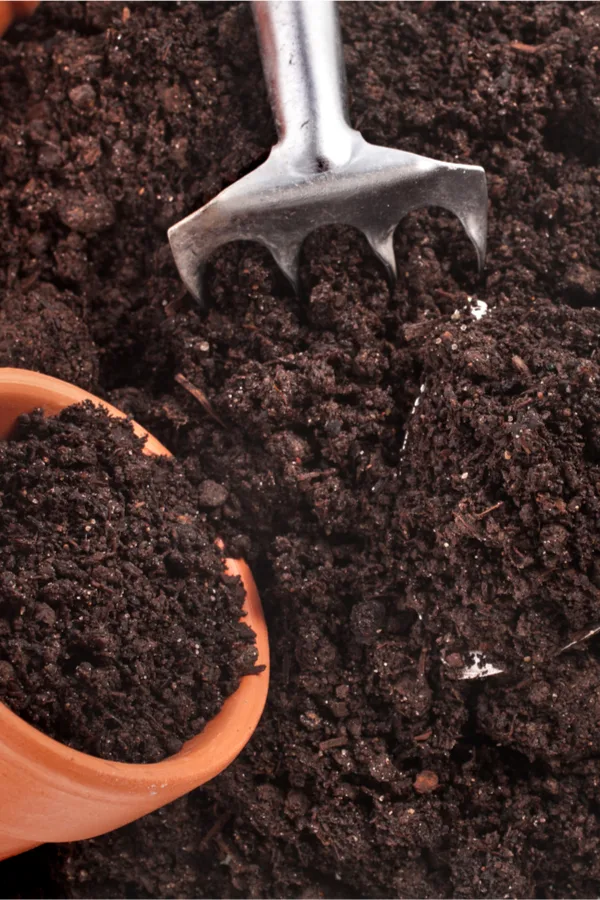 Compost is wonderful for energizing annual flowers, vegetable plants, herbs, perennials, shrubs and more. And in a multitude of ways! With its perfect balance of nutrients that absorb into plants with ease, it is the ultimate organic fertilizer.
When mixed into planting holes, it helps loosen the soil and gently feed the tender roots of young transplants. Compost is also excellent for adding to potting soils, or for using as a power mulch on top of container and hanging basket plants.
The Power of Compost Tea
If that wasn't enough, soaking compost in water also creates an amazing fertilizing tea. One that is powerful and fast acting with a great balance of nutrients. Even better, it won't burn plants like typical fertilizers can often do.
Perhaps best of all, compost tea is simple to create at home. In fact, with just a bit of water and a bucket, you can make it anywhere. Compost tea truly is the ultimate organic liquid fertilizer for nearly any plant a gardener can grow. (See : How To Make Compost Tea)

Always, always, always make sure you have compost at the ready. It can, of course, be made with ease right in your backyard. And completely for free! But if need be, you can also purchase bagged compost to keep on hand when supplies run low.
#2) Worm Castings – 4 Essential Garden Supplies
If you have never used worm castings to power your plants, you won't believe the difference it can make! Just like compost, worm castings are overflowing with nutrients. Not only that, they are extremely easy for plants to absorb.
Worm castings are a charming name for what are really just the excrement of worms. Before you get squeamish, castings are dry to the touch, and basically odorless. But do they ever contain serious power for plants!
Worm castings can be used everywhere to provide energy to plants. They can be used in planting holes or on top of the surface as a slow-release fertilizer. They can also be soaked in water to create an excellent liquid fertilizer.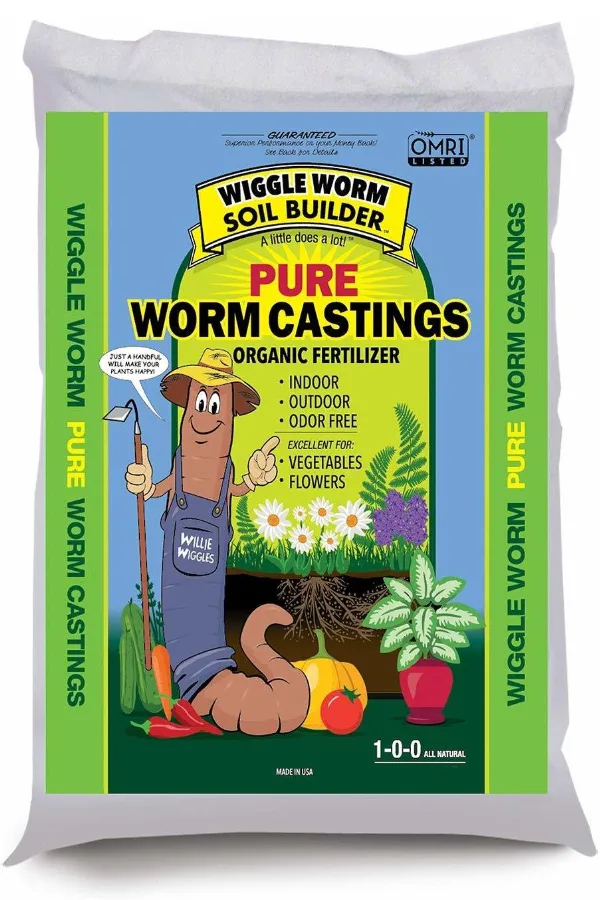 Best of all, just as with compost, they will not burn or over-power plants. Instead, they release a slow, steady stream of nutrients that can keep your vegetables and flowers growing strong all season long. Product Link : Worm Castings
#3) Neem Oil – 4 Essential Garden Supplies
If compost and worm castings are incredible plant powering materials, the next two garden supplies (Neem oil & diatomaceous earth) are amazing and all-natural plant protectors.
If you garden for any length of time, you are going to have issues with pests. And having these two supplies on hand and at the ready is a must.
Especially if you don't want to use harsh, man-made chemical or pesticide sprays!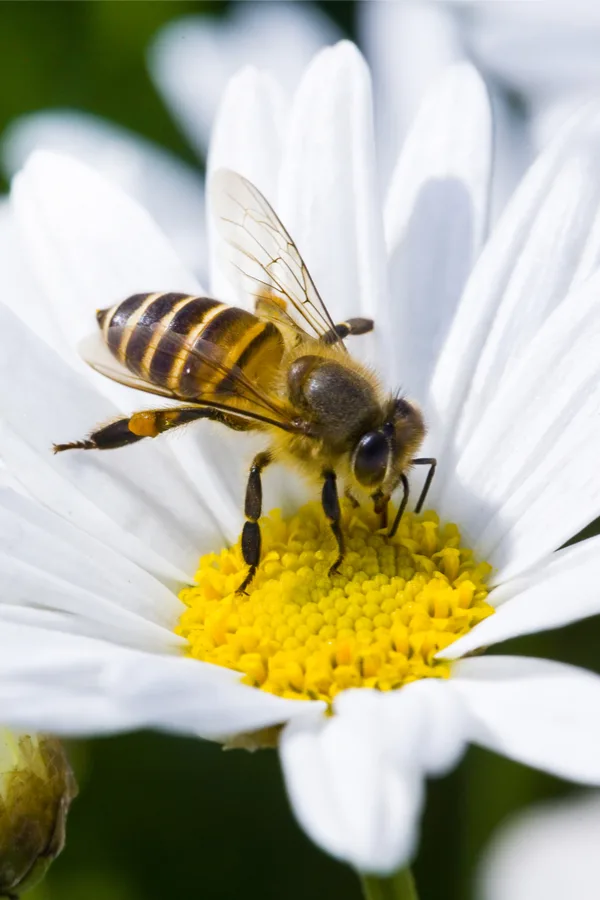 Lets start with the amazing protective properties of neem oil. Neem oil is an all-natural liquid made from pressing the seeds of a neem tree. You can mix the oil with water and spray the liquid without the worry of injuring pets, children or adults – or damaging the plant.
Neem oil is great for controlling many common garden pests such as aphids, mites, beetles, whiteflies, moths and more. Not only is it 100% organic, it will not harm important pollinators such as bees and butterflies. Product Link : 100% Neem Oil
#4) Mulch – 4 Essential Garden Supplies
If there is one organic material that can help both your plants and you to an incredibly productive, yet extremely low-maintenance gardening season – it is mulch.
Yes, believe it or not, mulch is the unsung hero of low-maintenance gardening. Both for flowerbeds, and in the garden. And it is exactly why you should always have plenty on hand to apply as needed.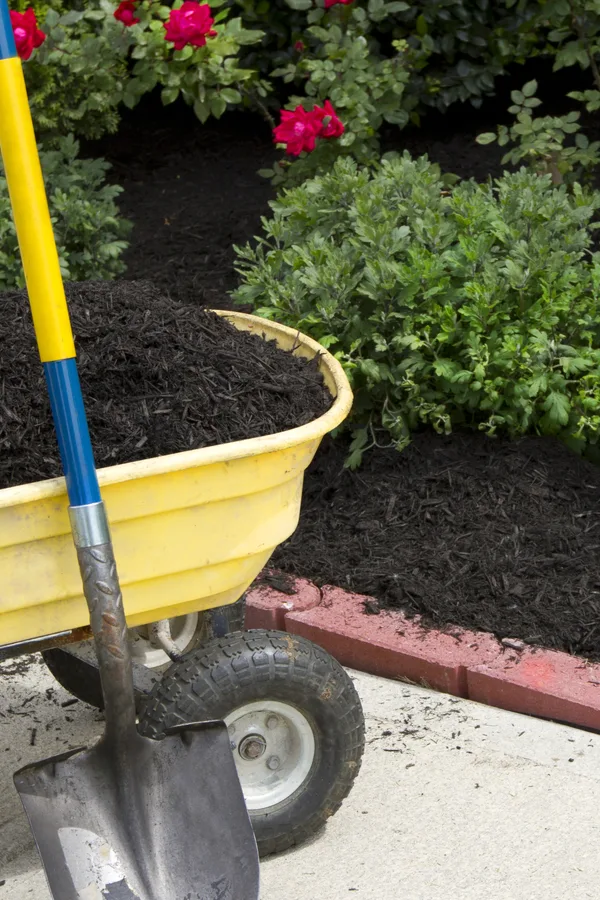 Whether using hardwood or bark mulch in flowerbeds, or straw, grass clippings or shredded leaves in the garden, keeping your soil covered is the ultimate key to healthy plants, and easy-care gardening.
A proper mulching of plants can keep weeds out, moisture in, and your weeding tools in the garden shed. Flowerbeds should have a minimum of 4 to 6 inches for weed control.
The same goes for the mulch you choose for your vegetable plants in the garden too. A heavy application will do wonders for keeping weeds at bay! (See : How To Eliminate Weeding In Your Flowerbeds – For Good!
Here is to being ready for garden season, and to having the essential garden supplies you need on hand.
This Is My Garden is a garden website created by gardeners, for gardeners. We publish two articles every week, 52 weeks a year. Sign up today to follow via email, or follow along on Facebook here : This Is My Garden. This article may contain affiliate links.