When it comes to growing great tomatoes in containers on your porch, deck or patio, big success starts with selecting the best, most flavorful varieties for small space growing!
Whether you have a backyard garden or not, raising a couple of potted tomatoes on your patio is a great way to keep tomatoes close at hand.
After all, sometimes you just need a few tomatoes for a salad, sandwich or a burger. And that is exactly where growing a few delicious patio tomato plants is the perfect solution. Especially when you can grow delicious varieties that teem with flavor!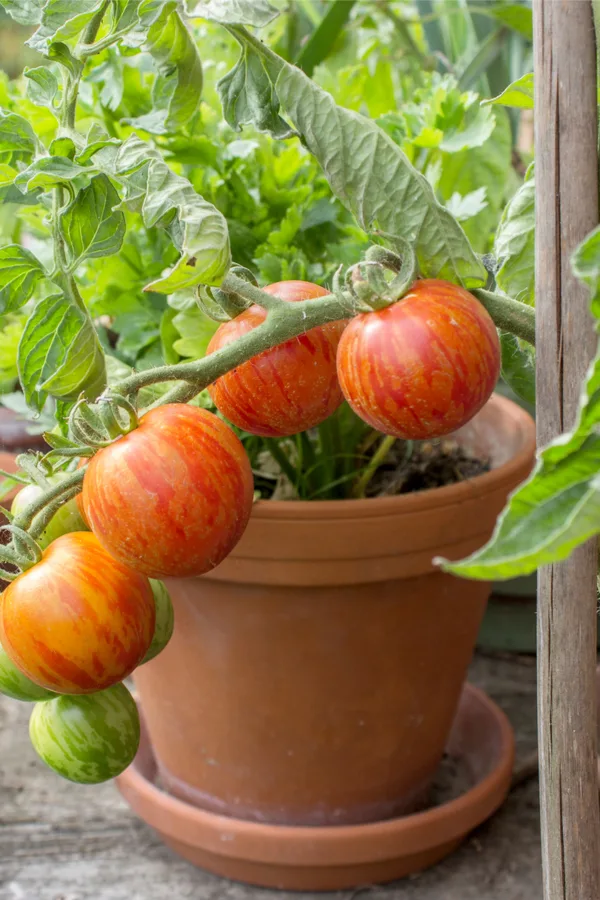 One thing is for sure, the resurgence of heirloom tomatoes has opened up everyone's taste buds to intense flavor. And although many of those amazing heirlooms are better for large spaces, there are quite a few compact heirlooms that work incredibly well for patio planting.
In today's article, we will take a quick look at a few of the biggest secrets to successful patio tomato growing, along with 5 amazing container tomatoes to grow that will fill your back deck, porch or patio with sensational flavor!
The Secrets To Growing Tomatoes In Containers – The Best Tomatoes To Grow On a Patio
Before we get to those 5 delicious varieties, it is important to cover a few special growing needs when it comes to patio tomatoes.
There are 5 simple but major keys to successfully growing tomatoes in containers – and if you get all five right, you are almost assured of a wonderful harvest!
Selecting the right variety for container growing
Using nutrient filled potting soil
Locating your plants for proper sunlight
Good watering habits
Fertilizing regularly
Selecting The Right Plants & Soil
First and foremost, selecting tomato varieties that grow well in containers is a must. Small to mid size plants are best for patio growing. With smaller root structures, these varieties can grow and produce without needing massive amounts of soil.
Next, since there will be less soil in a container than in a traditional garden setting, it is vital to use great soil. That means potting soil that is lightweight, full of nutrients, and that drains well too.

Tomatoes require a lot of nutrients from the soil. Without those nutrients, they simply can't grow to develop strong foliage, stems and fruit. For best results, select a quality soil that contains plenty of compost or other natural additives. See : How To Create The Best Organic Potting Soil
Location
You also need to locate your tomato plants patio in a location that receives plenty of light. If there is one thing tomatoes need for strong growth, it's plenty of sunshine. In fact, for optimum performance, tomato plants should receive at least 6 to 8 hours of sunlight.
Don't place your plants under awnings or behind trees or shrubs that shade them. Get them out into the sun where they can soak up the rays!
Proper Watering
If there is one is one task that can really make or break patio tomatoes, it is watering. As in too much water, or not enough! Allowing patio tomato plants to dry out too much between waterings can cause serious stress to the plant. Just as over-watering your plants can do as well.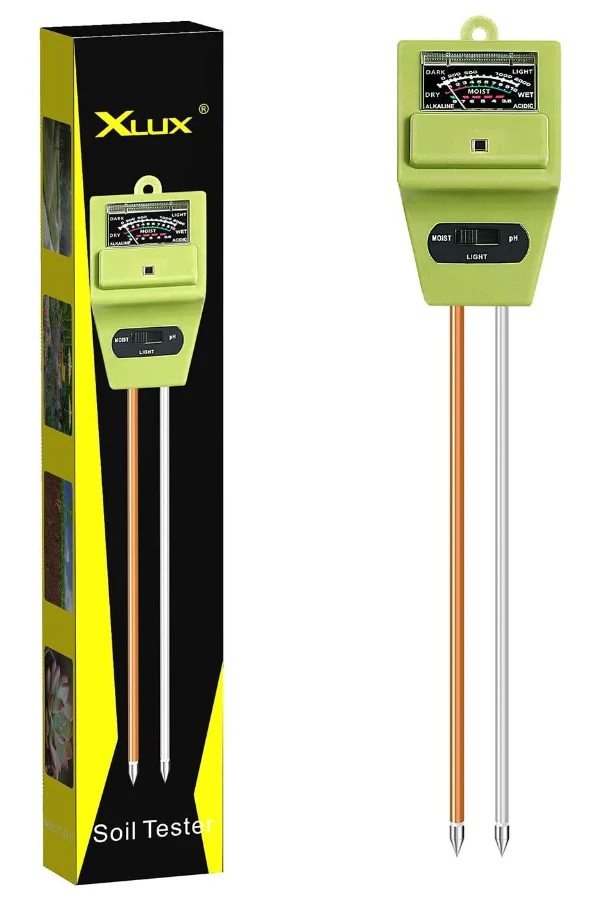 It is important to remember that container plants dry out much faster than ones in a garden. Add in that they can grow large root structures, and it usually means the plants will require daily watering to survive and produce.
If you plan on growing a fair amount of patio tomatoes, or for that matter, grow a wide range of patio planters and baskets, it is often wise to invest in a simply digital moisture thermometer. With a simple probe into the soil, you can tell if its time to water or not. Product Link : 3 in 1 Moisture, PH & Light Reader
Fertilizing Your Container Tomatoes
Finally, because your tomatoes are growing in a container, they also need to be fed o a regular basis to keep the plants healthy and strong. Even the best potting soil will run out of nutrients by mid summer.
To keep your container tomatoes supplied with power, plants should be given a small dose of nutrients every few weeks. Compost tea, worm casting tea, or a liquid fertilizer are all excellent options for fertilizing tomato plants.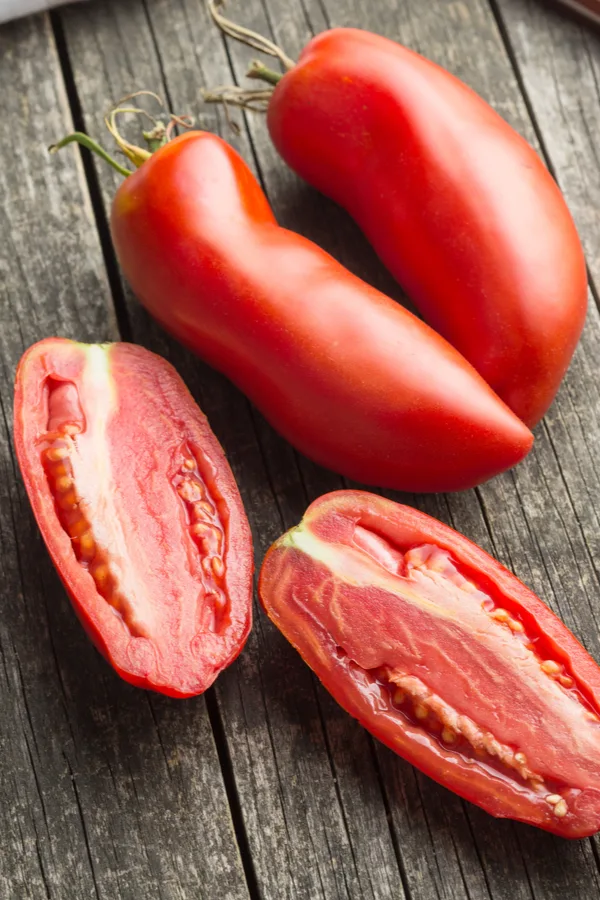 The fertilizer should be applied to plants every two to three weeks as plants develop. Fertilize at these intervals until the plant begins to produce and then lower to monthly applications. Be careful not to over-fertilize. Over fertilizing can promote excessive foliage growth and actually limit fruit production.
Now that we have covered how to grow patio tomatoes, let's take a look at 5 of the best varieties to grow for big flavor and high yields!
5 Great Tomatoes To Plant In Containers – The Best Tomatoes To Grow On A Patio
#1 – Tigerella Tomato
The Tigerella tomato plant produces a stunning fruit with red and orange stripes. As delicious as it is to eat, it may be even more beautiful to look at!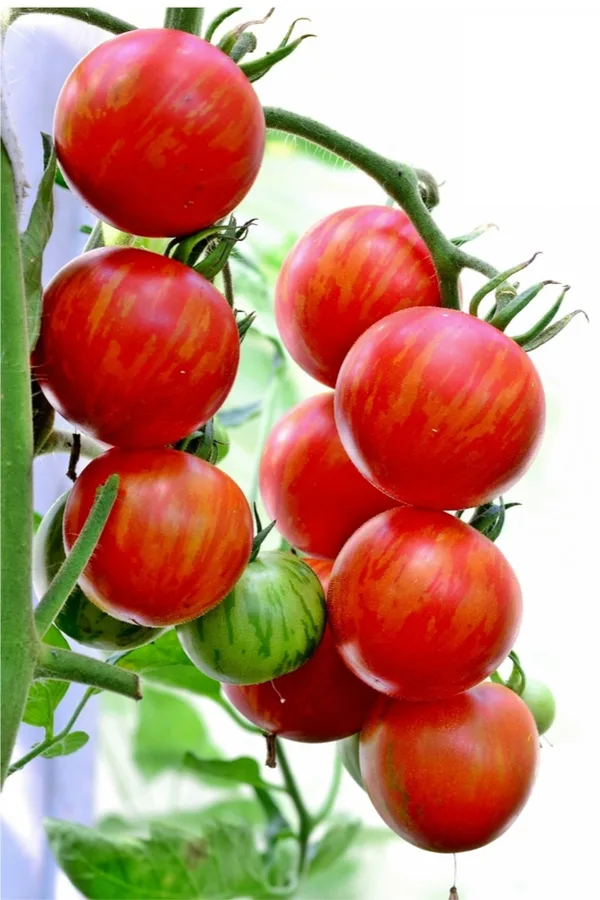 An earlier maturing plant, the Tigerella can begin to yield its two inch round fruits in as little as 60 to 70 days from planting. And can it ever produce a lot of tomatoes!
The Tigerella is known for big yields, and does require a stake or cage to help support the plant in a container setting. As an indeterminate variety, it will produce right up until the first frost. Product Link : Tigerella Seeds
#2 – Red Torch Tomato
Just as its name implies, the 1 to 2 inch fruits of the Red Torch tomato plant look like flames from a fire! This hybrid variety is an indeterminate, meaning it will keep on producing right up until the first frost.
Not only are the tomatoes of the Red Torch beautiful, they are loaded with nutrients too. In fact, the Red Torch is a monster superfruit when it comes to packing loads of Vitamin's A & C. It is also high in potassium too.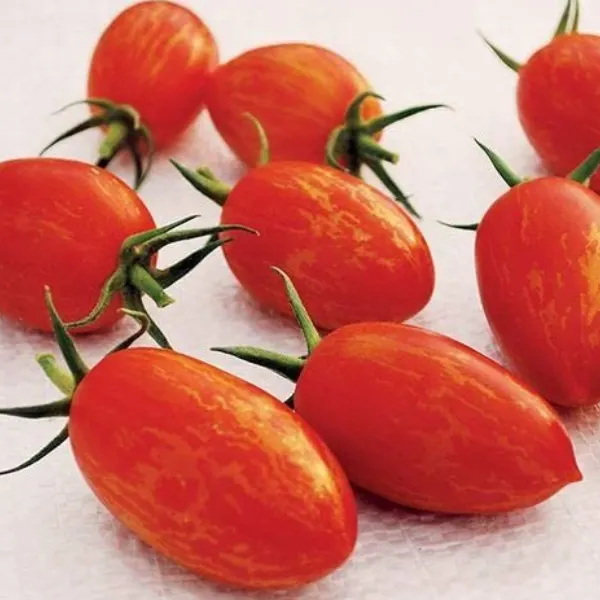 Red Torch matures early and is a vining style plant. Because of this, a small cage or stake in the container can make harvesting a breeze. The variety has a high resistance to disease, and is self pollinating as well, so it can easily grow and produce as the only tomato plant around. Seed Link : Red Torch Tomato Seeds
#3 – Beaverlodge 6806 Plum Tomato
If you are looking for a plum tomato that is incredibly tasty, the Beaverlodge 6806 variety is perfect! This compact tomato plant is perfect for patio growing. It produces a huge crop of round to plumb shaped tomatoes that are loaded with flavor.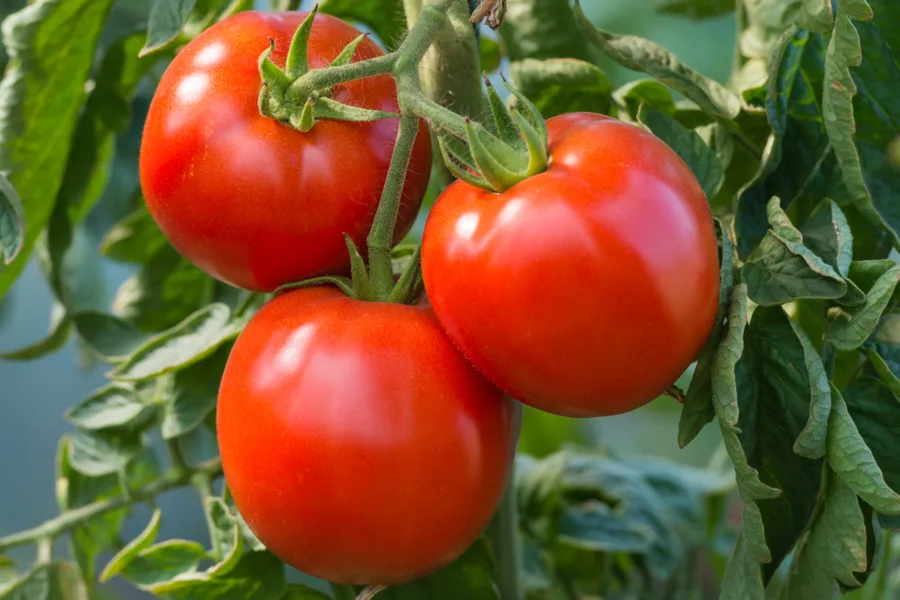 Beaverlodge is a fast maturing tomato that can produce a viable crop early in the season. It is a determinate tomato, so you may want to start a few seeds in late spring to have a second harvest in late summer to early fall. Seed Link: Beaverlodge Plum Seeds
#4 – San Marzano
The San Marzano tomato (pictured near the beginning of the article) is one of the most versatile tomatoes you can grow! With a small seed core and meaty flesh, this paste tomato is wonderful for fresh eating, or for making salsa, sauce and more!
With it's upright and compact growth, the San Marzano can grow quite easily on a patio, especially when planted in larger containers. Seed Link: San Marzano Tomato Seeds
#5 – Artisan Blush Tomato
The Artisan Blush tomato makes a lot of "top growing" lists when it comes to tomato plants, whether in a traditional garden, raised beds, or in pots and containers.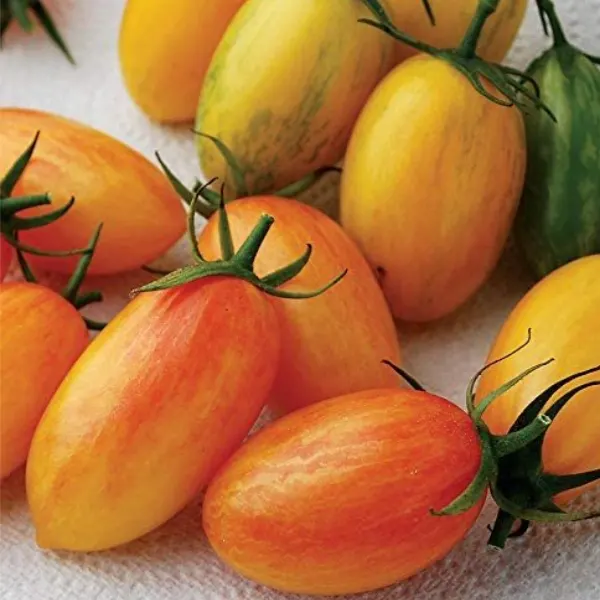 The Artisan produces a massive crop of 2″ long cylindrical fruits. Not only are they super sweet, but they also happen to be beautiful to look at. Their fruit matures to an yellowish-orange color when ripe, and is so sweet, many think it tastes like a peach. See: The Tiger Blush Artisan Tomato – The Most Amazing Tomato Ever
Supporting the plant with a cage or stake in the container is a must. The plant produces a large quantity of fruit that can topple it over without support. The Artisan Tiger Blush is an intermediate variety that will produce up until the first frost. Seed Link : Artisan Blush Tomato Seeds
Here is to growing a few patio tomatoes this year, and enjoying an incredible harvest of tomatoes, right out your back door!
This Is My Garden is a garden website created by gardeners, for gardeners. We publish two articles every week, 52 weeks a year. Sign up today to follow via email, or follow along on Facebook here : This Is My Garden. This article may contain affiliate links.