If you are looking for an incredibly inexpensive way to create gorgeous containers for your patio, porch or deck – there is no better way than potting up perennial plants. Especially if you can pot up perennials already growing in your yard!
Although traditional pots and containers with flowering annuals can be beautiful, they can also be quite expensive. They also require constant care with watering, fertilizing and deadheading. And even with all of that – by mid summer – many annual flowering pots begin to fade fast.
One thing is for sure, it is a lot of money to spend for annual flowers that rarely make it more than a few months. And even if they do last most of the summer, with annuals, the end of the growing season spells the end of the road!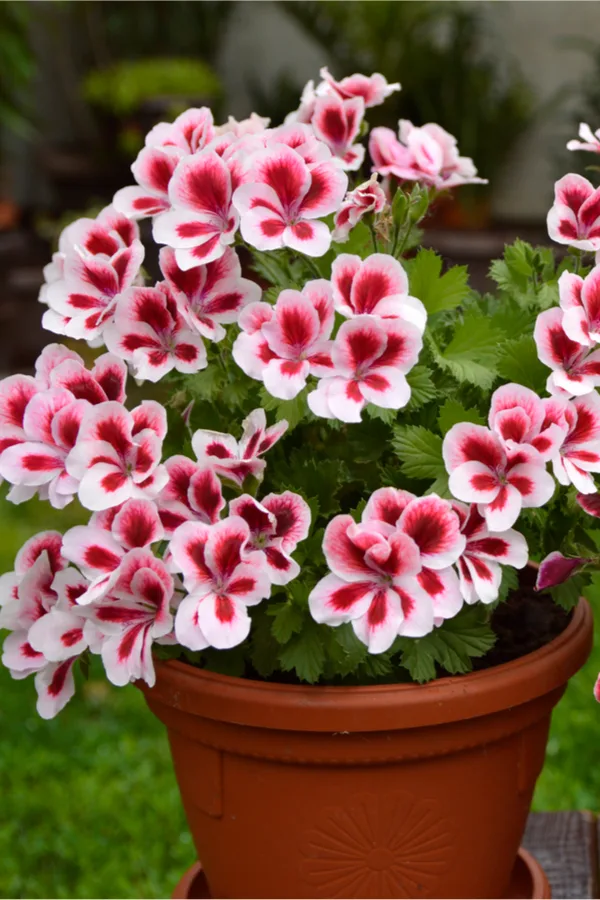 But that is exactly where potting up a few perennial plants can save the day. Using perennial plants to fill pots and containers is an excellent, low-cost method for adding lasting beauty to porches, patios, or anywhere in the landscape you wish.
Even better, by using existing plants already found in your landscape, you can save by never having to purchase plants. And best of all, you can replant them into the ground in the fall to use again year after year!
The Beauty Of Using Perennial Plants For Pots & Containers
There is a long list of perennials that are perfect for potting up. Hostas, day lilies, coral bell, sedum and daisies all thrive in pots and containers. As do blanketflower, hardy geraniums, ornamental grasses and even larger perennials such as boxwoods and hydrangeas.
In fact, the list of perennials you can plant in containers is near endless. The real key is to select perennials that have lush or unique foliage. This way, they provide interest all season long, even when they're not showcasing their blooms.
You can even use a combination of perennials and and annuals in pots and containers for a gorgeous dual display. It cuts down on your overall cost while still giving even more flower power. The only real limitation is your imagination!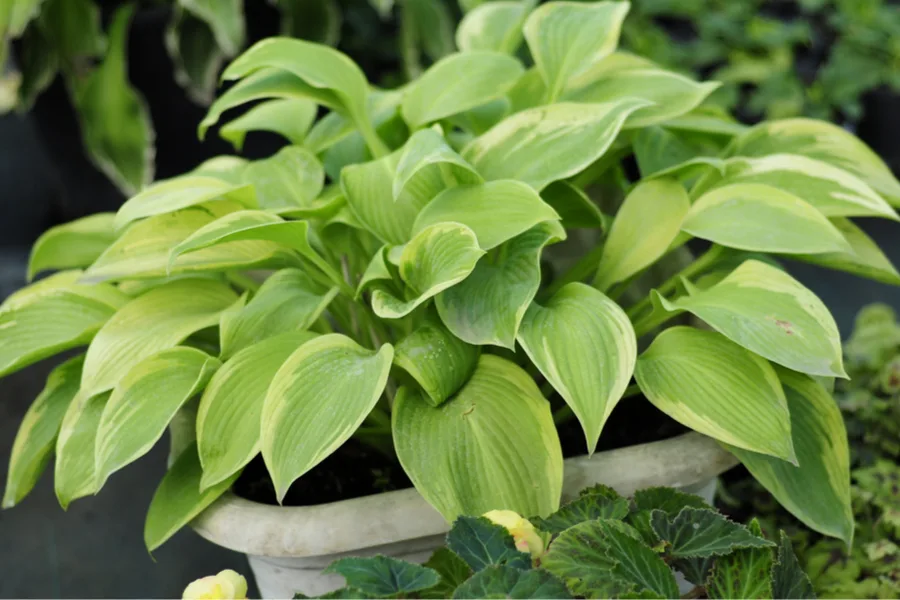 The Advantages of Perennial Containers – Potting Perennial Plants
The advantages of using perennials in containers goes far beyond just the cost savings. They are also far easier to plant and maintain throughout the growing season than annuals as well.
Most annuals require watering every day in order to survive. In fact, in some cases, they can require water in the morning and evening just to make it through a summer day. Annual flowers also often require constant deadheading to force new blooms, as well as frequent fertilization to stay productive.
But perennials, by there very nature, do not require as much water, fertilizer or attention as annual flowers. In fact, many perennial varieties can go a few days or more in containers without the need for water.
They also don't have to be planted in premium potting soil to survive and thrive. The large majority of perennials can be potted up in a container using ordinary garden soil or a simple 50/50 mix of garden and potting soil. That means far less cost and hassle at planting time!
And when it comes to fertilizing? Well, perennials once again take and need far less nutrients from the soil. When planted in containers, a few light doses of fertilizer can keep perennials strong all season long. That's quite an improvement over annuals that can need a boost every few weeks.
Listen to our Podcast on Planting Perennial Plants In Pots!
But perhaps the best thing about using perennials in containers is what happens in the fall. Instead of throwing a basket full of dying annuals in the compost pile – you can replant your perennials right back into the landscape.
Even better, if the plant has grown in size, you can split it to create additional plants for next year. It is truly the ultimate in recycling container plants – and a practice that can save big year in and year out on your gardening budget!
Finding Perennials For Containers On The Cheap
Of course, the easiest and least costly method for planting is to select from the existing perennials growing in your landscape. Simply dig up plants or divide a small section off in the spring and transplant into your containers.
But even if you don't currently grow a lot of perennials, you can still save big on plants! Smaller-sized perennial starts are among the most affordable of all in nurseries and garden centers. And these smaller sizes are absolutely perfect to grow in containers.
After a year or two growing in containers, plants usually grow large enough to split. You can not only keep using them for container planting, but have larger starts to now grow in your flowerbeds as well. It really is the ultimate win-win!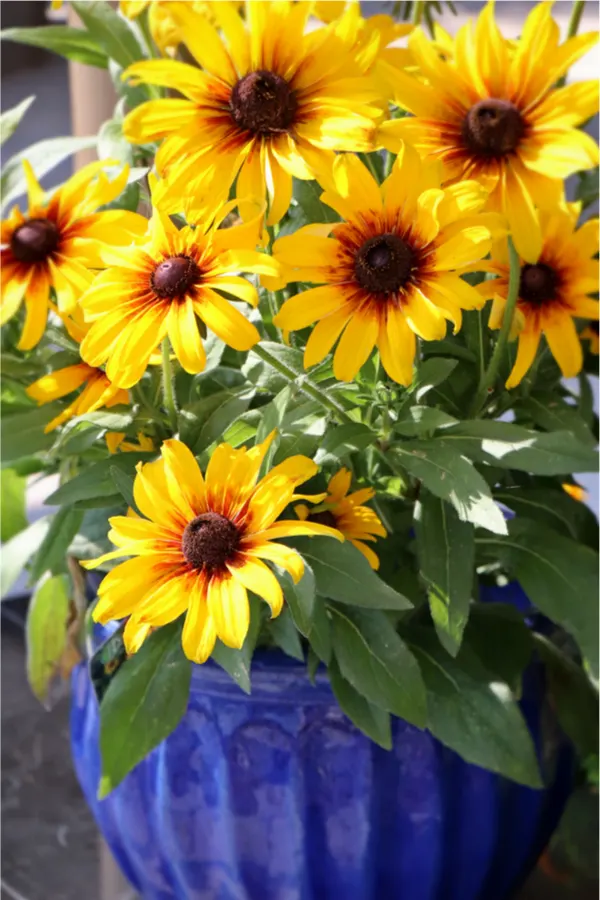 Care Tips For Planting Perennials In Pots
Planting perennials into containers really is a breeze. Select perennial plants whose roots are about 50% of the size of your container. This gives them plenty of space to expand without running out of room. The good news is that perennial roots grow far slower than annual plant's roots.
For best results, use a mix of potting soil and garden soil in your containers. This not only gives the perennials better soil, it also keeps your containers from being overly heavy. A 50/50 mix works well. When planting, add in perlite to the soil to help lighten it up even more. (See: How To Use Perlite To Create Better Soil & Grow Healthier Plants!)
Always be sure your containers have plenty of drainage holes. Most perennials suffer the most from overly wet soil, so good drainage is a must. Mulch the tops of your containers to help control moisture and soil temperatures.
For most perennials, fertilizing twice during the growing season will provide more than enough nutrients. Fertilize a few weeks after transplanting, and once more as they begin to bloom. An all purpose, balanced, granular fertilizer will work best. (Product link ; 10-10-10 All Purpose Fertilizer)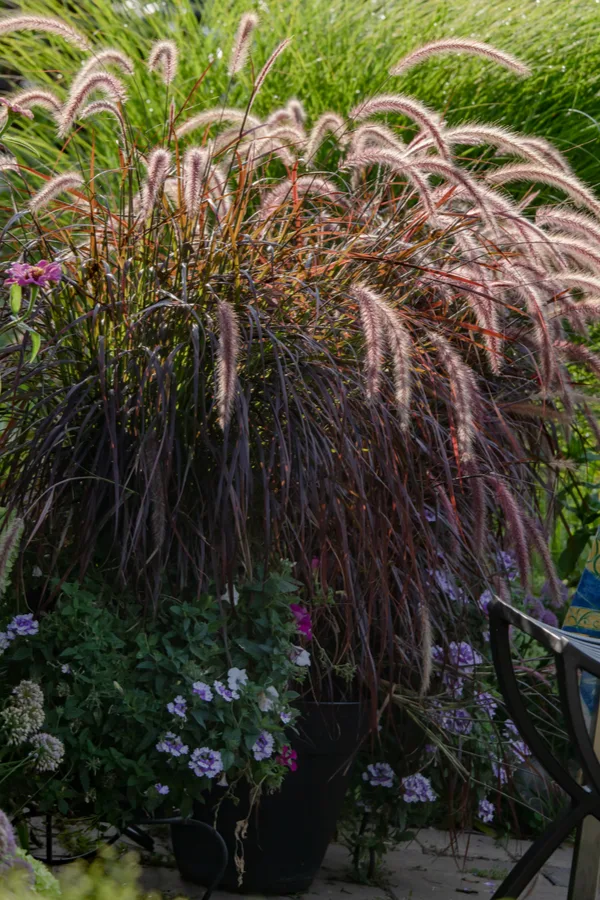 Beyond that, perennial care in containers all comes down to proper watering. As mentioned prior, perennials will not need as much water as annuals. Check the soil frequently and only water when the soil is dry down at the root level.
Top Plants For Potting Perennial Plants:
Here is a look at a few of our favorite perennials for potting up!
Hosta Plants – Potting Perennial Plants
The hosta plant's beautiful, broad, leafy structure makes it an excellent choice for planting in all types and sizes of containers. They also happen to be one of the easiest of all perennials to divide in early spring and transplant.
Because hostas prefer shadier locations, they are perfect to use in containers, covered patios and porches. Use them as a focal point in the center of large pots or containers, or surround them with a few bright annuals to create a colorful display.
Ornamental Grasses – Potting Perennial Plants
Ornamental grasses are drought resistant, durable and look great in pots and baskets. They can also be found in a huge variety of sizes and shapes that can be perfect for nearly any size container.
Much like hosta plants, they can be centered in large pots for a tall, spiky focal point. One of our favorites is the Carex Ice Dance. It adds a brilliant splash of color and height to any container planting.
Coral Bells – Potting Perennial Plants
Another easy perennial to split and divide in the spring, coral bells have gorgeous foliage that can brighten up any space. With varieties of foliage in green, red and dark purple, there is a color for any setting.

But as pretty as the foliage can be, the wispy tall blooms make it great for creating vertical interest. They also happen to be wonderful for attracting hummingbirds too.
Blanketflower – Potting Perennial Plants
Not only is blanketflower drought and deer resistant, it's also a prolific bloomer. In fact, it blooms all summer long. With beautiful daisy-like flowers, it is a show stopper for sure in any container.
And it doesn't stop with the perennials above. You can try any small to mid-sized perennial in pots to keep the budget in check. Here is to using perennials for potted plants – and saving big!
This Is My Garden is a garden website created by gardeners, for gardeners. We publish two articles every week, 52 weeks a year. Sign up today to follow via email, or follow along on Facebook here : This Is My Garden. This article may contain affiliate links.