Looking for the best and most beautiful ornamental grass varieties to grow in your yard to help create a long lasting, easy care landscape?
Ornamental grasses are an excellent way to add low maintenance texture, color and interest to your landscape. Not only are most varieties heat tolerant and drought proof, they also are pest resistant as well. In fact, very few pests, including deer, ever bother them at all.
Add in that they can grow in almost any soil type, rarely if ever need to be watered, and require little to no fertilization – and it's easy to see why they have become so popular!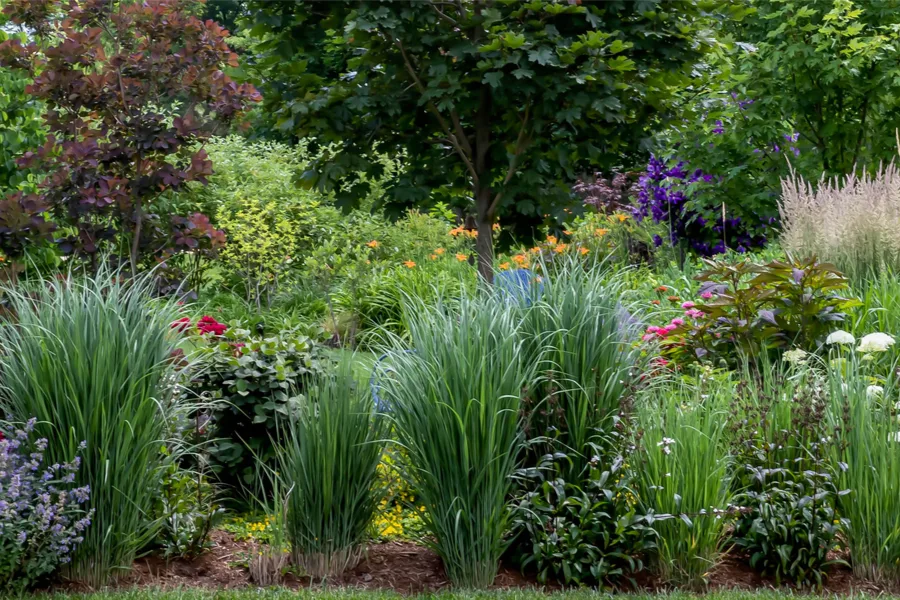 Ornamental grasses can be found to fit any landscape style or need. From small border plants to soaring colossal giants and everything in between, there is grass for almost any space.
Today's article features 5 of the best of the best when it comes to ornamental grasses. We have included growing zones for each, along with a detailed description for what to expect from the plants from spring through late fall.
One thing is for sure, with all of the varieties listed below, with nothing more than a yearly cut back and an occasional dividing every few seasons, these plants will add amazing beauty to your landscape with little effort!
The Best Ornamental Grass Varieties To Grow
#1 Karl Foerster Feather Grass – The 5 Best Ornamental Grass Varieties
Karl Foerster Feather grass is an excellent addition to any home landscape, especially ones with poor soil. This ornamental is an upright grower, making it perfect for mass plantings that add big interest. Long, feathery shoots grow upright from the green grass switches in early fall and add instant beauty.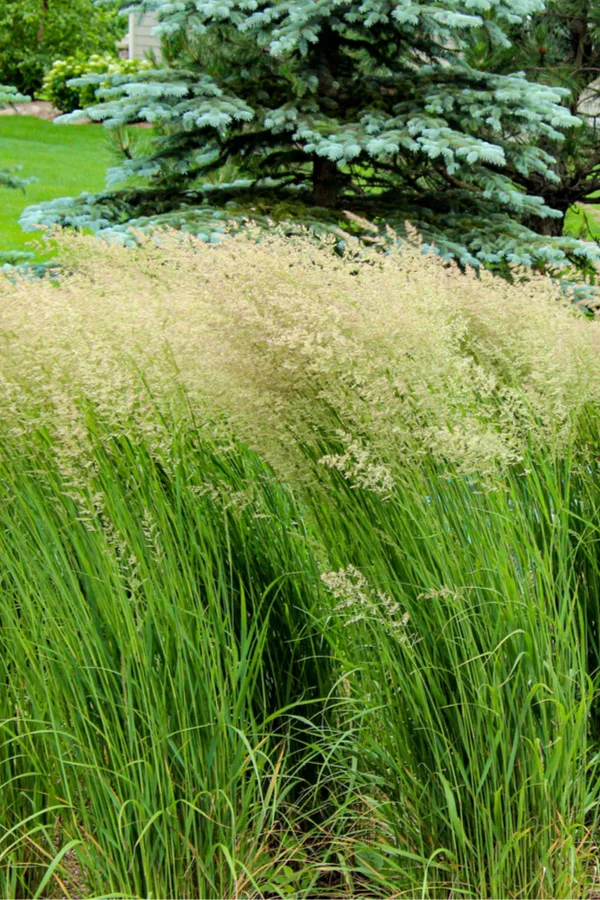 It is also versatile, growing well in a wide range of growing zones, from three through nine! This grass loves the heat and full sun, and will rarely if ever require watering. It is also deer resistant, and is wonderful for providing protection for all kinds of birds and other wildlife.
In addition to all of those great qualities, it grows well in all soil types, and has an extremely slow-growth expansion rate. That means it can stay in the ground for years and years without ever having the need to divide and transplant.
#2 Elijah Blue Fescue – The 5 Best Ornamental Grass Varieties
If you are looking for an ornamental grass that stands out from the crowd, Elijah Blue Fescue is an excellent choice!
The low growing, mounding grass is perfect for border plantings with its smaller stature. Growing from 8 to 12 inches tall, it's blueish-green clumps provide big interest and color. Hardy from zones four through eight, Elijah Blue performs well in both full sun or partial shade.
Like nearly all ornamental grasses, Elijah Blue is drought and deer resistant. It is a cool season grass, and will perform better in the spring and fall with more brilliant color. Plumes shoot up twelve to eighteen inches in early fall to provide even more interest.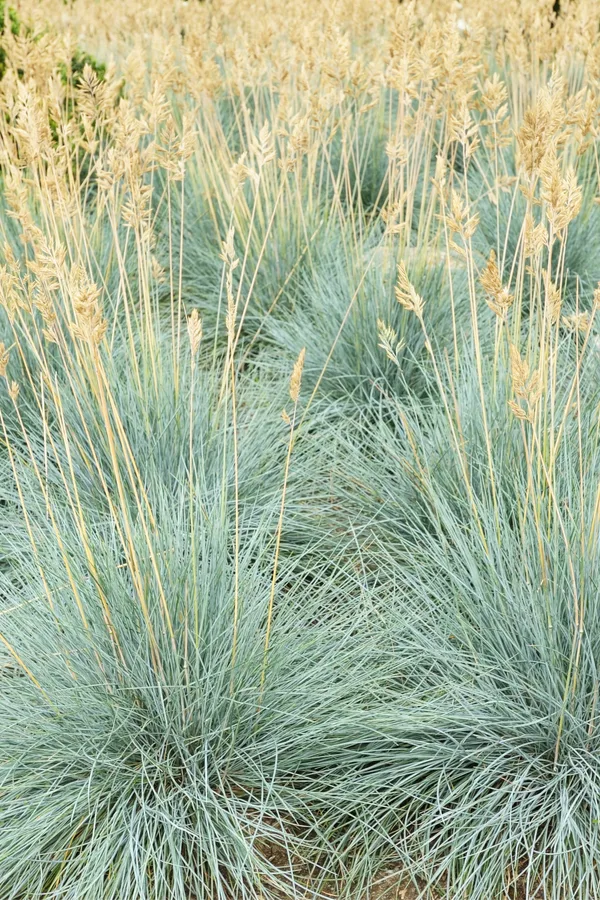 This plant is another slow grower, and you will not have to divide it very often to keep its shape and form. With that said, it will divide easily in the early spring to create multiple plants for free, which can be great for filling open bed space.
#3) Fountain Grass – The 5 Best Ornamental Grass Varieties
Fountain grass is one of the most popular grasses of all among homeowners, and for good reason. It can thrive in the harshest of conditions, making it perfect for more arid and dry locations. It is also highly drought and pest resistant, requiring little care to survive and thrive.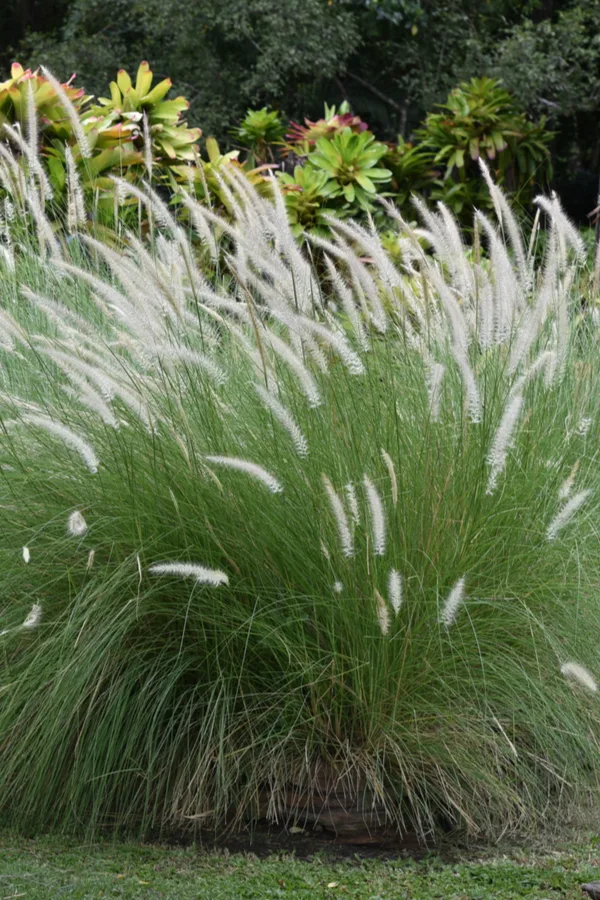 Fountain grass will mound as it grows, with beautiful feathery plumes shooting up in late fall. It is perfect in both solitary or mass plantings. Hardy from zones five through nine, its foliage can remain throughout the winter to add interest and provide great protection for birds and wildlife.
Most varieties of fountain grass will grow between four and six feet in height. They do require dividing and splitting every three to five years to maintain their vibrancy. See: When & How To Cut Back And Divide Ornamental Grasses
Liriope (Lilly Turf) – The 5 Best Ornamental Grass Varieties
Lilly Turf (liriope) is one incredible border and accent plant! Liriope grows low and slow, and is extremely drought and heat-resistant. You can also divide it easily into multiple plants after just a single growing season or two, making it extremely economical.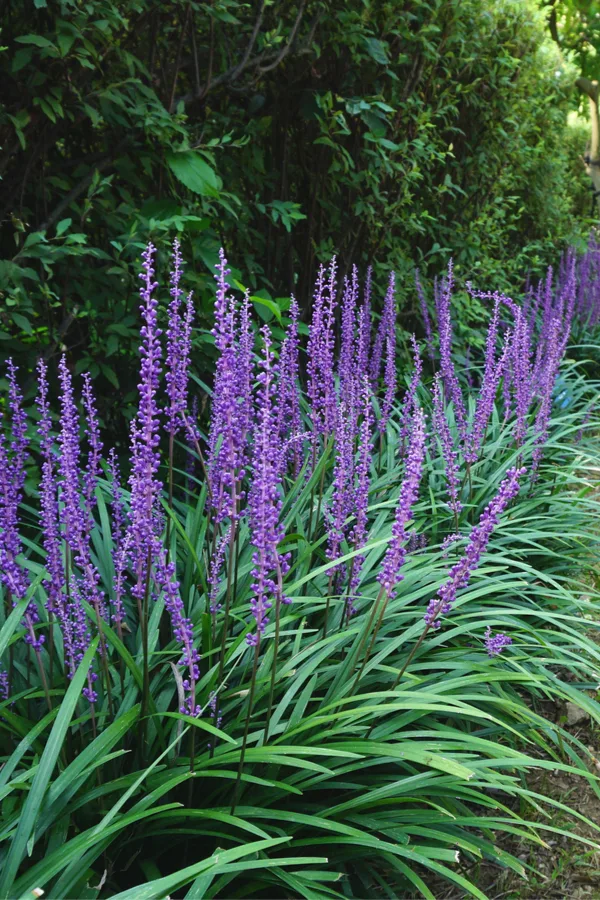 Liriope comes in many varieties, from variegated, to a wide range of solid leaf styles. Fall brings a full array of small purple blooms that light up the top of the plants and the landscape with color.
Cordgrass – The 5 Best Ornamental Grass Varieties
When it comes to a grass variety that can handle a lot of moisture, cordgrass comes to the resuce! Cordgrass tolerates moist and overly wet soil very well. Not only is great for planting around ponds or bogs, it can be a great answer for low lying areas that remain wet for most of the year.
Cordgrass is a prairie grass that is hardy in zones 4 through 6. It can reach heights of 6 feet or more, making it quite impressive for filling an open space.
Here is to planting a few low-maintenance ornamental grasses in your landscape this summer – and enjoying their easy care beauty!
This Is My Garden is a garden website created by gardeners, for gardeners. We publish two articles every week, 52 weeks a year. Sign up today to follow via email, or follow along on Facebook here : This Is My Garden. This article may contain affiliate links.