Looking for the best perennial border plants to add beauty and order to your flowerbeds, sidewalks and home landscaping?
Border plantings not only add color, interest and definition to your planting areas, they also help keep your flowerbeds much tidier in the process. They are perfect for holding in mulch and keeping it from spilling out over walkways. Even better, they can keep the overall need for mulch down as well.
In addition, if grown close enough together, border plants do an excellent job of keeping unsightly weeds from taking hold along the edges of flowerbeds and sidewalks. But more than anything else, border plants give flowerbeds a finished look, creating structure in the landscape.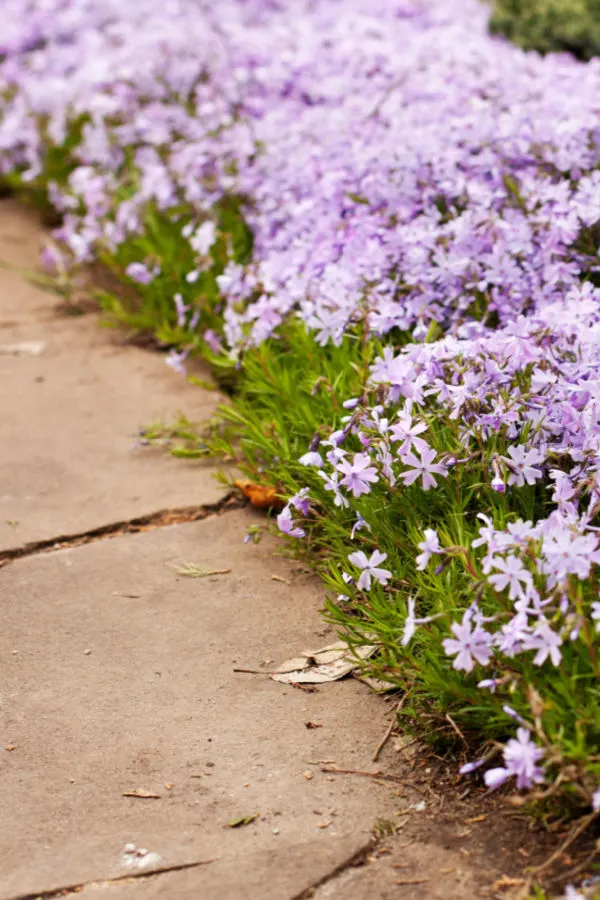 The Qualities Of A Good Perennials Border Plant
Although there are thousands upon thousands of varieties of perennials, not all make good choices when it comes to selecting border plants. For starters, border plants usually need to be shorter in size.
This is important not only to be able to see other plants growing behind them, but also to keep the plants from tumbling over the front edge. A good border plant also needs to be a slow-grower. After all, you don't want to be constantly cutting back or having to divide plants to keep them in shape.
In addition to smaller size and growing habits, a great border plant needs to be durable. As a "front-line" plant, they take a lot of abuse. Whether it's foot traffic, lawn mowers or pets, border plants usually see it all.
Border plants also have a front row to winter activities. Snow shovels, snow blowers and ice melting products can also be an issue. Unfortunately, if plants are not hardy to winter's cold or strong enough to handle the abuse, you can find yourself needing to replant year after year.

With all of those must-have qualities in mind, here is a look below at 4 of the "Best-of-the-Best" perennial border plant choices around. All of the selections below are low and slow growers. In addition, not only do they each have their own unique color and beauty, all can handle a fair amount of stress without worry.
The Best Perennial Border Plants – 4 Great Choices To Grow!
Liriope
Liriope, also known as lily turf, is highly prized as a border plant. In fact, it is number one on our list for a reason! Not only is lily turf drought and deer-resistant, it can grow in a wide range of climates. In fact, it can handle cold winters (growing zone 4) and warm summers (growing zone 10) with ease.
But liriope's qualities as a border plant don't end there. This tough perennial is more than capable of growing in locations that receive nearly any amount of light – from full sun to nearly all shade. And in any soil too, from clay to sandy, and everything in between.
Adding to liriope's allure is its beauty. The perennial produces thick, lush, foliage that can reach anywhere from ten to eighteen inches in height when fully mature. The low height, along with its compact one-to-two-foot wide spread fills in border areas fast.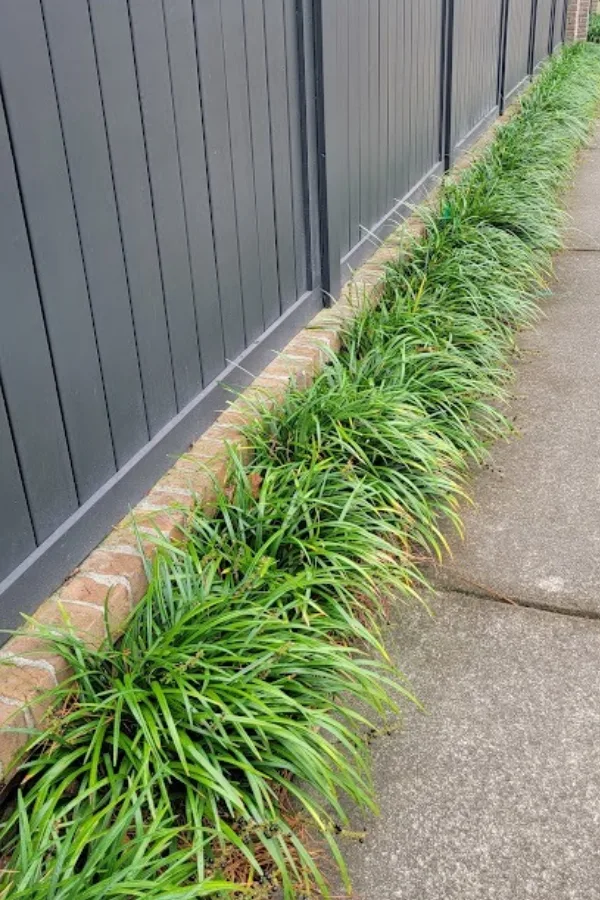 Best of all, there are several varieties that can give a wide range of color – from solid green, bluish-green or creamy white foliage, to variegated styles with combinations of each. The plants do produce a small bloom set in the fall that add a nice touch to borders.
Creeping Phlox – The Best Perennial Border Plants
Creeping phlox is another top-notch selection as a border plant. Known for it's massive color explosion in early spring, the foliage of this plant holds up extremely well through the summer and fall.
Phlox is a low and slow grower and is an excellent choice as a front line plant for allowing the plantings behind it to still be in full view. Once it completes its spring flowering, the plant's foliage stays healthy and green until dying back in late fall.
With varieties that can range in height from six to twenty inches, there is a phlox for almost any need. Especially when you consider they can be found in a wide range of white, blue, pink or purple blooms.
Phlox can handle full sun to partial shade, and is fairly drought tolerant. It will grow in most soils although it prefers slightly acidic, well draining planting locations.
Garden Sage – The Best Perennial Border Plants
Looking for a unique border plant that adds both texture and culinary flavor to your landscape? Garden sage is the answer!
Garden sage or common sage as it is sometimes referred to is actually a hardy herb. With foliage in hues of light green and grey, it can provide a thick and bushy border for walkways and paths. The perennial is extremely tough, and requires little maintenance to keep a thick cover.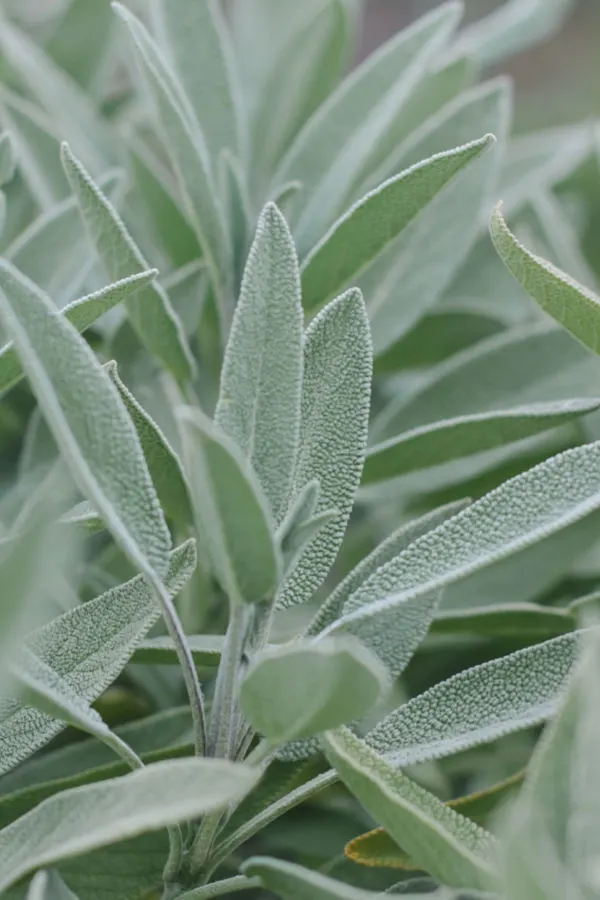 Garden sage has a wide range of uses, most notably as a culinary herb to add peppery flavor to stuffings, sausages and more. It is quite aromatic as well and is thought to repel many pests, including cabbage moths, beetles and more.
Drought and deer tolerant, garden sage creates a beautiful yet easy care border. Garden sage flowers in mid-summer, sending up small spikes of blueish-purple blooms. It performs best in full sun but can handle partial shade fairly well.
Garden sage has the added benefit of being easy to grow from seed or division. It can be quite economical when having to fill in large paths and walkways.
Lemon Ball Sedum (Stonecrop) – The Best Perennial Border Plants
One of the more unique choices for borders is the Lemon Ball sedum plant. As a member of the Stonecrop family, Lemon ball is a succulent that usually grows to a height of around six inches. With a spread of one to two feet per plant, the foliage fills in beautifully along the edges of paths and walkways.
Lemon ball can be found in shades of yellowy-green and their yellow summer blooms are well-known for attracting butterflies and hummingbirds in droves. A slow grower, the perennial is extremely easy to care for, requiring minimal pruning to hold its shape.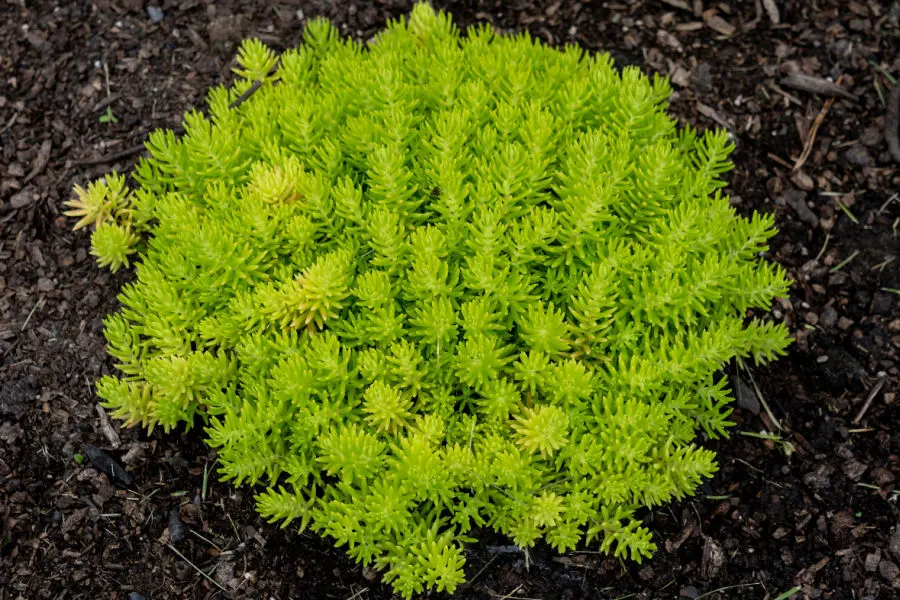 Lemon Ball prefers to grow in full sun but will survive partially shaded areas. Although it grows best in neutral to alkaline soils, it can handle soils that lean toward the acidic side. Lemon ball is hardy from growing zones 4 through 9.
It is ideal for planting in locations that receive snow and ice because it can handle salt in the soil well. That can be helpful as a planting along sidewalks where salt products are often used to melt snow and ice.
Define your flowerbeds and walkways!
Here is to filling your flowerbeds and walkways with structure and beauty with border plants! Not only can it help to keep your beds more tidy and neat, it can also help save you on mulch and weeding chores for years to come.
For more on great advice on growing perennials in the landscape, check out our Perennial Flower Section on the website.
This Is My Garden is a garden website created by gardeners, for gardeners. We publish two articles every week, 52 weeks a year. Sign up today to follow via email, or follow along on Facebook here : This Is My Garden. This article may contain affiliate links.