If you are looking for the best hanging basket plant to light up your landscape with big blooms that last from spring until fall – then Calibrachoa (Million Bells) is the plant for you!
Although there are so many wonderful annuals that can fill baskets with color, nearly all of them have issues with all-season flower power. And let's face it, there is nothing more disheartening than bringing home a gorgeous flowering basket in the spring, only to watch it fade away by the time summer rolls around!
As gorgeous as petunias are, they often become wiry and weak by mid-summer. And the same can be said for geraniums, impatiens, begonias and other annual hanging basket choices.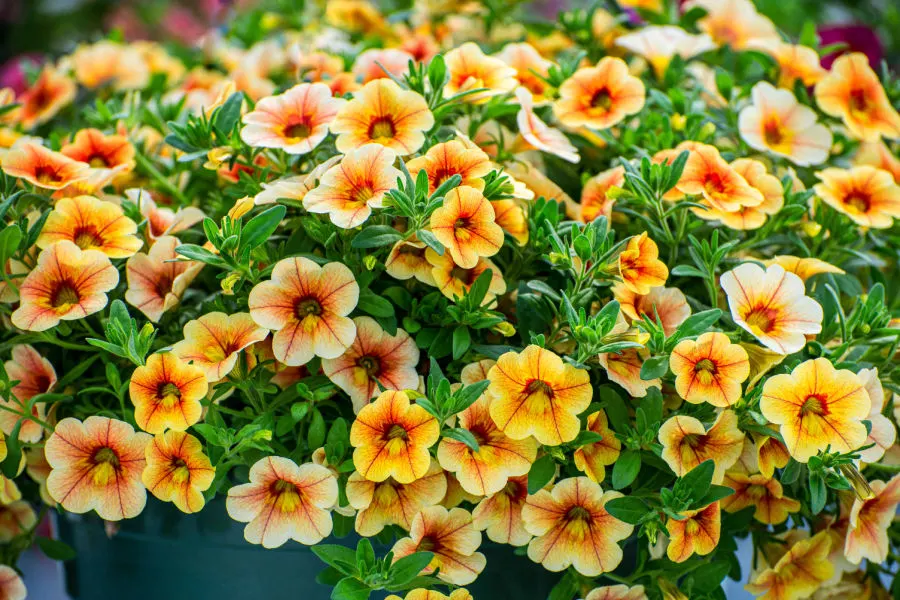 It's not to say that there is anything wrong with any of those flowering selections. In fact, they can all add incredible beauty when in full bloom. But if you are truly looking for a hanging baskets plant that can last with amazing beauty and blooms all season – nothing compares to Calibrachoa.
The Best Hanging Basket Plant Choice – Calibrachoa
Calibrachoa is an annual that is growing more popular each and every year. And, it's easy to see why! The plant is simply a stunner when grown in containers and hanging baskets.
There is a reason many gardeners refer to this plant as Million Bells. Not only does it produce a heavy load of miniature petunia-like blooms, it produces them continuously. So much so that by the end of the growing season, it seems as though the plant had to have a million blooms or more!
But that is just the tip of the iceberg when it comes to the wonders of this beautiful annual. As you'll see below, it's foliage, durability and ease of maintenance truly make it one of the best choices of all to grow in hanging baskets.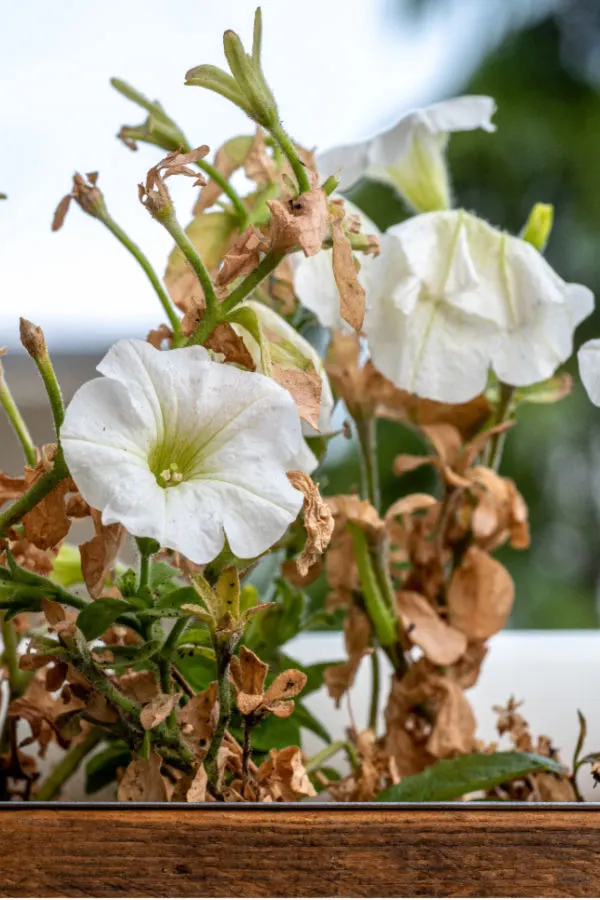 Million Bells – The Perfect Hanging Basket Plant!
Often mistaken as a petunia plant, Calibrachoa actually grows as a perennial in warmer, tropical climates. However, it grows as an annual in more traditional climates, and stays strong right up until the first hard frost.
In recent years, there have been a tremendous amount of new hybrid Calibrachoa plants developed. And it seems as though with each new type, the plant only performs better!
The colors you can find calibrachoa blooming in seem almost endless. From blue, pink, yellow, red and violet, to bronze, magenta, coral, white and lavender – you can find the varieties in a vast array of bright hues to match any color scheme.
How Calibrachoa Grows – The Perfect Hanging Basket Plant!
Calibrachoa is a trailing annual that fills out planters and baskets with a bushy canopy of bright green foliage. The plant spills over containers with ease, but unlike many vining plants, it doesn't grow wildly out of control.
Instead, it's trailing growth is slow and compact, giving the foliage and blooms big impact and huge color. Beyond the incredible flower power it provides, Calibrachoa also holds up extremely well to the elements.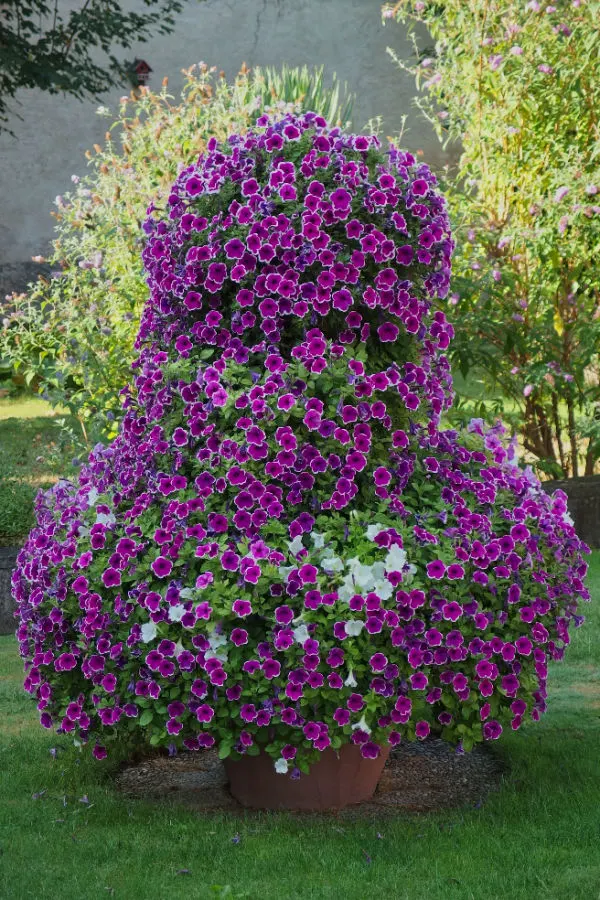 The plant thrives in full sun, making it a perfect choice for hot patios and decks. But it also handles partial shade too, making it an all-purpose container plant like no other. But perhaps best of all, the plant has a very slow root and foliage growing pattern.
That, of course, gives it the ability to last all season long much easier and without a lot of work. In fact, although the plants does not require a lot of care to maintain its good looks, with just a little bit of extra attention it can absolutely flourish all spring, summer and fall.
Care & Maintenance – The Best Hanging Basket Plant, Calibrachoa!
One of the best attributes when it comes to caring for Calibrachoa is that the plant does not require deadheading for continuous blooming. The same can't be said for other big-flowering annuals such as geraniums and petunias.
In addition, unlike many other annuals whose roots quickly outgrow their container, Calibrachoa's slower root growing pattern means that it rarely needs to be repotted in-season. And if it does, it won't require a much bigger basket to last through fall!
For most, it is easiest to purchase the plants already in hanging baskets or as transplants from a nursery to make their own baskets or containers. There are a lot of hybrid styles that will not reproduce from seed. And the plant is so popular now, you can readily find it in most nurseries, greenhouses and big-box stores.
If you do want to grow from seed, you can find many beautiful varieties on line for purchase. When starting from seed, you will want to start them indoors six to twelve weeks before your areas last frost date. Affiliate Seed Link: Calibrachoa Seeds Million Bells
Listen In To Our Podcast Below On The Simple Secrets To Keep Your Hanging Baskets Blooming!
In addition to consistent watering, there are really only two simple chores you need to perform on your Calibrachoa plant to help it perform at its peak potential. The first is to provide your plant with a low but steady diet of fertilizer. The second is to prune it back a bit each month to help it re-energize its blooms. Here is a look at each of those in-depth:
Fertilizing – The Best Hanging Basket Plant, Calibrachoa!
Calibrachoa is not a massively heavy feeder, but a little extra power will help keep it blooming stronger. But the key word here is a little extra power!
As with most hanging baskets and annual flowers, when fertilizing, lower but consistent doses of fertilizer are the best way to go. See: Fertilizing Hanging Baskets – How To Keep Baskets Blooming Strong
By giving the plant a slow and steady diet of nutrients, it keeps it them from spending too much energy growing foliage and not producing blooms. Heavy fertilizing also leads to plants growing too large of a root structure and becoming root bound faster.
Calibrachoa responds best to liquid fertilizer. It absorbs through the roots and foliage giving the plant the energy it needs fast. If using compost or worm casting tea, give the plant a dose every seven to ten days.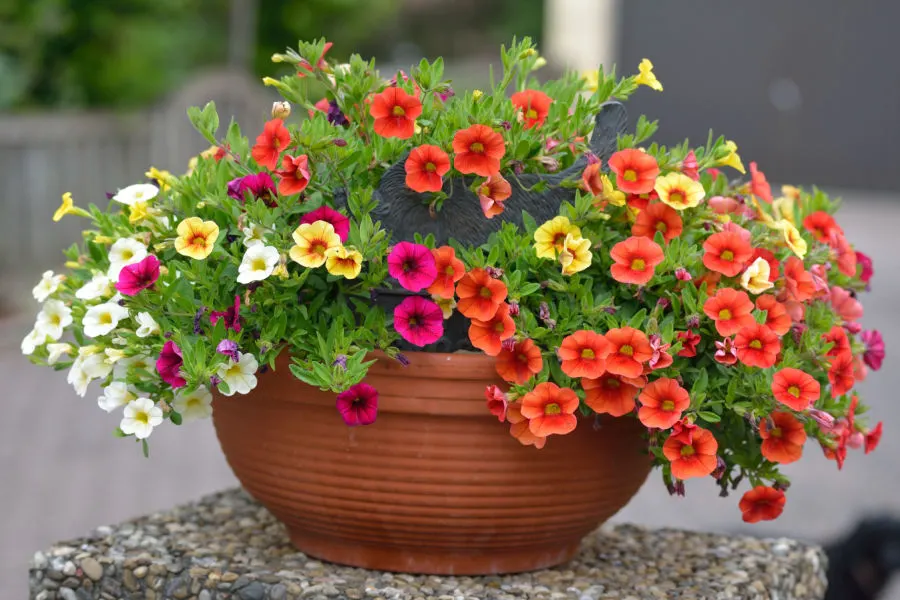 If using a commercial liquid fertilizer, mix at half of the recommended rate and feed every ten to fourteen days. Commercial fertilizers tend to be stronger. By mixing them at half strength, you can keep from overpowering the plant with too many nutrients. Affiliate Product Link: Water Soluble Bloom Booster Flower Food
Pruning Back – The Best Hanging Basket Plant, Calibrachoa!
Finally, once mid summer arrives, pruning back your Calibrachoa can really help it power up more blooms for the remainder of the season.
This is no so much deadheading the plant (although you will be removing blooms with a cut back), but taking a few inches off all around to restart new growth. For this, a pair of hedge shears works great! Just go around shaping the plant, cutting it back a few inches.
Within a week to ten days, you will see tons of new blooms starting to appear, and your plant will bloom stronger than ever. Here is to growing Calibrachoa this year, and to lasting blooms in your hanging baskets!
This Is My Garden is a garden website created by gardeners, for gardeners. We publish two articles every week, 52 weeks a year. Sign up today to follow via email, or follow along on Facebook here : This Is My Garden. This article may contain affiliate links.