Looking for a simple method using your oven to make sun dried tomatoes from the fresh tomatoes growing in your garden this summer?
Harvesting fresh, ripe tomatoes from your garden and turning them into sun-dried tomatoes has a certain magical quality. Being able to concentrate and save the fresh taste of summer the whole year round really is special.
The good news is that when it comes to preserving tomatoes – it honestly doesn't get much easier than creating delicious sun dried tomatoes in your oven. And when dried, the super sweet flavor of the tomatoes rises to a whole new level. And can it ever add all kinds of amazing versatility to your meals, appetizers and more!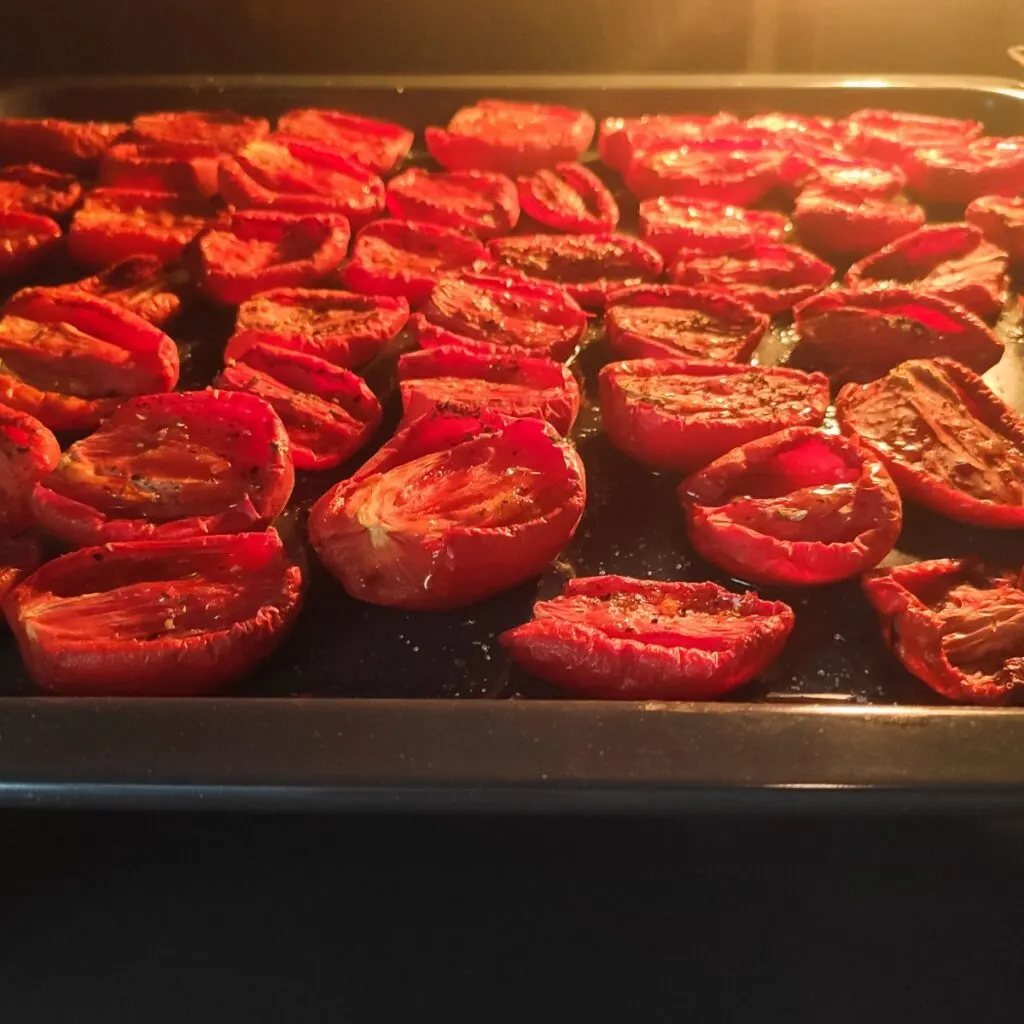 How To Make Sun Dried Tomatoes In The Oven
Choosing the Best Tomatoes
First, more than anything else, it's important to pick the best of the best tomatoes before you start the dehydration process. Always be sure to select tomatoes that are firm, ripe, and meaty. Meaty tomatoes are not only thick and full of flavor, they also usually have far less seeds.
San Marzano, Roma, Grape and cherry tomatoes are all great examples of tomato varieties that are perfect for making sun dried tomatoes. All are meaty and sweet – and all typically produce an abundance of tomatoes throughout the summer months.
These features are essential for getting the best sun dried quality while in the oven. Because of their smaller size, the cherry and grape tomatoes have the added advantage of taking slightly less time in the oven.
Preparing The Tomatoes – How to Make Sun Dried Tomatoes in the Oven
Once you've chosen your preferred variety, it's time to clean them. Gently rinse the tomatoes to eliminate any dirt and debris. With a fresh kitchen towel or paper towel, carefully pat them dry.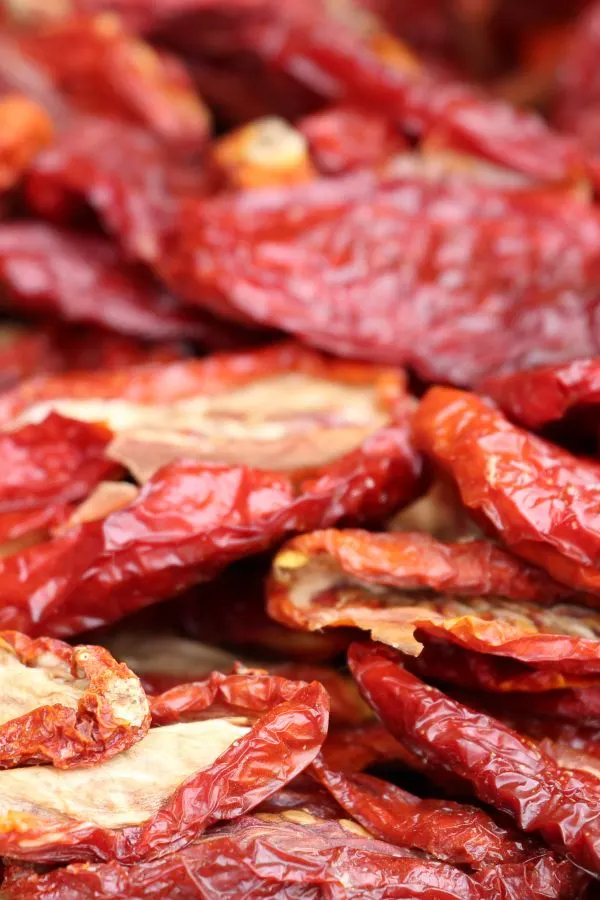 Next, cut the tomatoes in half. If they are small cherry or grape tomatoes, that is more than enough for drying in the oven. If using slightly larger varieties, cut into smaller but equal size pieces. Quartering or even cutting into eighths can usually produce the perfect size for dehydrating.
Removing Excess Moisture and Seeds – How to Make Sun Dried Tomatoes in the Oven
The next important step is to remove the seeds from the tomato slices before drying them. The watery membranes that surround the seed area holds a lot of moisture – and all of that excess water will greatly delay the oven's drying effects.
With a tiny spoon or by using your finger, carefully scoop out the seeds and remove the core. Be careful not to harm the flesh while doing this step.
To pull out additional moisture, lightly sprinkle the tomatoes with salt. Give the salted slices roughly 30-40 minutes to sit. Blot them dry with a paper towel after they have rested. This technique will not only improve the flavor of your sun-dried tomatoes, it will also help the drying process to go smoother and faster.

Preheating The Oven – How to Make Sun Dried Tomatoes in the Oven
Now it's time to heat up the oven! Preheat to 225°F (107°C) – this "low and slow" temperature is always best for making sun dried tomatoes in the oven. The low temperature and longer cooking time may take longer to dry them out – but it is exactly what gives your tomatoes great flavor!
The tomatoes' bright color and flavors are preserved by the low heat, which allows for a gradual drying process.
Adding Additional Flavor
As we know, the tomatoes themselves are already crammed with flavor. This can more than make them fantastic on their own. Because of this, when considering adding additional ingredients into the mix, it's important to keep it simple.
One option is olive oil. Once the tomatoes are cut side up on the parchment lined baking sheet, add a small drizzle of good quality olive oil. This small addition can add big flavor and can elevate the dish nicely.
Another potential choice is adding Italian seasoning. The fragrant mixture of basil, thyme and oregano is very complimentary to traditional Italian flavors. Again, don't overpower with too many additional ingredients. With the dynamic flavor of the tomato, simple is always best.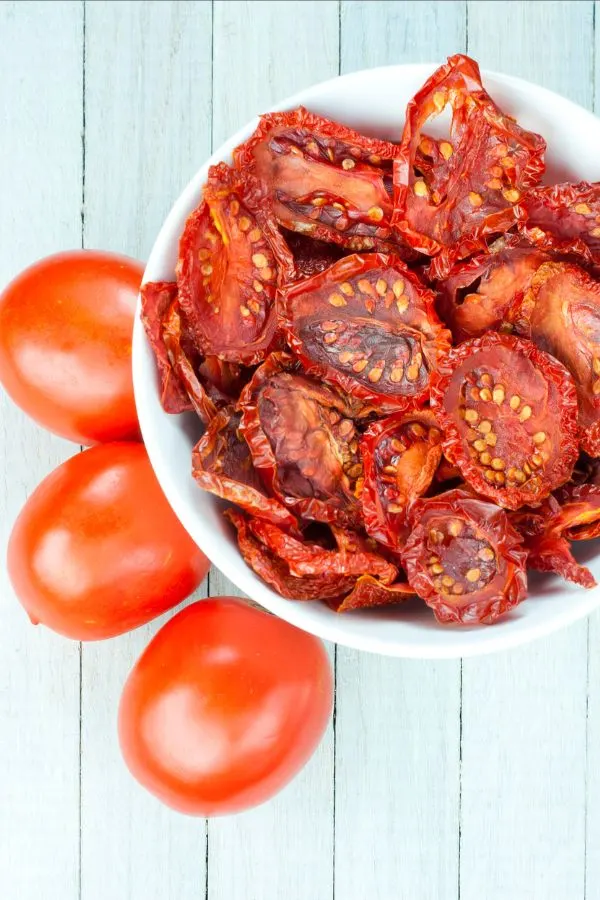 The Drying Process
Now that your tomatoes are ready and your oven is preheated, it's time to start drying. Begin by lining a rimmed baking sheet with parchment paper. Be sure none of your tomatoes overlap on the baking sheet. It's very important to have one even layer.
In addition, leaving a little room between each slice will ensure a nice, even drying of all of the tomatoes. On average, the tomatoes should dry in the oven for 3-4 hours. Depending on the temperature of your oven and the thickness of the tomato slices, the drying time may change.
Because all of these factors vary, begin checking your tomatoes at the 2.5 hour mark. Continue to leave in the oven if you still see pockets of moisture and monitor frequently from outside the oven. Using the oven light helps to check when ready without letting the heat escape. When done, the tomatoes should look shriveled, leathery and dry.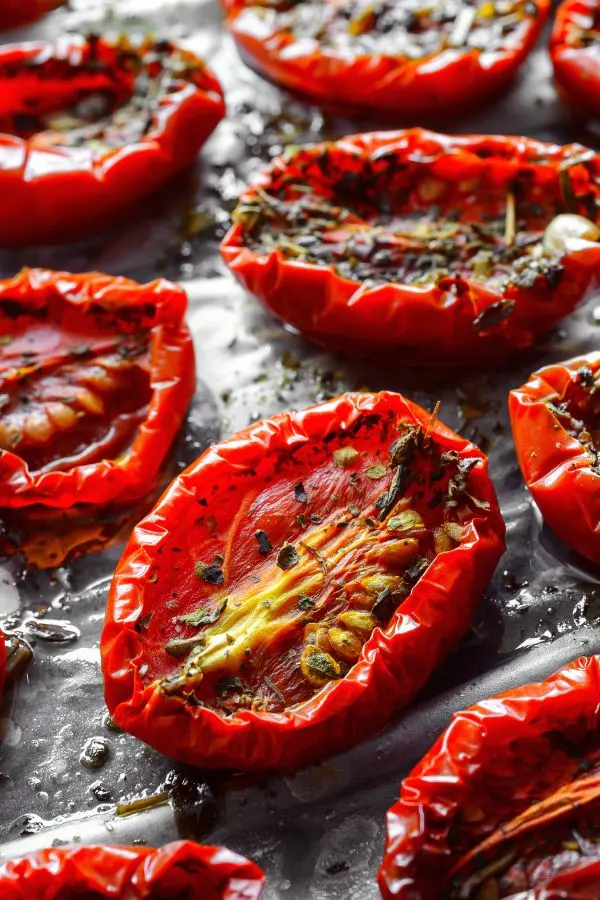 Cool and Store – How to Make Sun Dried Tomatoes in the Oven
When the drying process is complete, carefully remove and allow the tomatoes to finish cooling on the baking sheet. Once the tomatoes are at room temperature, transfer them to an airtight container or a glass jar.
The tomatoes themselves can be kept in the refrigerator for up to 1-2 weeks. Adding a nice olive oil into the container before storing can make them last for an additional couple of weeks when refrigerated.
For longer lasting sun-dried tomatoes, freezing is the way to go. You can freeze them in a resealable bag or freezer container. When kept in a sealed container, frozen sun dried tomatoes can last for more than a year.
Enjoy the Flavor!
One thing is for sure, making sun-dried tomatoes in the oven really is a simple process. And while the ingredients are simple as well, the flavor is pretty extraordinary! The tastes and textures will certainly up the level of your dishes and add a nice touch of summer no matter the time of year.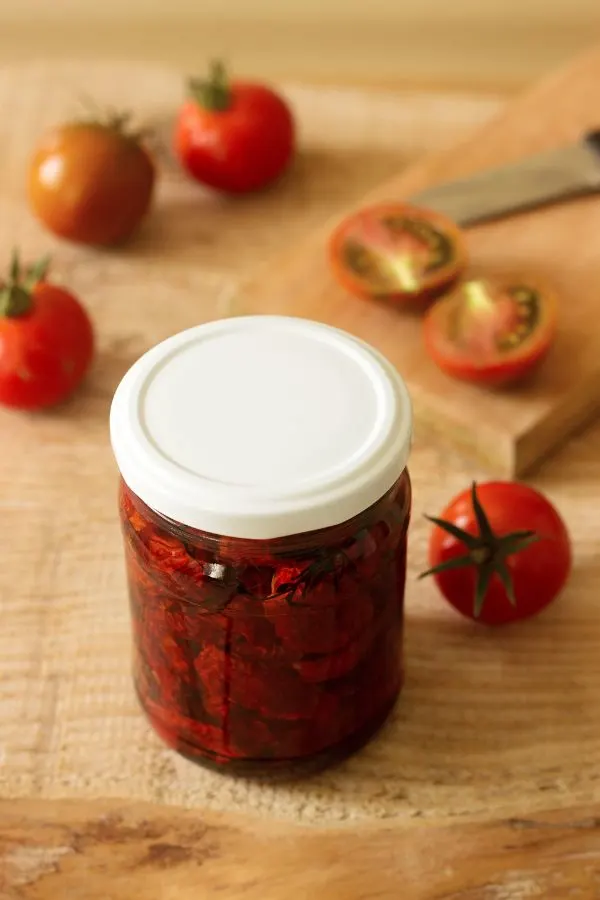 So, if you happen to have extra tomatoes from your harvest this year – be sure to not let any go to waste. Indulge in the satisfaction of sun-drying your tomatoes in your oven, and enjoy a bite of summer every time you open them up. They even make great presents too!
For more great recipes from the garden, check out our garden recipe tab on the website! See : Garden Fresh Recipes
This Is My Garden is a garden website created by gardeners, for gardeners. We publish two articles every week, 52 weeks a year. Sign up today to follow via email, or follow along on Facebook here : This Is My Garden. This article may contain affiliate links.