Sandy Hart's backyard garden proves you don't need acres of land to experience the simple love and joy of gardening.
Nestled beautifully in her Newark, Ohio backyard, Sandy's enclosed garden produces enough vegetables and herbs to supply salsa, pickles, relish, pesto, and all kinds of dried herbs to her family and friends.
Adding to the charm – it was created for her with love from the hands of her husband and sons from century-old barnwood.
But beyond the wonderful produce and canned goods that come from her backyard oasis, you can tell from her story below how much Sandy simply loves and enjoys the entire gardening process.
Like so many gardeners, the first seeds of her love of gardening were planted and fostered by her grandparents.
Its almost uncanny how many stories that come to us share the process of passing down gardening love, knowledge and skills from generation to generation. And it's easy to see that she is passing it along to her own family as well.
Garden stories like Sandy's are what makes this website so special. It is all about gardeners sharing their own personal stories, growing space and passion with fellow gardeners from around the world – no matter the size, no matter the location. I guess you could call it the Circle of Gardening.
So why not be the next story in our circle? Be sure to check at the end of the article to see how you can submit your garden to be featured. As always, we have included a full slate of all of Sandy's photos at the end of the article. Now lets take a look at her backyard garden!
Sandy Hart's Garden
Location : Newark, Ohio
Growing Zone : 6a
My love for gardening started with memories of my grandparents. They always planted a big garden. I remember picking green beans and picking and eating ripe tomatoes right off the vine.
My garden was built out of 100 year old barn wood that given to us by a friend. My husband and sons built it for me 3 years ago. Just in time for the May 15th planting season.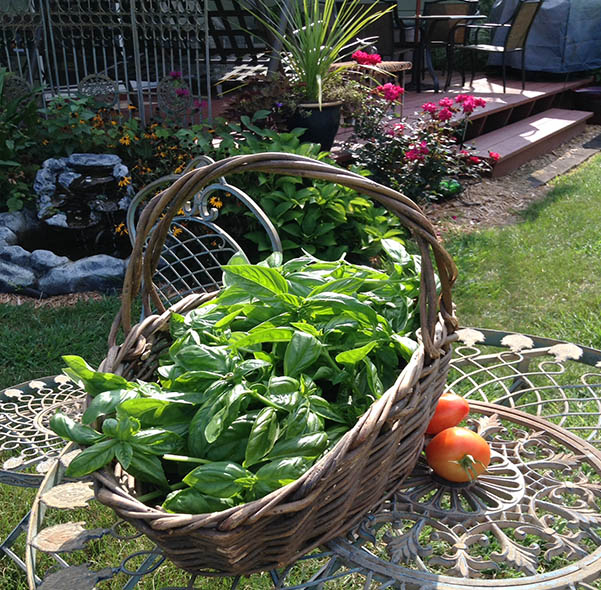 I plant different varieties of tomatoes, cucumbers, lettuce and jalapeño peppers that my son started from seed. I also plant herbs – rosemary, thyme, parsley, and lots of basil. My favorite!
I make basil pesto and basil salt, which my friends all love. Last summer the Japanese beetles loved it too. My husband and I made a wooden screen cage to cover it up.
The first year I canned tomatoes, salsa, pickles, and relish. I also dried cherry tomatoes and herbs.
Now I just enjoy eating all the fresh veggies and sharing with family and friends.
Big or small, a garden is very therapeutic and the joy of planting, caring, and watching it grow gives me great pleasure. A bounty of LOVE!
Share Your Garden With The World…
Thank you so much Sandy for sharing your garden!
We want to showcase gardens of all shapes, sizes – from all around the world. From small to big, and everything in between. Share your garden and help make this site a great place for gardeners to dream, learn and share!
If you would like to have your garden featured in one of our Weekly Garden Showcases, email us your garden story and pictures at info@thisismygarden.com, or use the share my garden tab on the website and submit it online. Be sure to follow us on Facebook and Instagram to get our updates as well!
Hart Garden Photos :