When it comes to adding incredible flavor to homemade dishes, growing a kitchen herb garden is a must.
Fresh herbs are key ingredients in a near endless list of culinary favorites.
From adding zing to pork, beef, poultry and fish, or seasoning vegetables, pasta and more, life without herbs would be tasteless indeed.
And there is no better way to have a fresh supply nearby than growing your own. It is the perfect way to enjoy their flavor at its peak.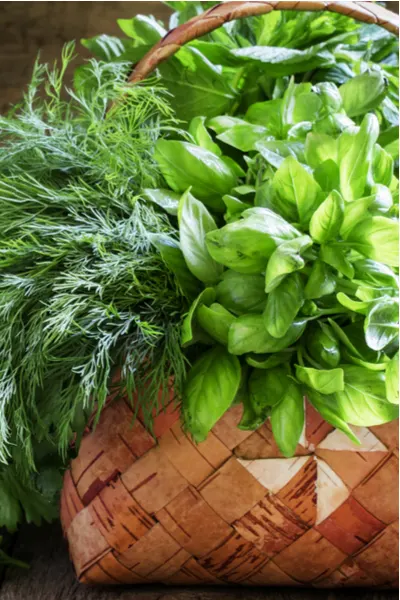 But perhaps best of all, growing herbs doesn't require a lot of time, effort, or space.
In fact, nearly all herbs can be grown in containers when space is at a premium. And, they are easy to pot up and bring in for winter growing in a sunny window. See : How To Overwinter Herbs In The Winter
So whether you have a small garden space outside of your kitchen door, or a patio with space for a few pots, here are 6 essential herbs to grow this year to add zing to your culinary creations.
Creating A Kitchen Herb Garden – 6 Essential Herbs To Grow
Basil
Basil is at the top of the must-grow list for a kitchen herb garden.
It's fresh scented flavor is a wondrous addition to many cooking styles and cuisines.
Basil pairs incredibly well with chicken, lamb and a wide-variety of pasta dishes. It is the perfect side kick to nearly any tomato dish. And, simply divine with mozzarella cheese.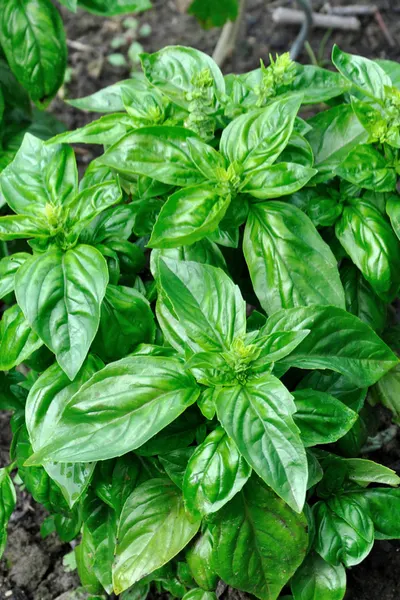 Sweet basil (Genovese) is the most well-known and used variety within the basil family. But other varieties, ranging from cinnamon, lemon and thai are good to grow as well.
Basil prefers well-drained soil and a sunny location to perform best. It grows from seed easily and has very few soil requirements.
Usually adding a bit of compost to the soil is more than enough to ensure growing success.
Basil can be harvested as needed. Simply pluck of a few of the leaves from the plant as needed.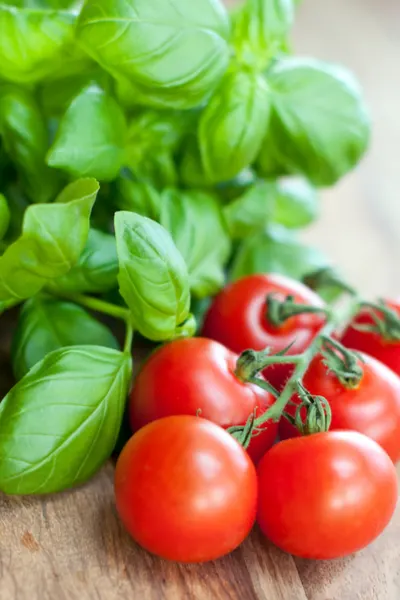 When grown in a garden setting, you will rarely need to re-purchase seeds. Basil re-seeds almost at will, and usually comes back year after year. Seed Link : Sweet Basil Seeds
Oregano
Oregano's distinct flavor pairs well with a wide range of meats and vegetables.
From chicken to lamb, to pizza and pasta. It is another must-have for a kitchen herb garden.
And, as a hardy perennial, oregano grows almost anywhere with little care!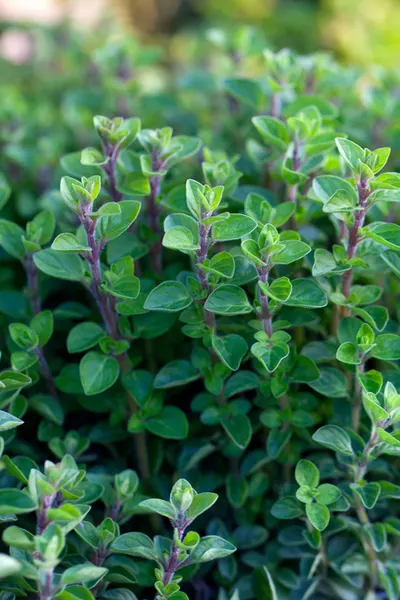 Oregano can grow in conditions from partial to full sun.
But its flavor is said to improve and intensify more when grown in full-sun.
Oregano grows equally well in the garden, or in containers and pots. It is extremely low-maintenance. There is rarely a need to use any soil amendments or fertilizers.
Seed Links : Italian Oregano Seeds,
Chives
Chives are a tiny member of the onion family with big flavor! And like oregano, one of the lowest-maintenance herbs you can grow.
As a hardy perennial, chives are easy to grow in containers or in a garden setting.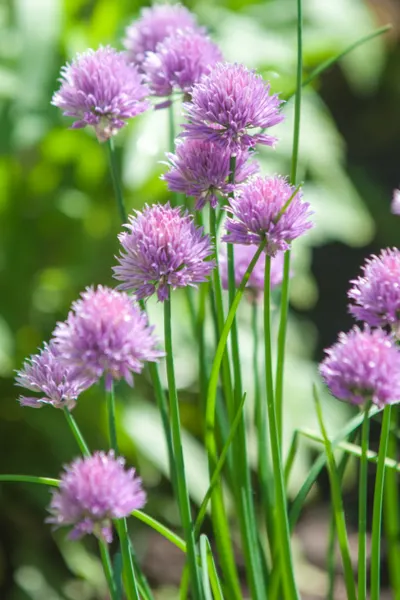 With their clump-like growth, simply cut plants back after they bloom, and get set for a new harvest. Chives can also be split easily to form new plants.
They are perfect for adding a burst of onion flavor to soups, pastas and dry rubs. And of course, for topping a baked potato!
They can also be used to flavor olive and dipping oils. Simply place the stems and flowers in a bottle of oil and wait a few weeks for the magic to happen.
Thyme
Thyme is a low-maintenance perennial that requires little care from year to year.
And, it also happens to be one of the most useful in flavoring a wide variety of dishes in the kitchen.
Thyme adds big flavor to meats, stews, soups, sauces and vegetables. When it comes to a backyard kitchen herb garden, it is certainly a must-grow.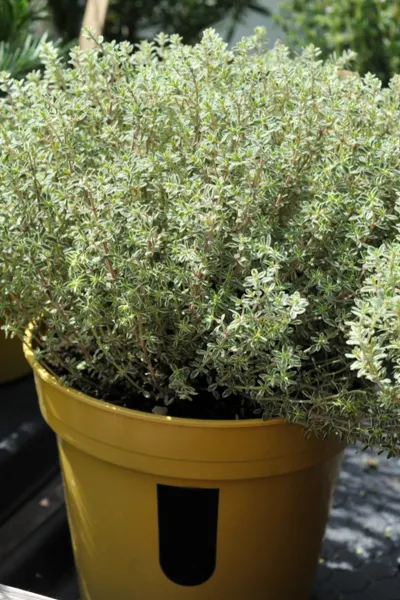 Thyme's tiny leaves can be harvested as needed throughout the year. Or, like oregano, easily dried to use all year long.
Thyme grows best in well-drained soil, and requires very little additional nutrients to produce.
It can also be potted up and brought indoors to a sunny window for winter harvesting. Seed Links : German Winter Thyme Seeds
Dill
If you want to make homemade dill pickles then this beautiful herb needs to be on your growing list!
Fresh dill is easy to grow, and adds interest to any garden or patio setting with its tall, fern-like, aromatic spikes.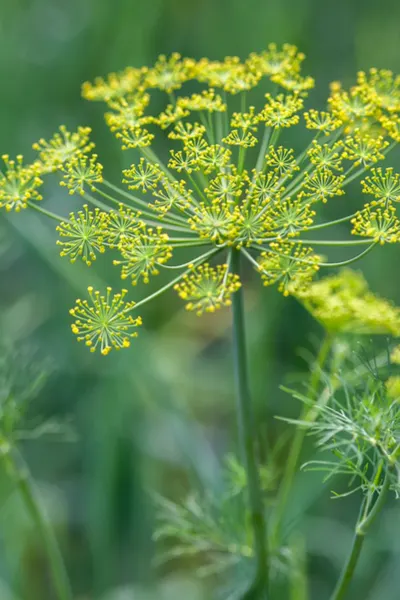 And it can it ever grow tall! Depending on the variety chosen, dill can climb to heights as high as 2 to 3 feet.
Because of this, it usually needs a bit of support. But it's wispy beauty adds big interest in a kitchen herb garden setting.
Besides making incredible pickles, the foliage and flowers of dill are both great in a wide range of recipes.
Dill is an annual, and like basil, re-seeds easily. Seed Link : Dill Seeds
The Mint Family
From spearmint, peppermint and lemon mint, to even chocolate mint and others – the mint family is full of flavor! And they all make perfect additions to a backyard kitchen herb garden.
But before we get to growing them, a word of caution. Always grow mint in pots, and not directly in the garden soil!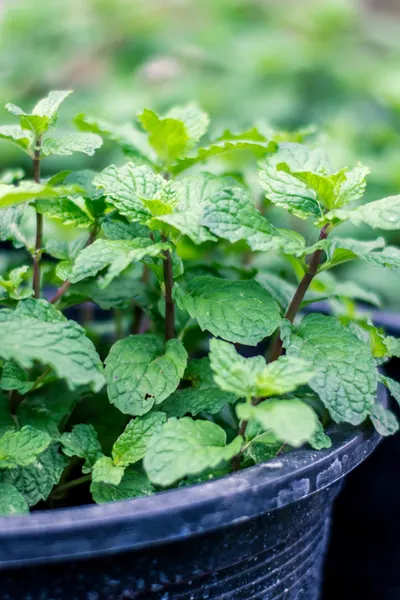 Why? Because mint is highly invasive. Once established. the roots of mint plants can travel great distances underground.
But oh are they are fantastic to use as a garnish or main ingredient in teas to drinks of all kinds.
The mint family of plants are perennial, so simply take your pots in the garage or basement for the winter, and they will come back year after year. Seed Link : Mint Multi-Flavor Seed Pack

This Is My Garden is a website dedicated to spreading the love and knowledge of gardening around the world. We publish two new garden articles each week. This article may contain affiliate links.