If you are looking to spice up your early spring landscape with more than just tulips, consider planting hyacinth bulbs this fall.
Hyacinths, like tulips, are a spring flowering perennial bulb. But unlike the cup shaped blooms of a tulip, hyacinth produces spiky, upright, star-shaped flowers run the length of the stem. And are they ever beautiful!
With varieties that range in height from 4 to 12 inches or more, flowering hyacinth bulbs are available in nearly every color of the rainbow – and then some!
From red, blue, peach and orange – to purple, lavender, yellow and even salmon. And do they ever add instant color to any part of your landscape!
Hyacinth can be planted in masse in beds for large displays, or as border plants along walkways. They even grow well in pots to brighten up patios and porches in early spring.
How To Plant Hyacinth Bulbs
Hyacinth bulbs should be planted in mid-fall, about 6 weeks before your area begins to receive its first hard frost. This allows enough time for the bulbs to set their roots for early spring blooming.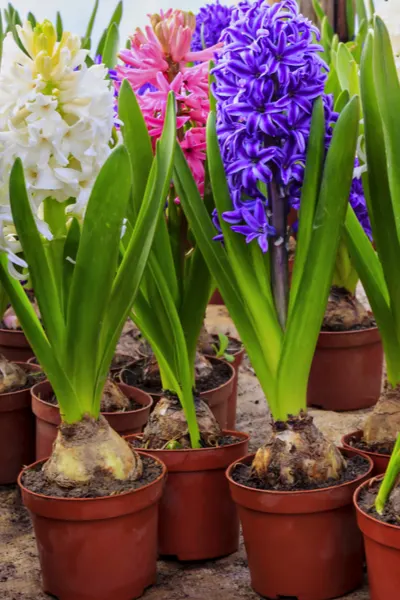 Hyacinth bulbs grow well in most soil types, but need good drainage to keep bulbs from rotting. When planting, amend the soil with plenty of compost to help keep soil loose and well drained.
Planting Hyacinth Bulbs
To plant, dig holes to a depth of 6 inches. A post hole digger or bulb planting tool can be used to dig holes. You can also use a Bulb Auger that attaches to a drill to create holes in the soil quickly.
Whether planting in large clusters or rows, space bulbs 3″ apart in all directions. This allows plenty of space for each bulb to develop and bloom fully.
When planting, fill the bottom of each 6″ hole with 2 to 3 inches of compost, setting the bulb down 1″ into the compost for a total depth of 4″ inches.
Be sure when planting to plant with the pointed tip of the bulb facing up. Next, fill the remainder of the hole with a 50/50 mix of soil and compost. Finish by tamping the soil lightly and watering the bulb in well through the soil.
Planting Hyacinth Bulbs – Spring Care
The foliage of hyacinth will shoot through the soil in early spring. When it does, fertilize plants with a light dose of 5-10-5 or even 10-10-10 fertilizer to help power blooms.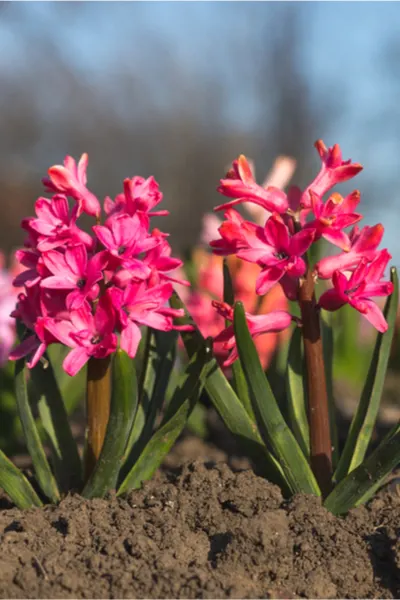 As the blooms begin to fade in late spring, trimming them off will keep the plants tidy and neat. However, leave the foliage in place to die back, as this helps provide power to the bulbs for next year's blooms.
As long as your winter temperatures go below 50 degrees Fahrenheit, bulbs can stay in the ground to enjoy year after year.
Here's to planting hyacinth bulbs and enjoying early spring color in your landscape! For more on fall bulb planting, check out our article on How To Plant Tulips This Fall.

This Is My Garden is a website dedicated to spreading the love and knowledge of gardening around the world. We publish two new garden articles each week. This article may contain affiliate links.