If you want to spice up your flowering pots, containers and hanging baskets this year, you need try your hand at planting and growing ornamental peppers.
If there is one plant that has soared in popularity over the last decade, it is the ornamental pepper. And it's only growing hotter and more popular every year. Especially when it comes to using them to grow incredible container plants!
Not only is it a fresh new approach to the flowering annuals typically used in containers and baskets, ornamental peppers also happen to be among the most durable, heat tolerant plants around. Even better, they can last from spring to summer without fading in the least.

But what makes ornamental peppers truly unique is that although they do sprout tiny flowers, their real showy "blooms" are the hundreds of tiny colorful peppers they continually produce throughout the growing season. And do they ever produce a ton of them!
Depending on the variety chosen, ornamental peppers can be found in all types of interesting shapes and colors. From red, yellow, orange, cream, purple – and every color in between, the display of color is hard to beat when in full bloom.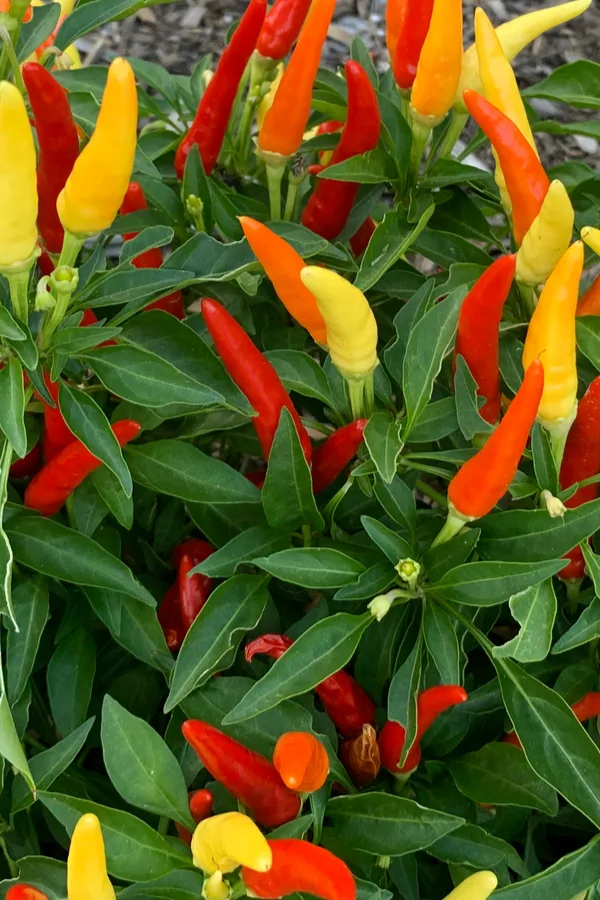 But ornamental peppers don't just add massive color and texture, they can also bring big flavor to your taste buds. That's because many of these beautiful ornamental varieties are also edible. And the flavor and spice they add to salsa, soups and dishes is simply divine.
Why Ornamental Peppers Make Incredible Potted Plants!
The advantages of growing ornamental peppers goes far beyond beauty and taste. They truly are the ultimate low-maintenance flowering plant. Ornamental peppers are naturally drought, disease, and pest resistant. In fact, so much so, they can help keep pests from bothering other vegetable and flowering plants nearby.
While many traditional annual flowering plant varieties can struggle in the hot, scorching sun, ornamental peppers thrive in it. Best of all, they don't show the droop or fatigue that is common for annuals that dry out during the day.
Even better, the seeds of all of these are easy to save from year to year. Simply take off a few ripe peppers, let them dry, and you can grow them all over again next year! Here is a look at how to plant, grow and maintain ornamental peppers in pots and hanging baskets, along with a few great varieties that work well in containers.
Planting And Growing Ornamental Peppers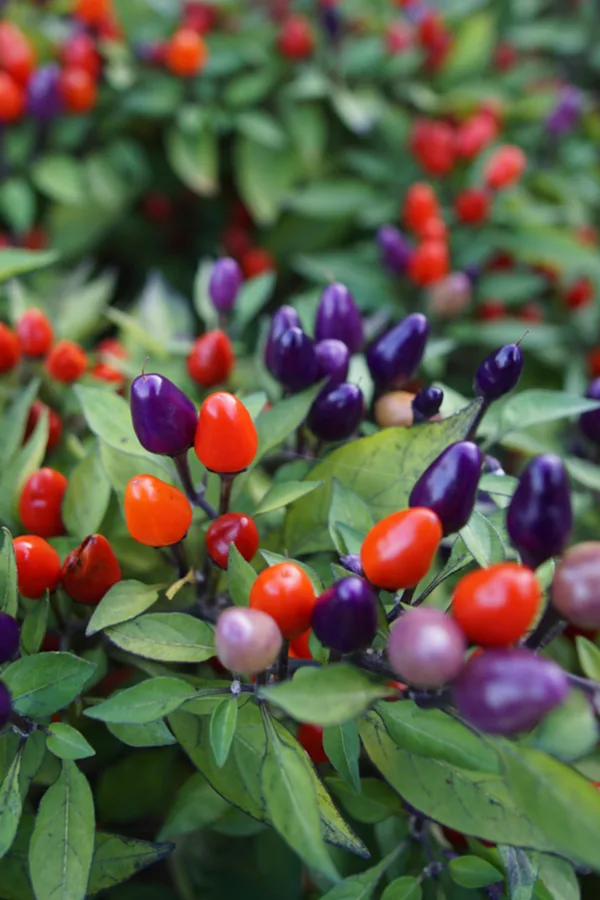 Although more and more nurseries and stores are carrying ornamental plants each year, growing from seed is the best method to ensure getting the varieties and plants you need. Growing from seed indoors is easy, and allows you to have container plants that are ready to go come early spring. See : Starting Seeds Indoors
Sow seeds 8 to 10 weeks before your last frost date to ensure time for adequate growth. Transplant into containers or hanging baskets as the weather starts to warm. As with all potted plants and container plants, use a high quality, lightweight potting soil for best results.
Because of their compact, dense foliage, plants can be crowded into pots and container plantings like flowering annuals would be. For a typical 14 to 16 inch pot or hanging basket, you will use 5 to 6 transplants.
Fertilizing & Watering
When growing in containers and baskets, ornamental peppers will benefit from occasional fertilizing. Once plants have been transplanted into their containers, fertilize every 14 to 21 days with a light dose of liquid fertilizer to keep blooms and peppers coming on.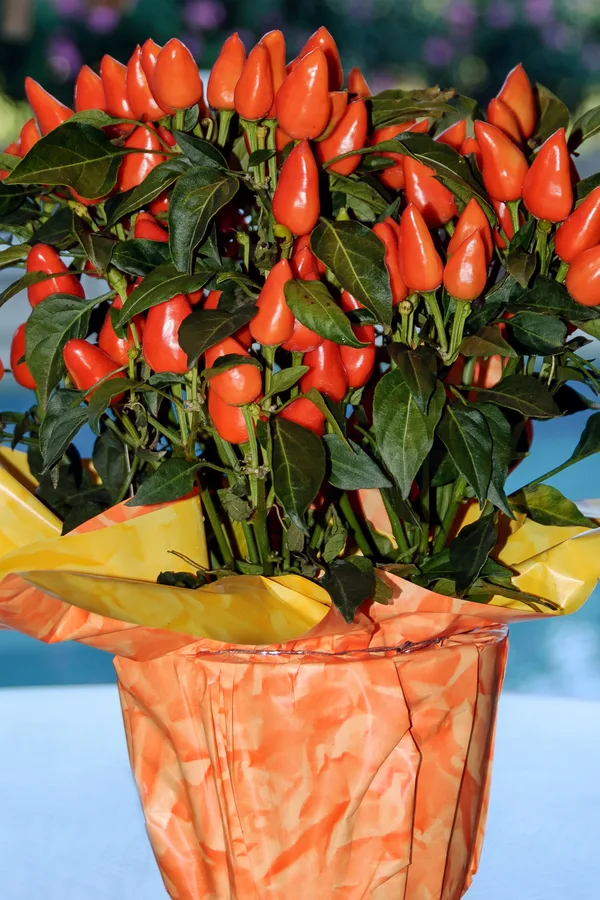 Depending on the variety and location, plants will most likely need to be watered once a day as traditional potted plants are. You will notice however that ornamental peppers can survive a "missed" watering much better than other annual flowers.
3 Great Varieties For Pots, Containers & Hanging Baskets
Here is a look at three of our favorite ornamental peppers for planting in hanging baskets and containers:
Chili Chili
Chili chili peppers are the ultimate multi-purpose ornamental pepper for growing anywhere.Their compact nature makes them ideal for planting in containers and hanging baskets. Or, plant them in clusters in flowerbeds to give a big pop of color anywhere it's needed.
These compact plants produce hundreds of hot, fiery, colorful little yellow, orange and red peppers. But they also happen to be delicious for flavoring salsa with their intense heat and color. Seed Link : Chili Chili Ornamental Pepper Seeds
Sangria
An all-time favorite and one incredibly versatile plant in the landscape. Sangria are an extremely hardy and tolerant plant, and get by with less watering than other annuals. There are also the ultimate three-in-one plant!
You get beautiful dark green foliage in the early sprig, followed by hundreds of slim dark purple peppers by early to mid summer. As the fall comes on, they turn to a brilliant red and orange for incredible new color to the landscape. The seeds are easy to save for the next year's planting as well.
Sangria, although edible, have very little taste, so this one is mostly grown for show.
Chinese Five Color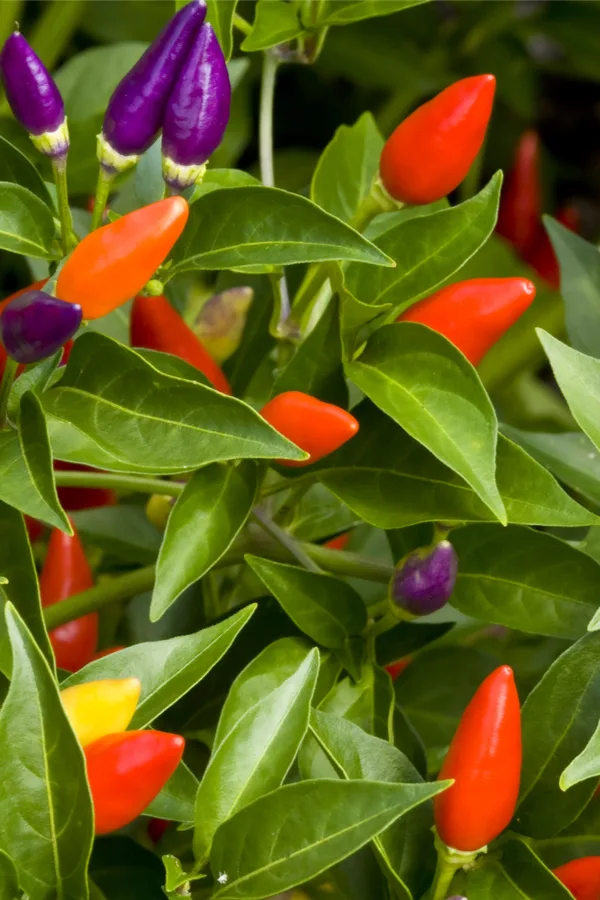 For larger pots and containers, it is hard to beat growing the Chinese Five Color ornamental peppers. This plant grows hundreds of 1″ peppers per plant. Over time, peppers turn to a beautiful array of cream, orange, red, yellow colors as well.
Chinese five color plants grow to about 18″ to 24″ in height depending on the size of the container used. The plants are simple amazing to behold when in full color pepper bloom. Best of all, these plants will keep on producing right up until the first hard frost for all season color.
But Chinese Five color has a big-time added bonus – their hot, spicy flavor is simply to die for! With a spicy zing that doesn't linger on the tongue, they are great for using fresh, or chopping into salsa. But they also dry to make a delicious hot pepper flake or powder. They are truly hard to beat for putting on top of your favorite slice of pizza! Seed Link: Chinese 5 color seeds
Here is to growing ornamental peppers in containers and hanging baskets this year!

This Is My Garden is a website dedicated to spreading the love and knowledge of gardening around the world. We publish two new garden articles each week. This article may contain affiliate links.