Nothing can help make the chores of gardening season a little more manageable and fun than having your very own beautiful potting bench, especially when you can build it yourself!
When it comes to transplanting seedlings, re-potting plants, or mixing up a new batch of potting soil, a potting bench is quite the helpful tool. For starters, a well-positioned work surface can save your back from endless bending.

But even more than that, a good potting bench will help to organize all of your planting tools and efforts. Especially if it contains a strong work surface area, along with extra storage space for all of your pots, soil and more. And today, we have a simple DIY potting bench that checks of all of those boxes and more. And one that is so easy to personalize and make it your own!
How To Build The Perfect Potting Bench
Today's potting bench project was first featured a few years back on our sister site Old World Garden Farms. And ever since, the DIY Potting Bench plans have become one of the most popular and downloaded plans on the site. We thought it would be the perfect project to share today and showcase just a few of the completed potting benches that have been created with the plans.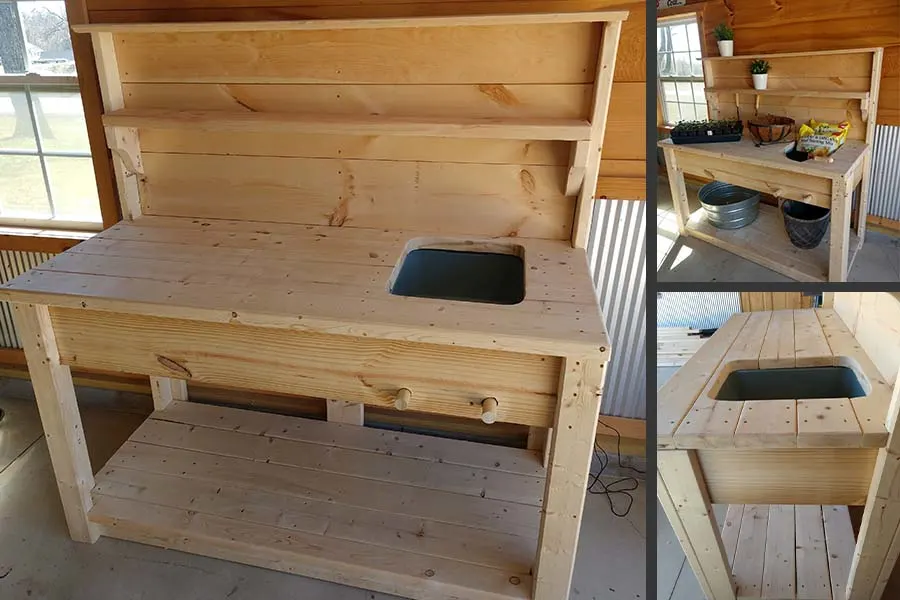 I think what we love most about these potting bench plans is the ability to personalize them to any situation . Every gardener has different needs, and the ability to make the potting bench fit your decor and style is certainly a big plus.
At 5′ wide and back shelving that stands 5′ tall, the potting bench provides plenty of work and storage space. The strong legs support a heavy-duty shelf underneath, and a thick 2x work surface that stands up to the heaviest of uses. And have fellow gardeners ever turned it into even more!
Whether it's adding a tile or mirror for a backsplash, plumbing and electric, or enclosing the bottom in with doors or drawers – folks everywhere have turned these basic plans into something special. What makes it so easy is simple, strong, sturdy bones of the original bench plans.
How To Build And Create A Unique Homemade Potting Bench
One of the great features of the DIY potting bench plans are they use ordinary 2x framing lumber for the frame and top. Not only are 2x's easy to find, but they are easy to work with too. In fact, if you have a circular saw, jig saw, drill/power screwdriver, level and a tape measure, you're in business!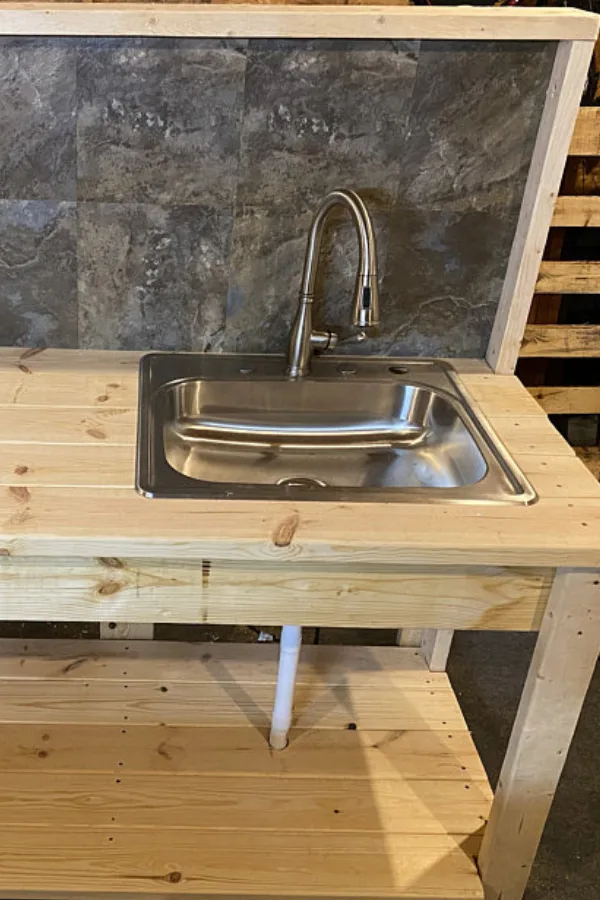 The potting bench uses simple 2x construction for both it's frame, work surface, and shelves. The framework and table top use 2×4's, 2×6's and (1) 2 x 8 board for the frame. Using untreated, treated or even cedar 2x lumber, it can fit in with any decor. Some have chosen to stain or paint their potting bench, while others let it weather to a natural grey.
The bench really can serve so many needs beyond just gardening. In addition to the potting bench set-up, many have built it as a sturdy craft table or work bench. A few have also added casters o the sturdy legs to make it completely mobile.
Creating A Potting Bench To Fit Your Space & Needs
But as a potting bench, this project really comes to life. With an optional removable tub, it can be perfect for potting up and transplanting seedlings. The tub is held in place by thick, sturdy wooden dowels underneath. The dowels slide out so that the tub can be removed for easy cleaning. And the top shelves are perfect for storing all kinds of garden tools and garden kick-knacks.
Many, like the photo from Anthony in Dallas above, chose to plumb in a working sink. Others, like Robyn from China Spring (below) added a drop down shelf for even more storage.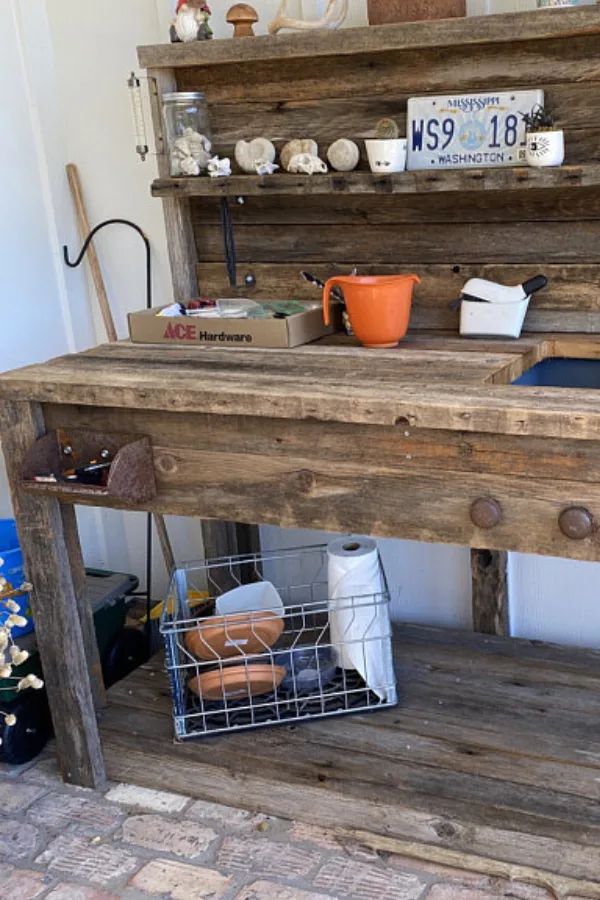 One thing is for sure, gardeners are some of the most resourceful and creative folks around. It's always exciting to see what they can come up with to make something fit their own garden space. For even more ideas on the potting bench, check out the review section on the OW Garden Vintage Plans page.
Here is to building your own special potting bench!
This Is My Garden is a website dedicated to spreading the love and knowledge of gardening around the world. We publish two new garden articles each week. This article may contain affiliate links.