Are you looking for a few huge, show-stopping tomato varieties to plant this year to grow bigger than life tomatoes?
There is something so special about seeing a massive tomato growing in your garden. Watching a large, green globe begin to take shape on a plant can be quite exciting. Perhaps it's the wonder of seeing just how big it will grow. Or the anticipation of just how juicy and delicious it will taste.
But let's be honest, for most gardeners, it all comes down to having those all important bragging rights! Who doesn't want to grow the biggest tomato around? And, of course, show it off to all their fellow gardeners and friends!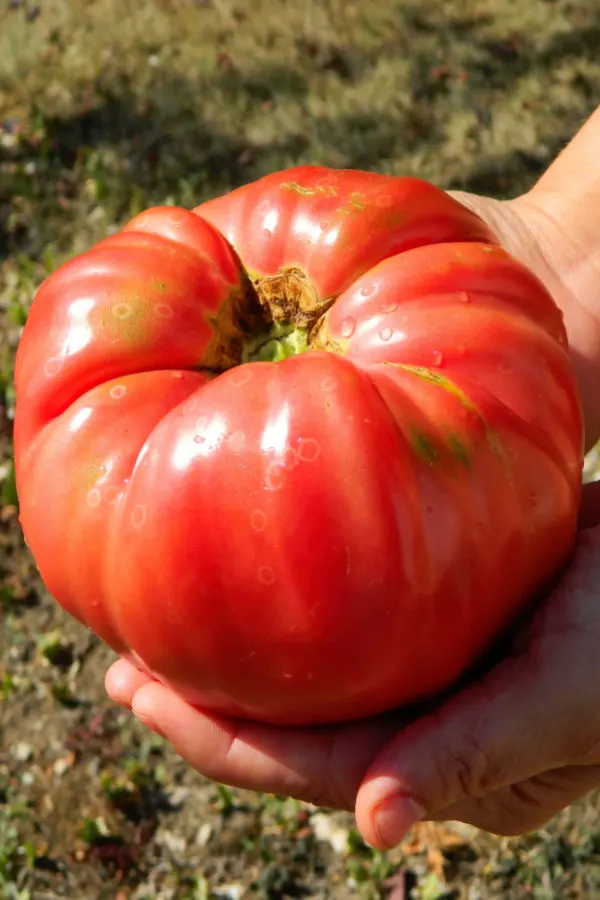 One thing is for sure, planting a few large variety tomato plants can really add a lot of fun and excitement to your garden season. Especially when you consider just how beautiful and flavorful big tomatoes can be.
With that in mind, here are three incredibly tasty tomato plant varieties to grow in your garden this year that can produce some of the biggest and most flavorful tomatoes around!
How To Grow Huge Tomatoes – 3 Tomato Varieties That Grow BIG!
#1 Big Rainbow
When it comes to hearing oohs and aahs from your neighbors, friends, and family, the Big Rainbow tomato won't disappoint! In fact, with its incredible size, color and flavor, the Big Rainbow is one of the most beautiful marbled tomatoes you can grow. And can it ever grow big!
The plant produces gorgeous tomatoes that often grow to two pounds or more, and with streaks of intense red, gold, orange, and yellow running throughout the flesh, it is simply stunning to behold. But even more, the taste is simply divine!
Perfect for slicing and eating, this is definitely a tomato you will want to show off on salads, platters, and more. The plant is an indeterminate variety that will continue to produce all season long right up until the first frost.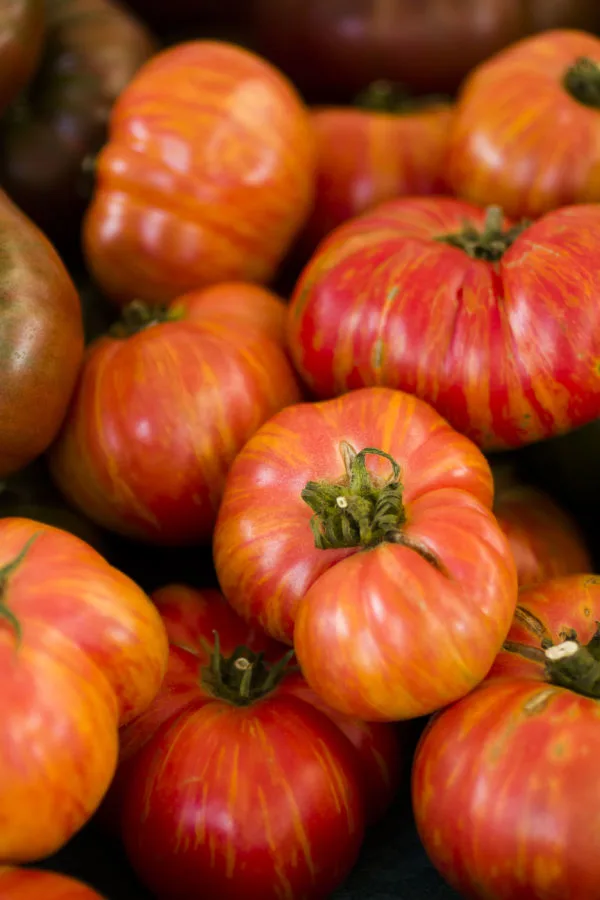 Slice this one up thick for that "wow" factor – green shoulders, gold, orange, and yellow flesh with beautiful red marble streaks throughout and on the blossom end. Juicy and fruity sweet, Big Rainbow Tomatoes are a knockout on a platter, in a salad – or the perfect compliment to any sandwich.
#2 Mortgage Lifter – How To Grow Huge Tomatoes
Perhaps one of the best known "BIG" tomato varieties of all, the Mortgage Lifter is a massive tomato producing plant with a great backstory.
Way back in the early 20th century in the depression era of the 1930s, a home gardener found himself and his family in a desperate financial situation. But he found an amazing solution to the issue growing right in his backyard garden.
The Story of Radiator Charlie…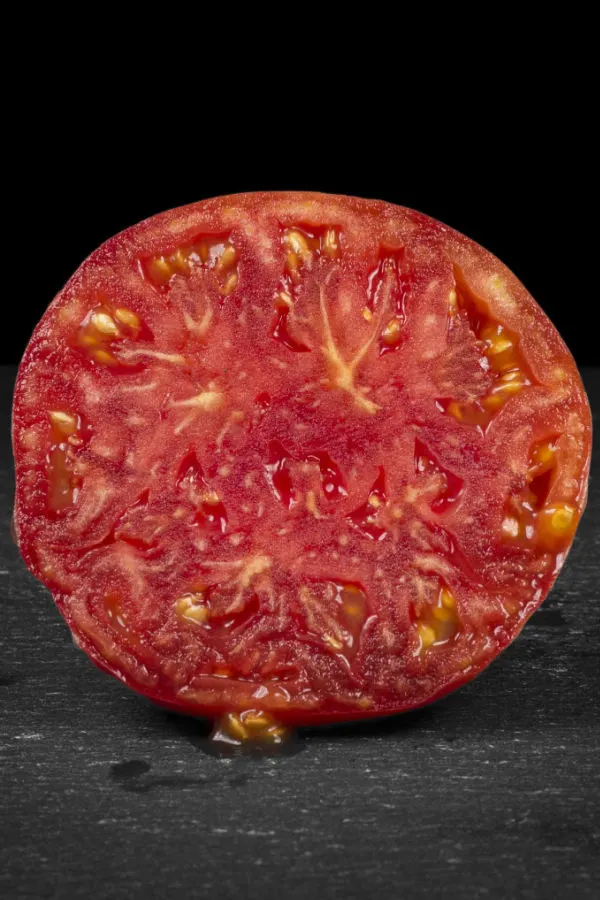 Radiator Charlie, as he was affectionately known by friends, loved experimenting with plants. And after crossing a few of his best tomato plants for a few years, he came up with a classic beefsteak tomato plant that grew insanely large tomatoes. How large? Most grew to two pounds or more, with some maxing out at in excess of a whopping 4 pounds!
Realizing he had something special, Radiator Charlie began growing the plants and selling them for $1 each. He then used the profits to pay off the mortgage on his West Virginia home – and the rest as they say is history!
The tomatoes are more than just eye candy. The heirloom beefsteak plant produces meaty tomatoes that are great for fresh eating, or for slicing up on all kinds of sandwiches. And the flavor? It is as sweet and delicious as can be!
#3 – Pink Ponderosa Heirloom Tomato Seeds – How To Grow Huge Tomatoes
The Pink Ponderosa is another heirloom tomato that is sure to be the envy of fellow gardeners. Although it will grow fruits a bit smaller than the Mortgage Lifter and Big Rainbow, the Pink Ponderosa plant produces some of the tastiest big tomatoes around!
This tomato variety has a long line of roots dating back to the late 1800s in Luxembourg. It has become quite popular once again with the resurgence of heirloom tomatoes over the last few years. With very few seeds and loads of juicy fruit, it is a great multi-purpose tomato for growing in the garden.
Listen In Below To Our Podcast On How To Fertilize Your Tomatoes For Big Success!
With bright pink tomatoes that can grow to nearly a pound each, its light reddish-pink interior oozes with flavor. And even though it may produce a bit smaller, its higher production levels more than make up the difference.
Like the other two featured tomatoes, Pink Ponderosa is an indeterminate, meaning it will keep on producing right up until the first frost with proper care. As an heirloom seed variety, it's important to note that the seeds from all three varieties can be saved from tomatoes to grow year after year – all for free!
There you have it, three great tomato varieties to grow huge tomatoes oozing with flavor! As always, make sure to get your seeds in plenty of time to have them ready to start indoors.
For more great tips on tomato growing, be sure to check out our article How To Get Tomato Plants Growing Better! 3 Big Tips To Power Tomatoes Fast. It will have your seedlings taking off like never before, and help you get the most from your tomato plants!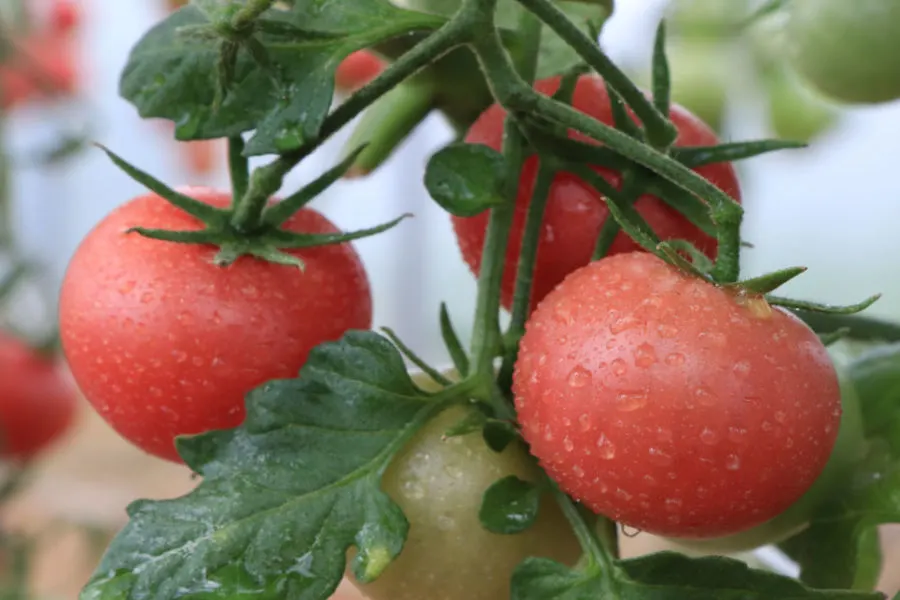 This Is My Garden is a garden website created by gardeners, for gardeners. We publish two articles every week, 52 weeks a year. Sign up today to follow via email, or follow along on Facebook here : This Is My Garden. This article may contain affiliate links.