You might be surprised just how easy it can be to build your very own two bin compost system – and how fast it can help make a continuous supply of amazing compost for your garden and flowerbeds!
When it comes to powering your soil and plants, nothing beats compost. Compost contains the perfect blend of nutrients and organisms that can bring tired soil back to life. Those same nutrients can also absorb easily into the roots of plants to give them the power they need to thrive.
Compost is perfect for adding into spring planting holes for vegetables, flowers, herbs and more. It's also great to use as a mulch around plants. As a mulch, it holds in moisture while leaching nutrients down into the soil. In addition, you can also make an incredibly powerful fertilizer tea – simply by soaking water in compost.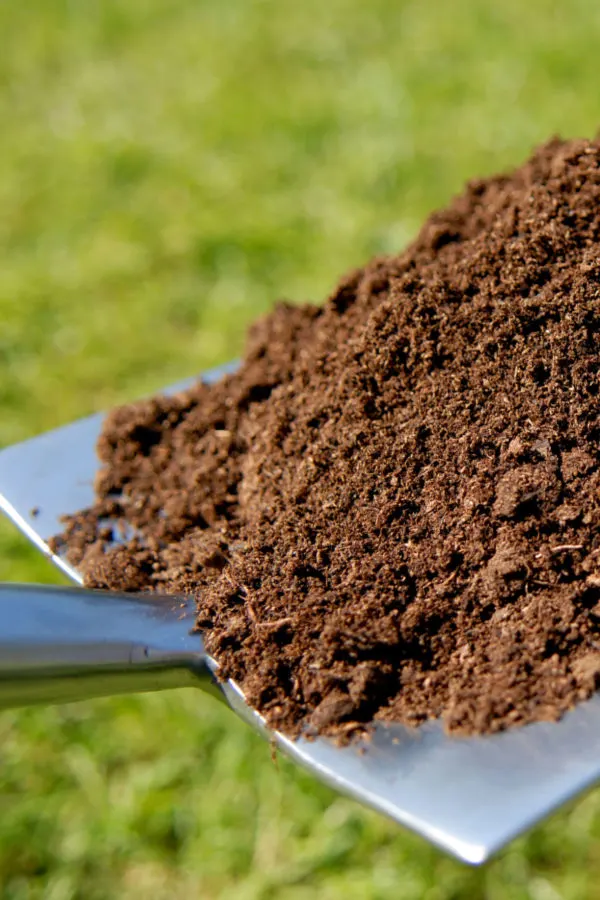 The only real issue with compost is that you can never seem to make or have enough on hand for an entire growing season. Even the best compost piles can take six to eight weeks to break down, and if you only have a single pile working, you can run out of compost quickly. And that is exactly where a two bin compost system can help save the day!
The Benefits Of Using A Two Bin Compost System
A two bin system allows you to instantly double the amount of compost you can make. No more waiting for a pile to finish before starting a new batch. Instead, with a two bin system, you can have your next batch already going.
The advantages of a two bin system go far beyond simply doubling the amount of compost. For starters, you can take out materials that are slow to decompose from a nearly finished pile and place them into the new batch. That allows you to use what is ready and start another pile even faster.
Even better, by placing a bit of nearly finished compost from one bin to a new pile in the other bin, you introduce the bacteria and organisms that are vital for breaking down materials fast. That means more compost for you to use quicker than ever! See: How To Make Compost Fast!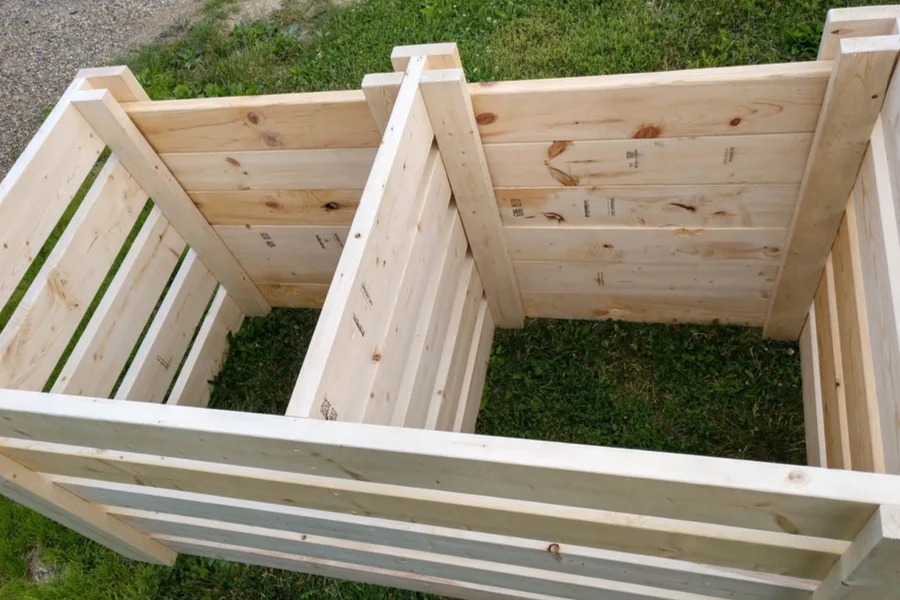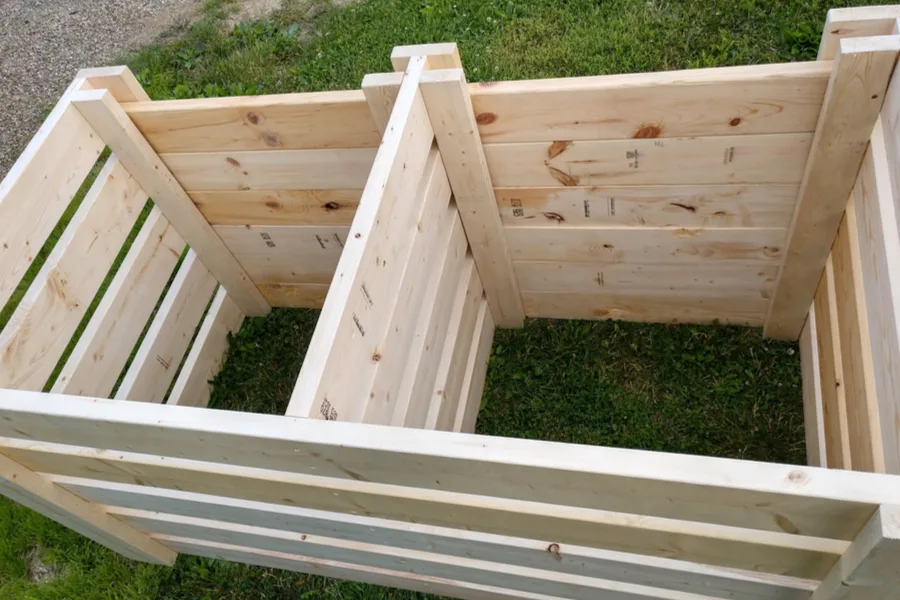 Perhaps best of all, having two bins allows you to collect twice the material! When all of those leaves fall, you have more space than ever to collect them. The same goes for grass clippings or when you cut back plants. Unfortunately, all too often, with a single bin, you only have room for a portion of the materials available.
How To Build & Use A Two Bin Compost System
Creating your own two bin composter is actually a simple process. In fact, armed with a few basic tools and some untreated 2x lumber, you can fashion together a beautiful 2 bin system in just a few hours.
There are a few things that are very important to know when creating any compost bin. For starters, the size of each bin needs to be able to hold at least 3 cubic feet of material. In fact, 3′ x 3 'x 3' is the perfect size for a single compost pile.
Unfortunately, smaller piles cannot keep their heat. As they cool off, it slows decomposition, extending the time frame needed for finished compost. Bigger piles can certainly hold heat, but they can be extremely hard to work and turn, not to mention find the space for!
With that in mind, creating a double bin system with two individual 3′ x 3′ x 3′ bins side by side is ideal. It allows for plenty of size for each working pile – and easy access to both.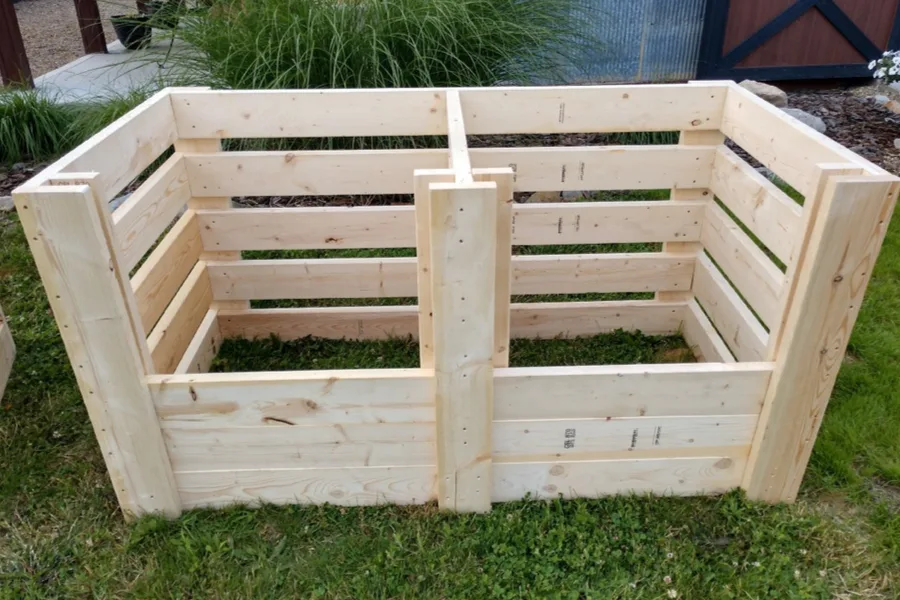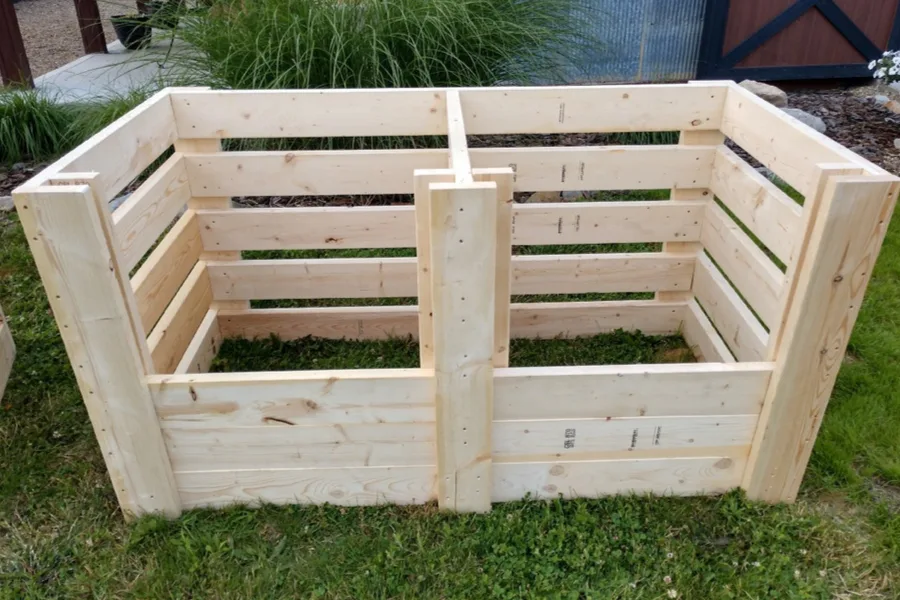 Compost Bin Materials – How To Build & Use A Two Compost Bin System
Ordinary 2x framing lumber is perfect for building compost bins. And yes, it is important to use untreated wood for your bins. Treated lumber contains a long list of chemicals. Chemicals that can leach into your compost and be quite harmful for your plants and you.
Untreated framing lumber actually holds up extremely well. And, you can paint or stain the outside (compost will not come in contact with outside edges) to help keep it looking good.
How To Build & Use A Two Compost Bin System
We do have complete step by step building plans for the double compost bin pictured below in our Etsy shop. All of our step by step plans are instant download pdf's, and for $10, include a full material list, cut list and step by step instructions with photos all along the way. See: Double Compost Bin Plans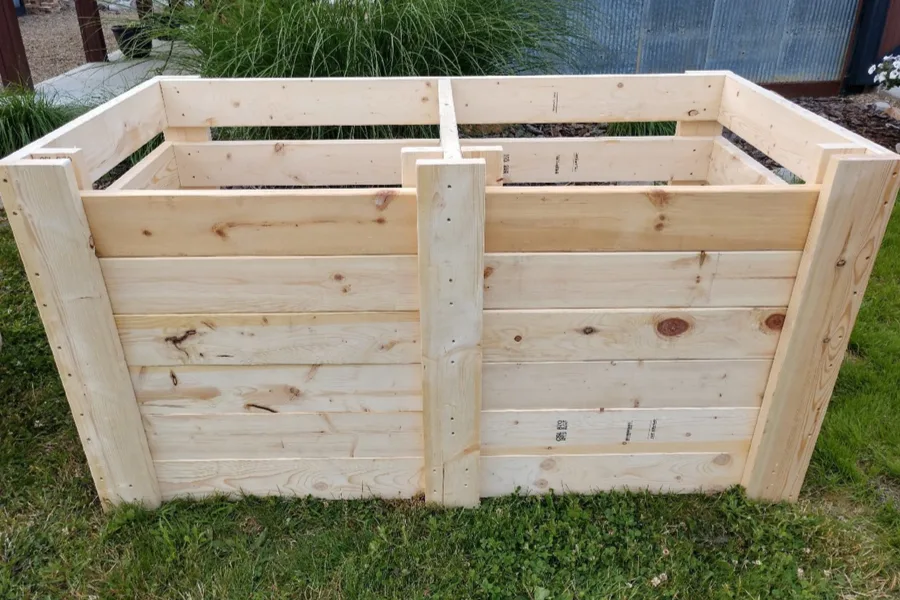 The bin highlighted below features slat spaces on the sides and back to allow for good air flow to the pile. The front section has removable wood slats that can slide in and out as needed to work the pile. This is great for keeping the pile out of sight when not working it.
The double compost bin requires (11) 2 x 6 x 12's and (1) 2 x 4 x 12′ board to complete. The 2 x 6 x 12's are easy to cut down to the main front 6′ sections and smaller 3′ side sections. Again, using 2x lumber is a must for durability – unfortunately, 3/4 inch and even 1 inch thick boards will warp and rot too quickly.
Tools & Fasteners
It is best top use screws when assembling any wood bin. Not only does it make fast work of assembly, the screws will hold the boards tighter whereas nails will usually work their way out over time.
As for tools, you will need some type of saw to cut straight boards. A chop saw, circular saw or even a hand saw will work. In addition, a power screw driver/drill and 1/8th inch drill bit for pre-drilling screw holes is all you will need.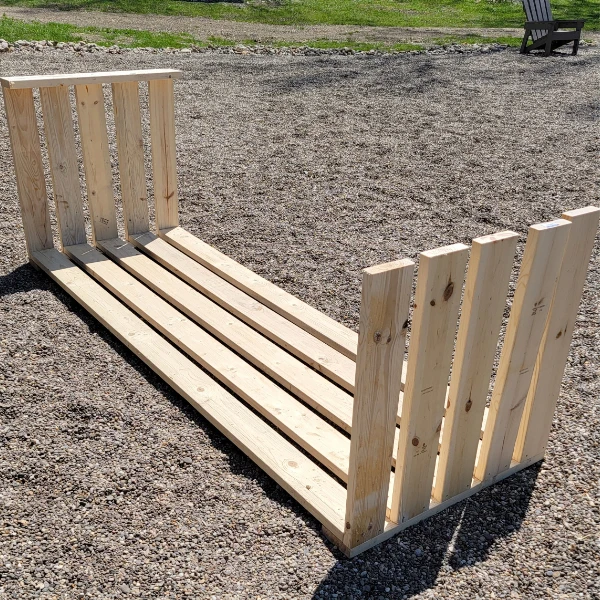 Not only does the compost bin go together easily, it looks great anywhere! The 3′ sides and 6′ back are assembled as a "U", and then a simple middle section separates the two bins in to (2) 3′ sections. A 2 x 4 is then used on each front side to create a channel for the front slat boards to slide in.
It is an open top composting bin system, which is great for easy access and air flow. It is quite simple to create a lid or cover the bin if desired. Here is to creating and using a double compost bin system – and never running out of compost again!
This Is My Garden is a garden website created by gardeners, for gardeners. We publish two articles every week, 52 weeks a year. Sign up today to follow via email, or follow along on Facebook here : This Is My Garden. This article may contain affiliate links.