Looking for some of the best trailing plants to plant in your hanging baskets and containers this year?
Planting your own potted plants is one of the best ways to save on your gardening budget. Not only can hanging baskets and container plants be quite expensive to purchase, you are often limited to the basic selections your local stores carry.
But when you plant your own at home, you can do so for a fraction of the cost. Even better, it opens your planting options up to all kinds of beautiful plant styles – including adding trailing plants – which can bring a whole new dimension to container plantings.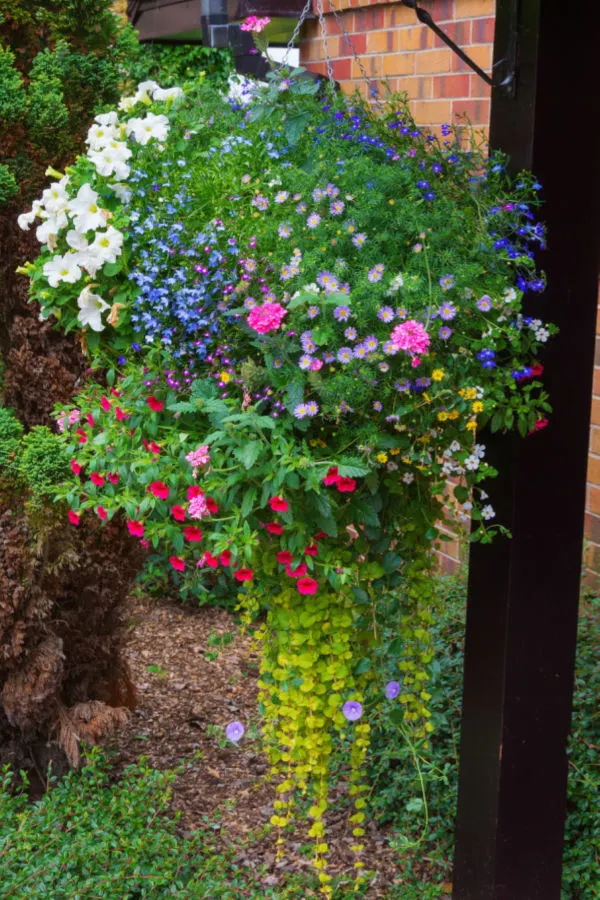 Long, flowing plants that spill over the edges of a potted plant or basket create a whole new look. Not only do they help to give additional depth and length with their foliage, they can also compliment the other plantings in the pot that grow above or around the container.
Today, we feature five of the best of the best when it comes to trailing annuals. All of the plants below are more than capable of creating an amazing container plant all on their own, or, compliment the other plants growing in the pot as well.
The Best Trailing Plants For Hanging Baskets & Containers
Sweet Potato Vines
If you are looking for a trailing plant with massive foliage power, then the sweet potato vine is for you! Although a relative to sweet potatoes that grow as a vegetable, sweet potato vines are ornamental varieties of the plant that grow incredibly long flowing vines filled with colorful leaves.
You can find sweet potato vine varieties in yellowish-green, light green, red, purple, purplish-black, or even bronze. And can they ever grow fast! Sweet potato vines take very little nutrients from the soil, but grow quickly, spreading their vines out over large areas in a flash.
Sweet potato vines add loads of interest and color as they cascade down over baskets and containers. They are wonderful for planting with other vertical growing flowering annuals. Together, the plants massive foliage and flower combos can be quite stunning.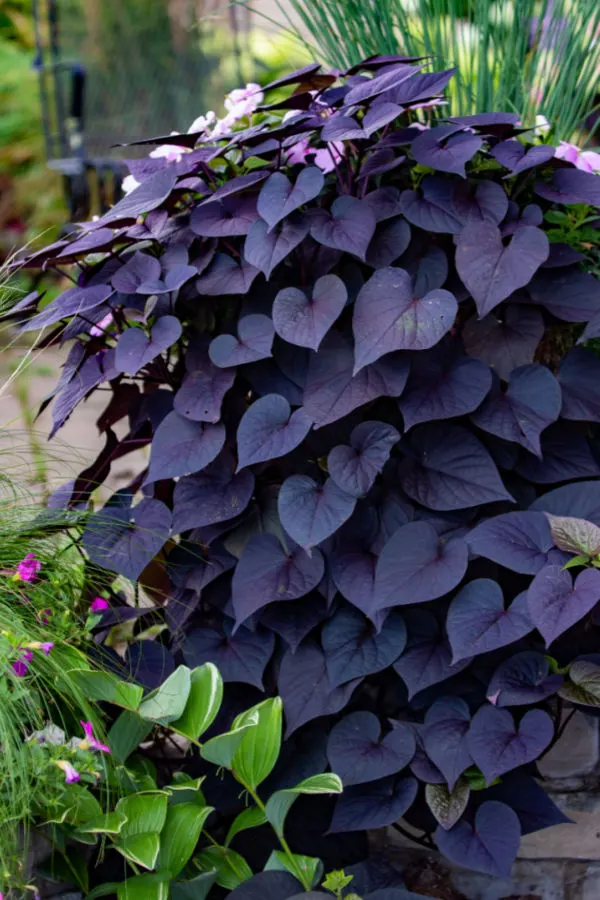 Sweet potato vines can handle full sun, but their foliage performs best when grown in areas that receive some shade. The vines grow from tubers but you can also propagate new starts from cuttings. Most nurseries and plant stores carry small inexpensive starts in the spring.
The plants are annuals and will die if hit by a frost. But the good news is that you can take a few cuttings in the early fall and grow them as a houseplant over winter. Then, next spring, you can create new cuttings to plant outdoors – all for free!
Silver Falls Dichondra – The Best Trailing Plants For Containers & Hanging Baskets
The unique color and trailing habits of Silver Falls Dichondra make it an incredible choice for hanging baskets and container plantings. Especially ones that grow in more shade than sun!
Silver Falls Dichondra features loads of compact greenish-silver circular leaves that spill over the edges of containers, extending three to four feet or more. The foliage has a somewhat translucent hue that makes it appear to shimmer in the daylight.
The plant is a great choice for shadier porches and patios. It pairs well when planted with impatiens, another shade loving annual. Together, the bright colors of the impatiens up top and the long trailing foliage of Dichondra meld together beautifully.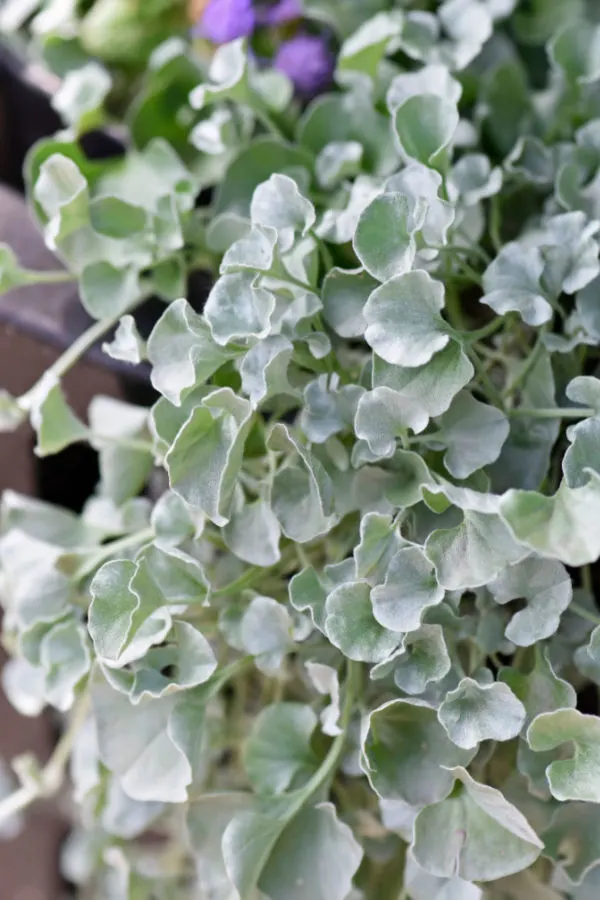 Silver Falls can be grow from seed or transplants. It is an annual and will not tolerate a frost. You can start seeds early indoors or wait to plant seeds outdoors when the threat of frost has passed. Affiliate Seed Link : Silver Fall Dichondra Seeds
Black Eyed Susan Vine – The Best Trailing Plants For Containers & Hanging Baskets
Not to be confused with the perennial Black-Eyed Susan plant that grows in many flowerbeds – the Black Eyed Susan vine is actually a tender perennial that hails from the tropics.
Although this vine is technically a perennial, it grows as an annual in most climates and is perfect for containers and hanging baskets. It can quite easily be grown from seed, either starting indoors, or planting directly into pots and planters once the temperature warms outside.
The vines fill with blooms and grow six to eight feet over the course of a growing season. Their soft, star-like petals bloom best when grown in full sun, but this durable plant handles partial sun as well.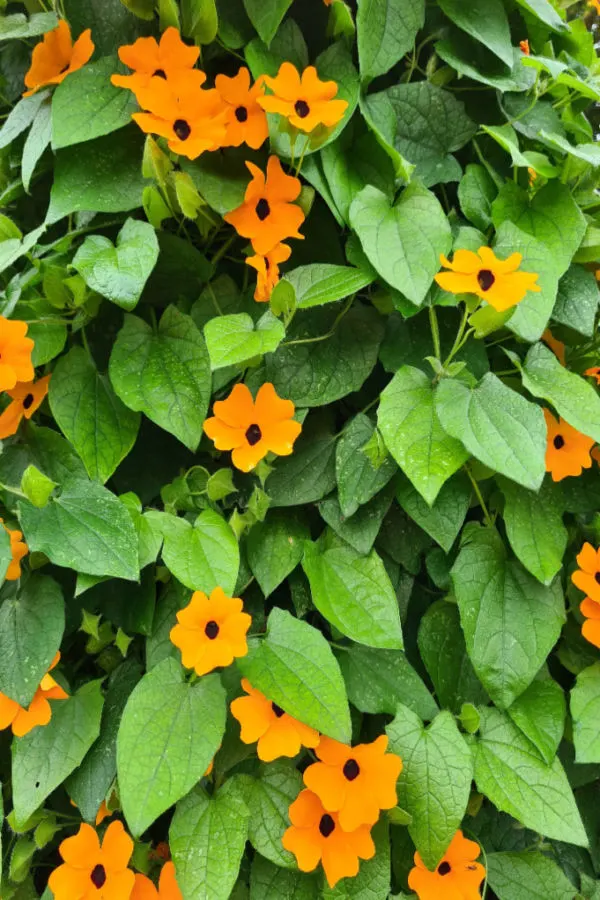 What makes the Black Eyed Susan vine a great container plant is that it requires very little maintenance or nutrients to survive. That allows it to grow with flowering annuals in the same pot without worry of nutrient deficiencies.
Best of all, the plant does not require deadheading to continue blooming all season long. Talk about a low maintenance wonder plant! Affiliate Seed Link : Black Eyes Susan Vine Seeds
Trailing Verbena – The Best Trailing Plants For Containers & Hanging Baskets
Trailing verbena is perfect for providing loads of overflowing color for containers, window boxes and hanging baskets.
The long trailing clusters of flowers add big interest as they spill down and out over the side. The blooms of verbena are extremely bright. So bright that they are wonderful for attracting hummingbirds, making your baskets and containers even more enjoyable for viewing.
Trailing verbena is available in a wide variety of colors, ranging from white, purple, violet, red and more. Verbena is highly tolerable of hot and dry conditions – making it a perfect companion plant for growing in baskets and containers.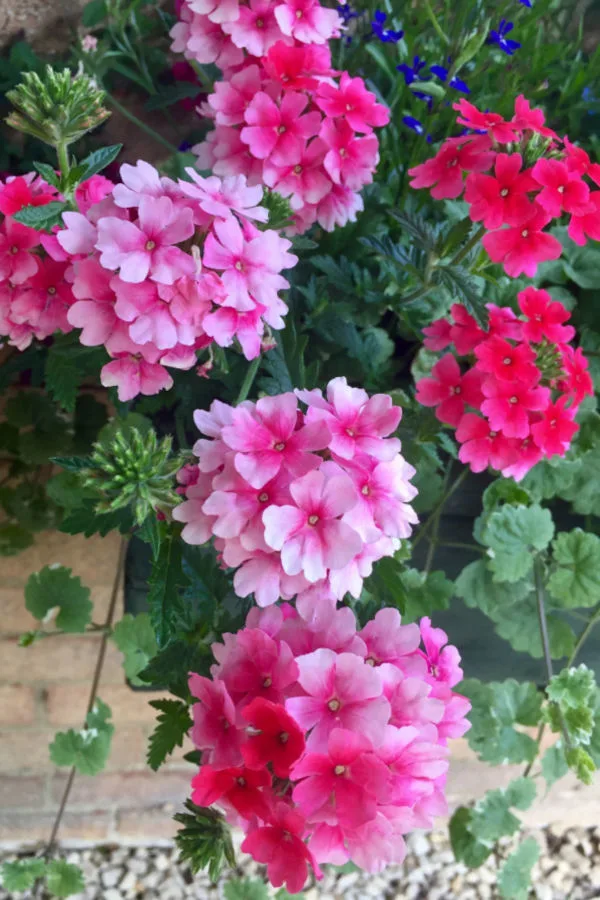 Verbena prefers full sun, and handles the heat of porches and patios that receive full sun. It also happens to be highly resistant to disease and pest attacks. Seed Link : Verbena Quartz Waterfall Seeds
Wave Petunias – The Best Trailing Plants For Containers & Hanging Baskets
Last but certainly not least, wave petunias may be the most colorful of all of the trailing plants around! Wave petunias fill their long vining-style stems with a massive amount of blooms. And can they ever spill out and over the edges of containers to make a statement!
Much like the Black Eyed Susan vine, you do not have to deadhead old blooms. Even without removing spent blooms, the plant will keep producing loads of flowers. You can find varieties of wave petunias in red, white, blue, purple, pink and rose – making them perfect for pairing with other plants.

Wave petunias are actually wonderful all over the landscape. The sprawling habits make them perfect for filling large open flowerbed spaces. For even more on wave petunias, check out our article on How To Keep Wave Petunias Blooming all summer long.
Here is to planting your own hanging baskets and containers this year and to adding more interest than ever with a few trailing plants!
This Is My Garden is a garden website created by gardeners, for gardeners. We publish two articles every week, 52 weeks a year. Sign up today to follow via email, or follow along on Facebook here : This Is My Garden. This article may contain affiliate links.