If you are looking for a great way to add a unique flair to your flowering fall display this year, try growing ornamental kale, the incredibly beautiful annual that not only can survive cooler weather, it actually thrives in it!
There's nothing like a little fall foliage and flowering plants to help transition from the hot summer season into the cooler temperatures of autumn. But when it comes to finding plants that flower big in the fall – the choices are often limited to mums and asters. That is, until ornamental kale arrived on the scene!
With its curly, colorful set of contrasting leaves, ornamental kale can light up a fall landscape. The annual, along with its close relative ornamental cabbage, has been gaining in popularity for fall decorating with each and every passing season. And it's easy to see why!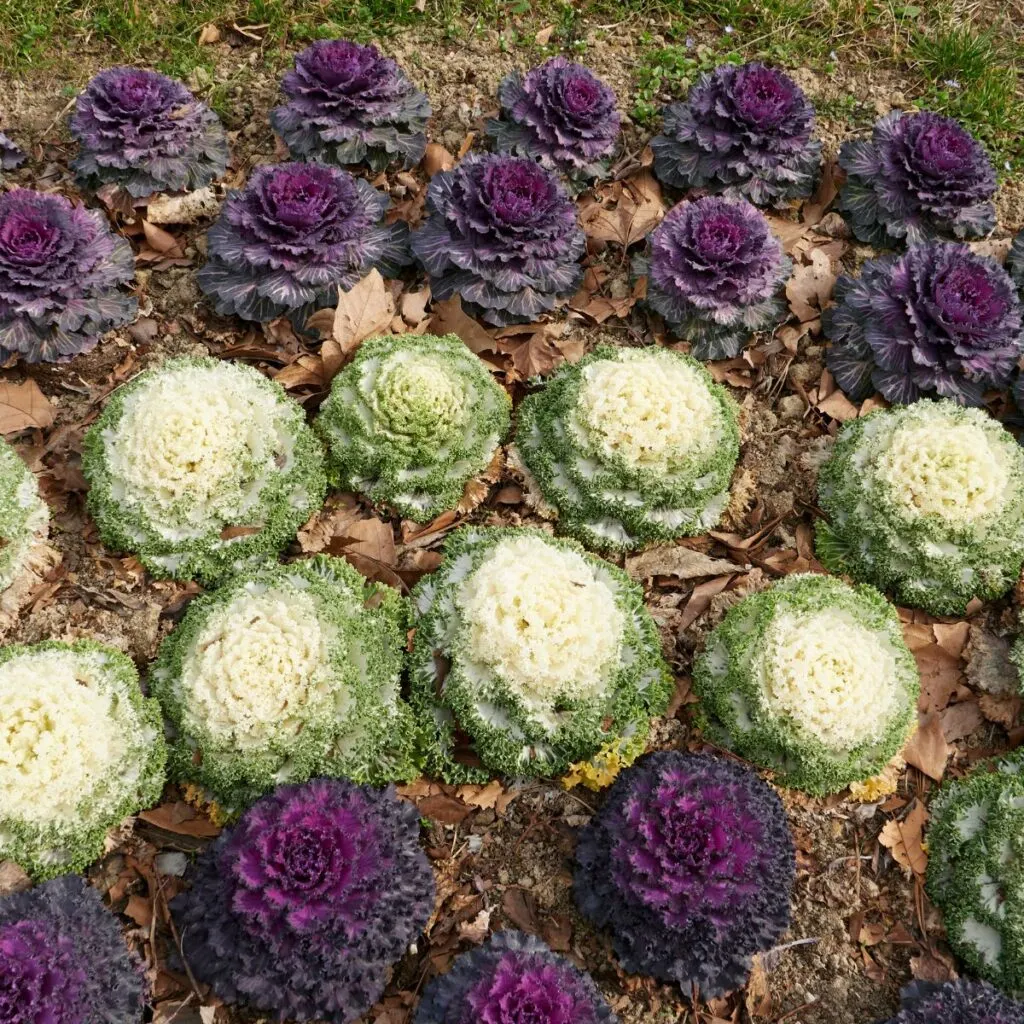 With foliage colors that can range from bright white to green, red, pink and even purple, the annual flourishes in the cool, crisp autumn air. In fact, the colder the temperatures get, the more the foliage brightens.
Best of all, unlike mums and asters, ornamental kale has full season staying power. The foliage and bloom rosettes can hold their color easily after light frosts and even a freeze. So much so that it's not uncommon to have the plants still looking great all the way up to the Thanksgiving season and beyond!
Growing Ornamental Kale
One thing is for certain, even though ornamental kale belongs to the same family as peas, lettuce, and radishes – this annual is grown more for it's colorful leaves than as a food. Unlike its edible relatives, although you can eat ornamental kale, tasting it will leave you with quite a bitter experience.
But what it loses in flavor it more than makes up in style. And making it even better, it couldn't be more simple to grow. With that in mind, here is a look at how to grow and use ornamental kale in your landscape this fall – either by growing from seed, or transplants!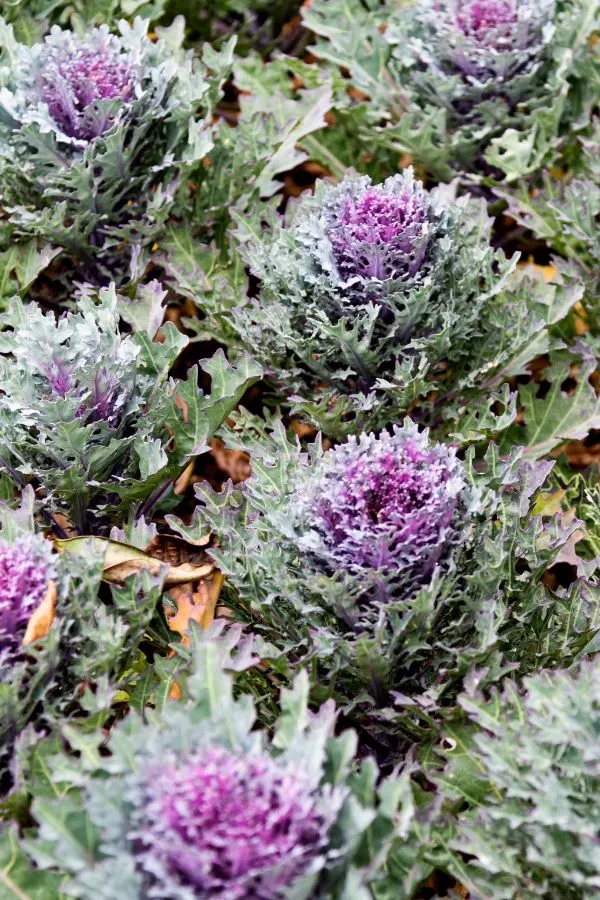 Growing Ornamental Kale
Growing From Seed
Much like other garden annuals, kale can be grown directly from seed, or by purchasing transplants from local nurseries or stores.
If you are growing from seed, there is no need to start indoors. They can quite easily be sown in late summer right where you want them. With the warm soil temperatures of late summer, the seeds germinate and grow quickly.
When growing from seeds, it will take between 10 to 12 weeks to reach full maturity. The good news is that even at six weeks, the plants are already sporting their beautiful colors. Affiliate Product Link: Ornamental Kale Seed
To plant, sow seeds onto the soil's surface and cover them lightly with soil. They do not need to be planted deep, a 1/8th inch covering of soil is more than enough to get them to germinate. One thing that is key for germination is watering. Keep seeds damp and moist with light, daily watering.

Ornamental kale will usually germinate in the warmer soil in seven to ten days. Most varieties reach heights and widths of 12 to 18 inches at full maturity. With this in mind, thin seedlings when they reach a few inches in height to allow for full growth.
Finally, applying a low dose of all-purpose fertilizer every two weeks after 4 to 6 weeks can enhance growth. Keep the dose light as using too much fertilizer will lead to leggy plants with less coloring of their foliage.
Using Transplants – Growing Ornamental Kale
As with mums and asters, many gardeners opt for purchasing ready to go transplants in the fall instead of growing from seed. With their ever increasing popularity, many stores now carry the plants as fall approaches, so selection is often quite good.
When purchasing transplants, it's important to know that ornamental kale is often mislabeled as ornamental cabbage. So much so in fact that many stores and nurseries often display them as the same plants.
They are both wonderful for fall growing, but to easily identify each, look carefully at their leaves. While cabbage boasts flat, broad leaves, ornamental kale's leaves have more curly, fringed edges.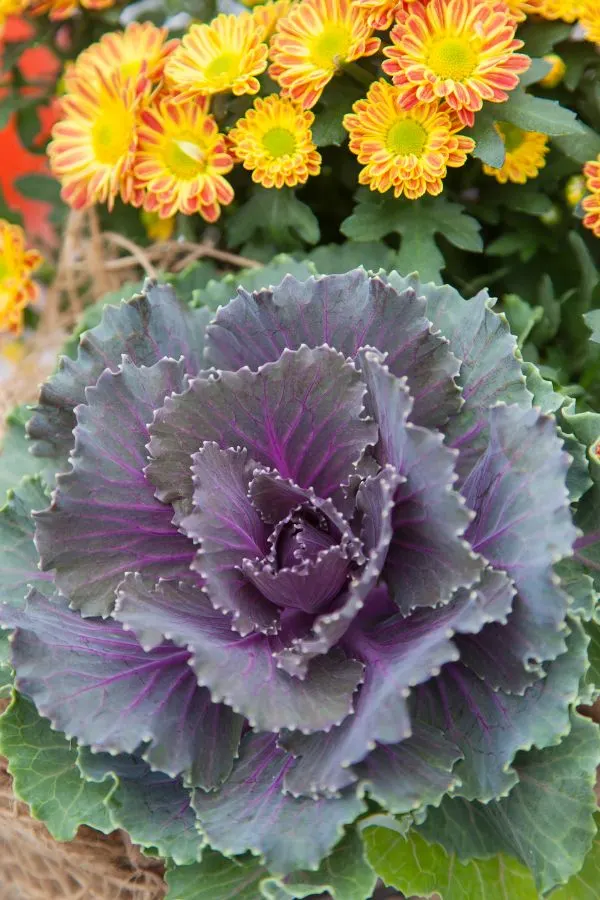 Ornamental kale also sets itself apart through its vibrant foliage, forming multiple rosettes with slightly scalloped tips. These leaves showcase a range of shades, including pink, purple, and cream, anchored by a rich green base.
When transplanting, opt for robust plants boasting vibrant foliage. Planting is easy, in fact, it's just like planting regular annuals. Simply create a hole slightly larger than the transplant's root ball and water it well upon placing it in the soil. Regular watering of about an inch per week will keep plants vibrant and healthy.
Maintaining Ornamental Kale Through The Autumn Season – Growing Ornamental Kale
While pruning isn't required, getting rid of leaves that may have damage or discoloration from the base will help keep plants looking their best.
Full sun exposure is also a must to bring out these bold colors of ornamental kale. Be sure to grow and locate your plants where they will get at least six to eight hours of sunlight. There is no need to protect against frost.
Interestingly enough, the colder the weather, the more intense and captivating the fall hues of kale become. The robust plant can endure frost and temperatures as low as 5º Fahrenheit!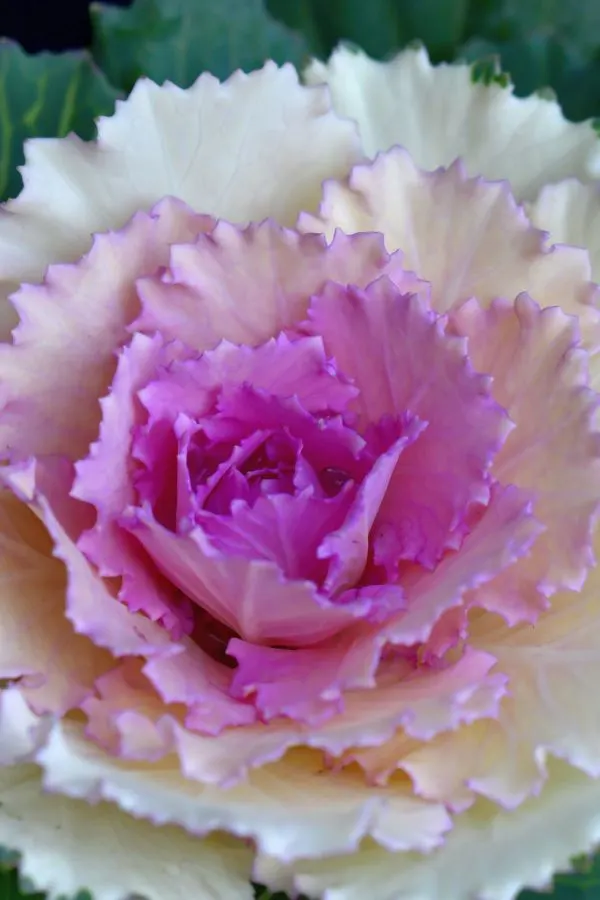 It's important to keep an eye out for any pests that commonly affect edible kale and cabbage. Insects such as slugs, snails and cabbage worms are the ones that typically get the best of ornamental kale. If pests are a problem, neem oil is a great all-natural solution. A light spray once a week will keep plants safe. (See: How To Use Neem Oil Against Pests.)
Cold-Weather Companions – Growing Ornamental Kale
Ornamental kale grows well anywhere and looks great alongside many companion plants. It is stunning along sidewalks, walking paths or nestled in rock gardens. It's also right at home filling out planters for porches, decks and more.
Ornamental kale goes well with other plants that thrive in cooler weather. They of course pair very well with both mums and asters. But they also look great with marigolds – which are one annual that is full of bright color well into late fall.
Violas and pansies, known for their dainty and intricate blossoms, also pair well with ornamental kale. Their gentle purples, blues, and yellows work well with the fringed leaves of the kale. With their bold, warm colors of reds and yellows, ornamental peppers are another annual that go well with the kale's cooler green, white and purple leaves.
One thing is for sure, ornamental kale can elevate your fall planting to a whole new level – and lasting flair even into early winter!
This Is My Garden is a garden website created by gardeners, for gardeners. We publish two articles every week, 52 weeks a year. Sign up today to follow via email, or follow along on Facebook here : This Is My Garden. This article may contain affiliate links.