Growing vegetables and flowers together in your garden adds more than just color and beauty. It's also a secret weapon in controlling pests and disease. And, even more, it can lead to a bigger and better harvest!
Many annual flowers have long been known to have beneficial qualities for vegetable plants.
For starters, some are incredibly helpful in repelling pests. Others, with their attractive blooms and scents, aid in bringing in beneficial insects. Some annual flowers can even help keep certain diseases in the garden at bay.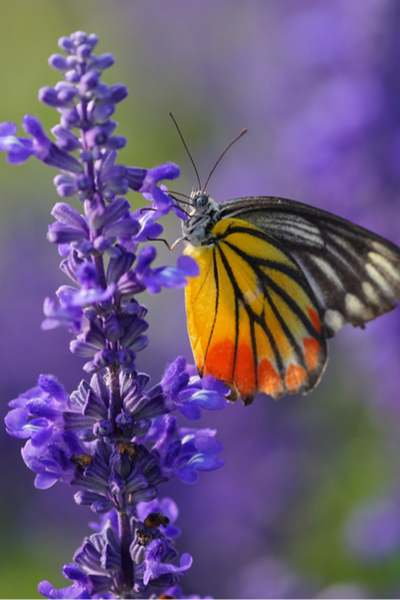 But one thing is for sure, no matter what, the intense color and fragrant scents of flowering annuals definitely bring a whole new level of interest to your garden!
Here is a look at a few of the best annual flowers to grow in your vegetable garden this year. And how they can be beneficial for more than just their beauty!
Growing Vegetables With Flowers – Top Companion Annuals For The Vegetable Garden
Marigolds
It is hard to beat marigolds for their help in the vegetable garden. They are are one of the most colorful annual flowers around. And one of the easiest to plant directly from seed as well!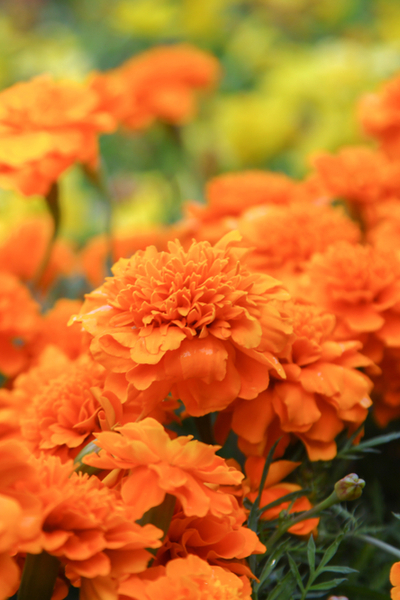 But they are also at the top of the list of helpful companion plants for vegetable plants.
Marigolds attract a massive array of beneficial insects to the garden. Insects like parasitic wasps that control cabbage and tomato worms. And ladybugs too, which devour aphids and mealy bugs in record numbers.
Marigolds, with their bright glowing blooms, also attract bees. And when it comes to pollinating crops, every garden can use more bees!
Their strong, pungent blooms, are also known to repel many damaging insects. Even chipmunks, squirrels and rabbits find them offensive.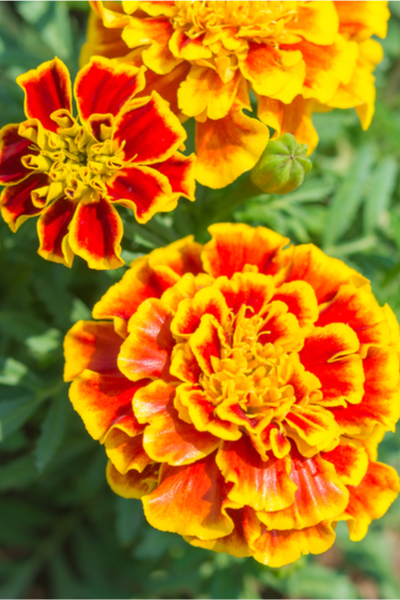 Marigolds grow easily from seed, and require little care to maintain. And they can be found in a wide range of bloom colors and size. Of all varieties, French Marigolds are known to be one of the best for planting in the garden. See : The Many Benefits Of Growing Marigolds In The Garden
Lavender
Beyond it's wonderful fragrance, the blooms and flowers of lavender have some pretty amazing qualities when grown near vegetables.
For starters, deer avoid it at nearly all costs. And ticks or mice are not fond of it either. It is also quite offensive to green cabbage moths, which can devastate gardens seemingly overnight.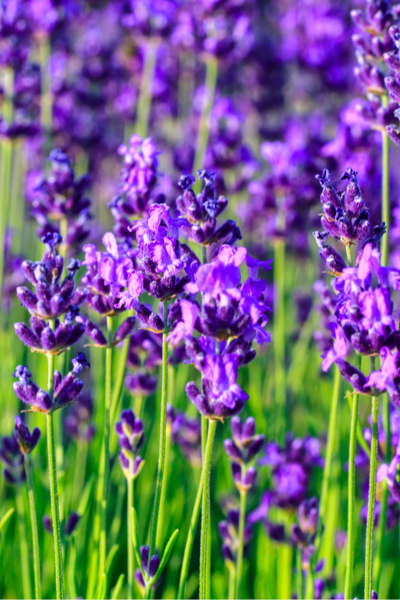 Lavender is also great for repelling tobacco and tomato horn worms when planted near tomato and pepper plants. All great reasons to plant lavender in the garden this year!
Cosmos
When it comes to attracting pollinators into the garden, cosmos are hard to beat! And pollination is the name of the game when it comes to creating a productive vegetable garden.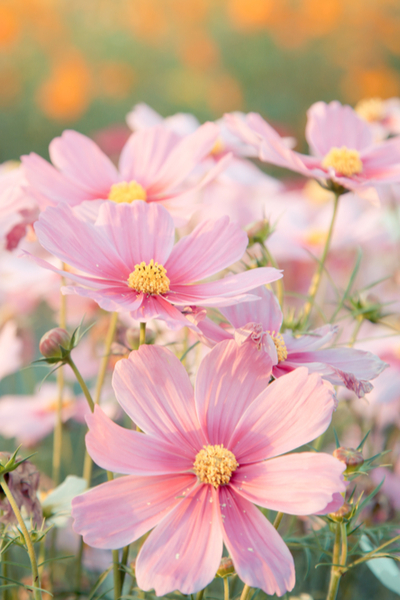 Cosmos are the perfect flower to grow to attract beneficial bees, wasps and butterflies to the vegetable garden.
Their big blooms and wispy petals quickly gain attention of pollinators. In addition, they make for a beautiful garden as well! See : Attracting Birds, Bees And More To The Garden
And just like marigolds, cosmos grow easily from seed. They thrive in almost any soil, and handle drought and heat well.
Sweet Alyssum
The flowers of sweet alyssum might be tiny, but their impact in the vegetable garden is big. Sweet alyssum is a low growing, compact plant with small blooms. But those little flowers attract a whole host of beneficial insects.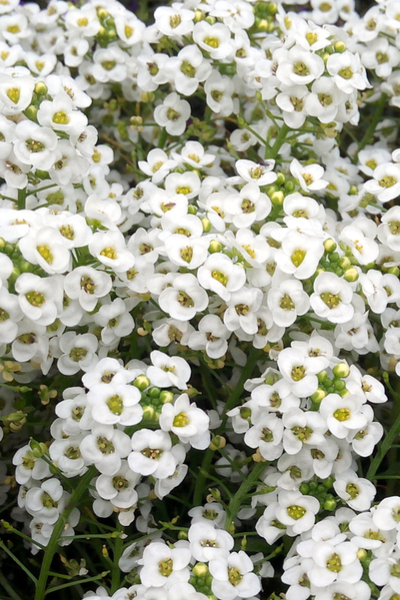 They are a great choice to grow around cucumber, zucchini, melon and pumpkin vines. Why? Because their tiny blooms attract a wide of beneficial insects that love to feed on cucumber beetles.
Sweet alyssum grows as an annual in most climates. It will, however, survive as a perennial in areas with only light frosts. Alyssum re-seeds easily, so in many cases, no matter where you live, the plants will return year after year. (Seed Link : Alyssum White Carpet Seed Mix)
Nasturtiums
Nasturtiums are a beautiful, easy-grow annual flower perfect for growing with vegetables. They are also extremely beneficial to the home gardener.
Nasturtiums produce a chemical substance that acts as a natural bug repellent. One that works quite well against many common and damaging pests. Pests like white flies, aphids and squash bugs. Even better, they are excellent at repelling mosquitoes too!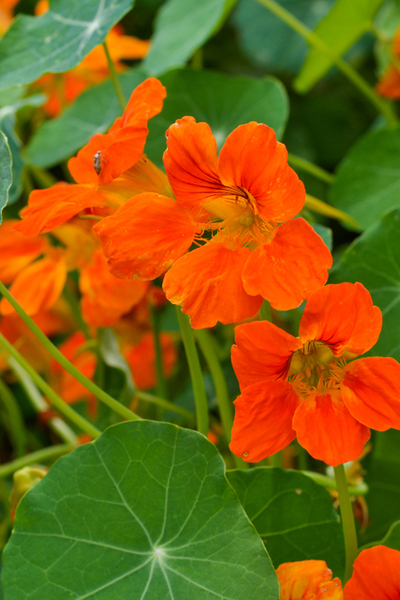 Their small, compact stature make them a perfect border plant. They can also be grown in pots and placed throughout the garden.
Nasturtium seed germinates quickly. Seed can be sown directly into garden or pots as soon as the threat of frost has passed. Seed Link : Jewel Mix – Nasturtium Seed Pack
Here is to growing more flowers with your vegetable plants this year for a more productive and beautiful garden!

This Is My Garden is a garden website created by gardeners, publishing two articles every week, 52 weeks a year. This article may contain affiliate links.