If you are looking for an easier, less back-breaking way to plant annuals, vegetable plants, bulbs and even perennials – using a drill auger for planting might be the perfect solution.
We have featured a lot of great hand tools such as the Hori-Hori on the blog in the past, but this might now be our favorite of all time.
Unfortunately, for so many gardeners, planting can be quite the chore. Not only does it usually involve bending over or kneeling down, the tools to dig the holes can be cumbersome and heavy.
If that wasn't enough, there is also the issue of trying to dig through difficult soils. Many clay-based soils can be hard to power through with a shovel. And the same goes for soils that contain heavy amounts of rock.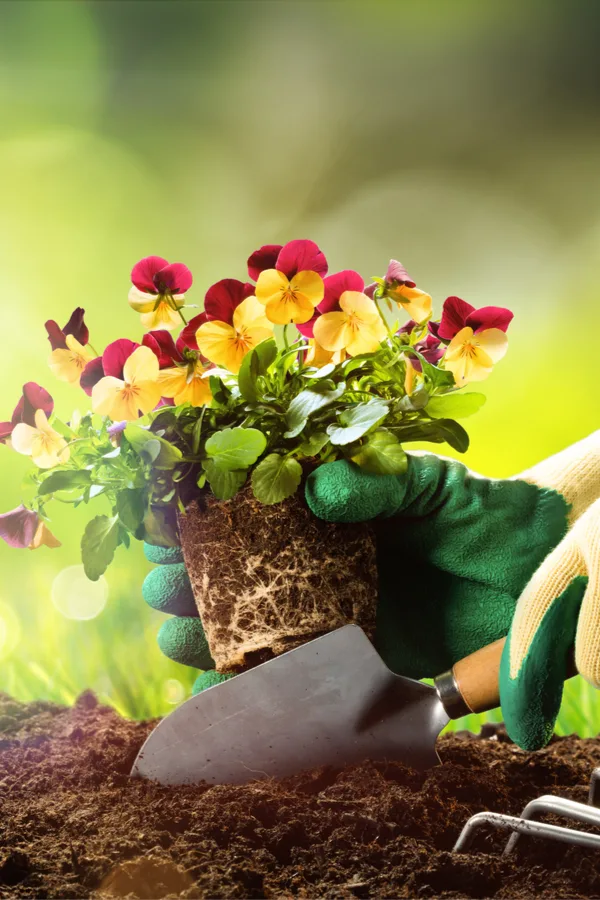 And that is exactly where a drill auger can be the perfect answer. A drill auger bit is a simple little implement that attaches to any standard drill. And does it ever make planting a breeze!
Here is a look at how it works, and how to use it to plant everything from tomatoes and peppers, to impatiens, tulips and more.
Using A Drill Auger Bit For Planting
Drill planting auger bits can be found in a variety of lengths and widths to fit nearly any planting need. Six to eight inch long bits that are one to two inches wide are excellent for planting small bulbs. They also work great for onion sets and garlic bulbs too.
For larger planting holes such as annual, vegetable and small perennial transplants, you can find bits up to 16″ long. These have even wider widths that can range from two, four and even 6 inches.

Not only do these bits allow for quick digging, the longer length allows many gardeners the ability to stand up while drilling the holes. And that certainly makes for much less strain on the back!
When selecting augers, it's important to select a bit or set of bits made from good, high quality steel. There are many auger bits on the market made from plastic or thin metal. Unfortunately, these bits simply don't have the strength to plow deep or through difficult soil.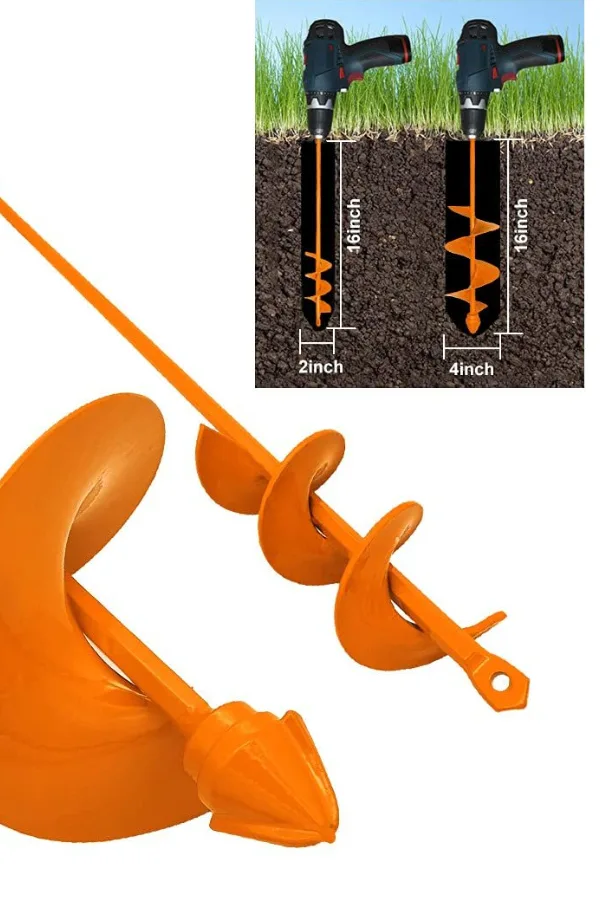 One of our favorites is the YUYU two-piece set. These bits are are strong and durable, and have a pre-drilling tip that makes digging a cinch. Product Link : Auger Drill Bit For Planting – 4″(D) x16″(L) & 2″(D) x16″(L) Heavy-Duty Auger For Garden Digging
Here is a look at how to use the auger bits for all types of planting scenarios:
Planting Spring, Summer & Fall Bulbs – How To Use A Drill Auger Bit For Planting
Many spring, summer and fall planted bulbs require fairly deep holes to plant. And let's face it, the old metal bulb planting tool that has been the standard for so many years can be quite difficult to use. Especially when trying to plant through rocky or hard soil.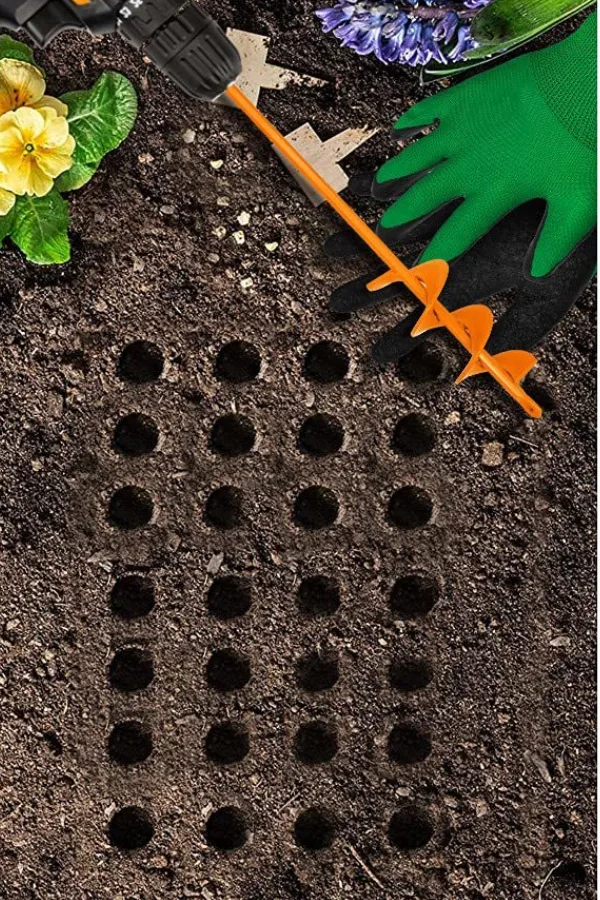 Using a drill auger bit can make quick work of bulb planting.
Planting Vegetable Plants – How To Use A Drill Auger Bit For Planting
For vegetable plants, the 2 inch x 16″ or 4″ x 16″ attachment are perfect for digging deep planting holes. You can easily take the bit down to a depth of 8 inches or so, and then fill the bottom of the planting hole with a few inches of compost.
This gives plenty of loose space and fertile soil to help transplants quickly expand their roots. This also keeps the holes confined and easy to manage. Even better, the less you disturb the soil, the less weeds you will have later!
Annual Flowers & Transplants – How To Use A Drill Auger Bit For Planting
Much as with vegetable transplants, the two and four inch wide auger bits are great for creating planting holes in flowerbeds. Dig the holes deep and once again add in compost to help roots establish quickly.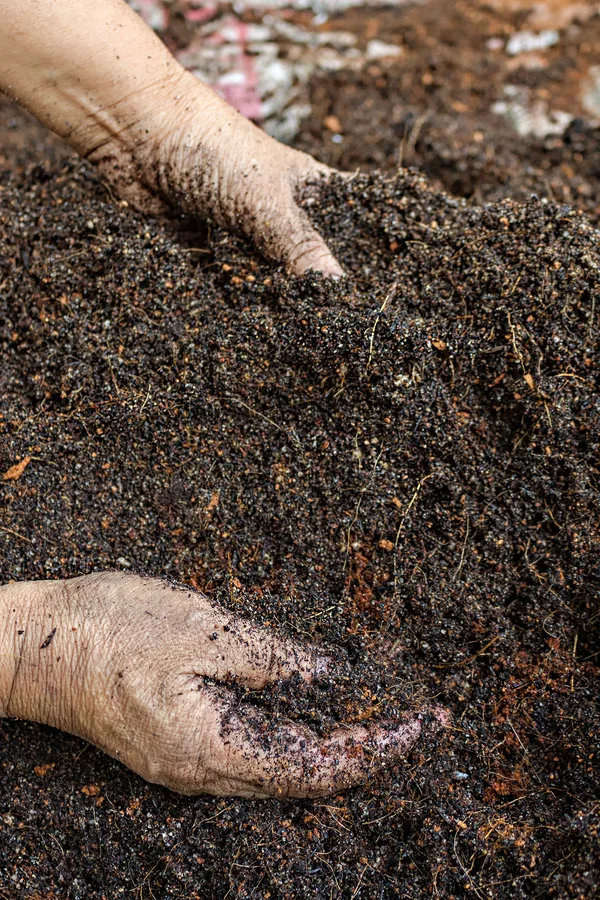 Perennials
Depending on the size of the perennials you will be transplanting, the auger bits can come in quite handy. For smaller holes, the 4″ wide auger is more than wide enough to dig for planting.
But even if you are transplanting into larger holes, use the auger bit in the bottom of the hole to break up the soil. Too often, the soil at the bottom can be hard, making if difficult for roots to expand. The auger can loosen this area up quickly.
Additional Uses
Here is the best thing about owning a few auger planting bits – they can be used for so much more than just planting!
The bits are great for mixing up potting soil ingredients to create super soil. Blend top soil, compost, perlite, worm castings and more together for a homemade potting soil that is second to none.
But it doesn't stop there. The bits are also wonderful for mixing up paint or stirring liquid solutions in pails. If using for planting, always be sure of course to wash the blades after any additional use.

Here is to using a drill auger for planting in your garden and flowerbeds. And even more, to keeping sore backs to a minimum!
This Is My Garden is a garden website created by gardeners, for gardeners. We publish two articles every week, 52 weeks a year. Sign up today to follow via email, or follow along on Facebook here : This Is My Garden. This article may contain affiliate links.