When it comes to creating safe, beautiful, long-lasting and economical raised beds, believe it or not, wood is still one of the best options around!
Raised beds can be created or purchased from nearly any material you can imagine. From plastic, brick and metal, to cement block, stone, wood and more. In fact, the choices seem to go and on forever!
But when it comes down to which material is truly best, it really is hard to beat the benefits of wood. Not only is wood still an extremely affordable option, it also has a long list of additional benefits as well.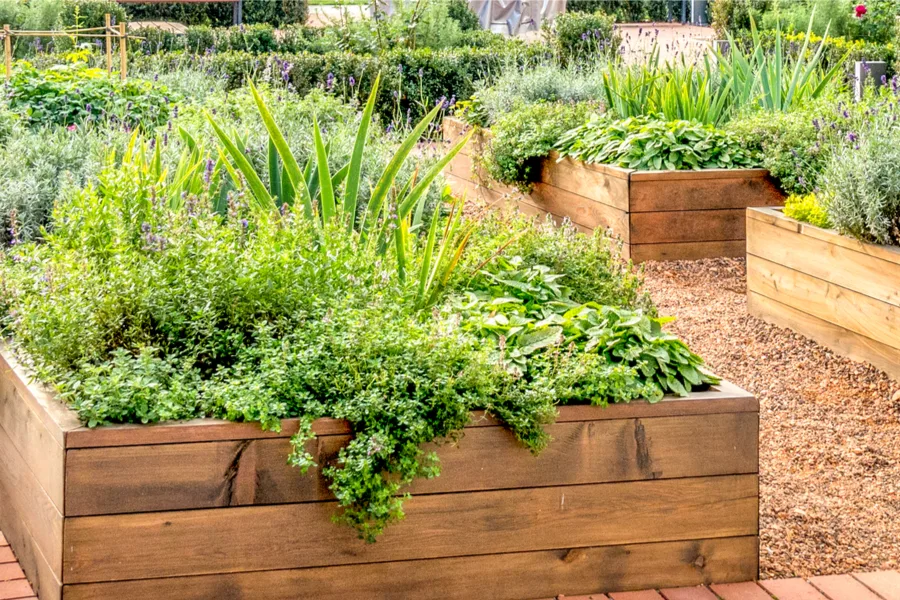 Why Building From Wood Is A Great Idea
For starters, wood is easy one of the easiest materials of all for a DIY'er to work with. It's readily available, and can be cut, shaped and assembled with the most basic of tools.
Wood (untreated) also has the benefit of being an extremely safe option. Both during the building process, and for growing plants within its walls.
The same unfortunately can't always be said for raised beds made from plastic and other man-made materials. Many can contain chemicals, paint and other toxins that can leach into the soil, and your plants. Other materials can also retain and attract excessive heat, harming plants in the process.
Wood also has the advantage of being a permeable substance. That means it can breathe and allow air and water to pass through it. This can be extremely beneficial in helping to keep moisture levels in the soil more consistent for plants.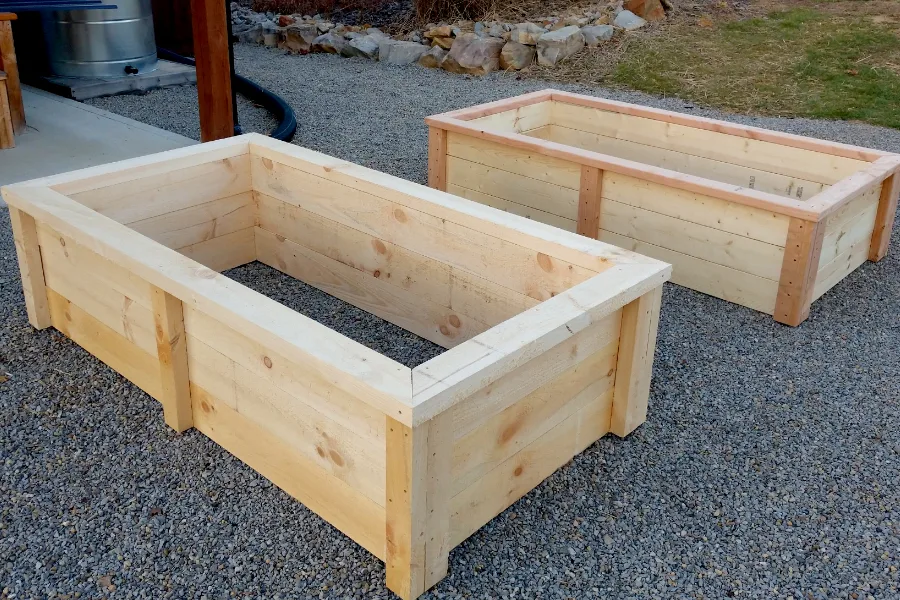 Finally, although lumber prices have certainly been a bit volatile over the last few years, you can still build raised beds from wood at a fairly reasonable cost. And can wood raised beds ever be beautiful!
How To Build Raised Beds From Wood – The Secrets To Success
The good news is that with minimal building skills and tools, you can create great looking raised beds from wood in a single afternoon.
Whether using simple step by step plans such as our popular Raised Bed Box Plans or DIY Bucket Planter Plans – or building your own raised beds from scratch, there are a few key secrets to creating sturdy, long-lasting beds from wood.
With that in mind, here are a few key tips to help create wood beds that are attractive, long lasting, and most importantly, help you grow all of the vegetables and flowers you want with ease!
Listen in below to our podcast on how to keep your raised bed soil strong and healthy!
Selecting The Right Wood – How To Build Raised Beds From Wood
If you will be growing consumable vegetables or herbs, be sure to stay clear of treated lumber. Treated lumber contains a long list of chemicals and toxins. All of which can easily leach into the soil, and into your plants and vegetables too.
So what is the best choice of wood? Although cedar and teak are both wonderful for their insect and anti-rotting properties, they can both be quite expensive.
Believe it or not, pine is actually one of the best and most economical choices of all. Traditional, untreated 2x construction-grade pine lumber is still fairly economical. And surprisingly, it holds up for years and years of use when the right type is selected.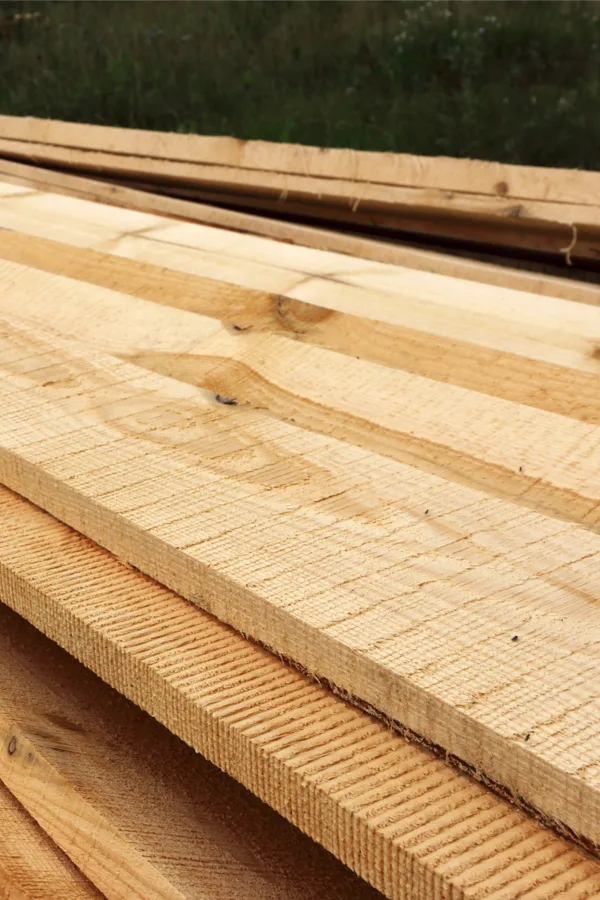 One of the most important keys to long term success with any wood is its thickness. For long-lasting raised beds, thicker is always better! Stay clear of any wood boards with a thickness of 1″ or less. They simply won't hold up over time, no matter the species of wood.
Green Lumber – A Great Alternative
One more final note on selecting lumber. If you live near a local sawmill, another great option is using rough-sawn, green lumber. Green lumber is lumber that has not been kiln or air-dried.
It is, as the name implies, freshly cut. The rougher saw cuts that are left on the board actually help it to hold up longer over time against rot. Even better, rough-sawn, green lumber can usually be purchased at a significant discount from traditional store-bought lumber.
Height Of Beds – How To Build Raised Beds From Wood
Another major key to success when building raised beds is to make sure your beds can hold enough soil for proper plant growth.
Most vegetable plants need a minimum of 10 to 12 inches of soil depth to develop good roots. For us, we really like at least 16 to 18 inches of depth for best results. (See : 18″ DIY Raised Bed Garden Box)
At that depth, roots of even large tomato and pepper plants can mature fully. A thicker soil depth also means your soil will have more stable temperatures and moisture levels. Both of which are a huge part of your plants having growing success!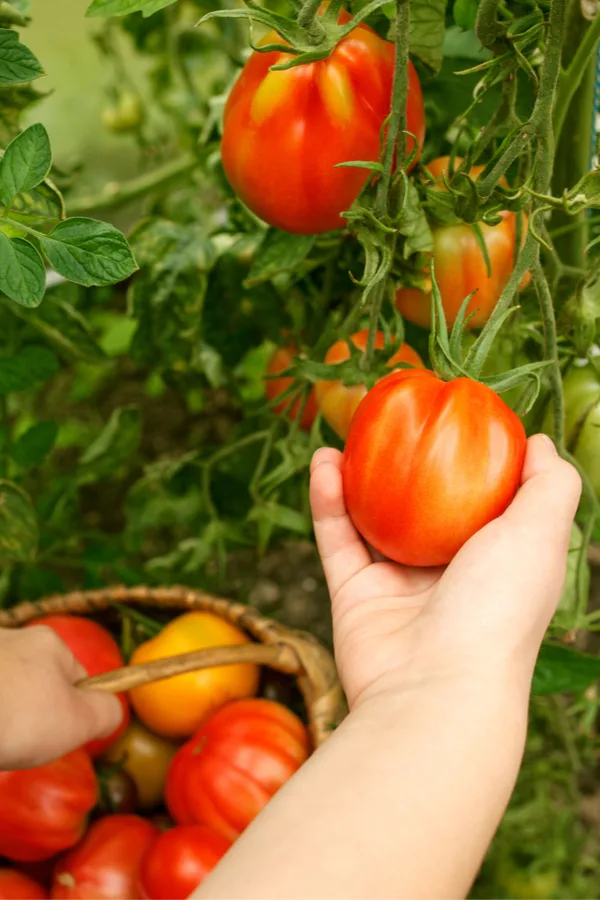 Building Your Beds Strong
When assembling your raised beds from wood, always use screws in place of nails. Nails are easily pushed out from the pressure of the soil. It will result in beds that bow, bend and crack.
Pay special attention to securing corners with longer screws. The corners will always have the most pressure of all, and a few extra screws there will keep your boxes holding their shape for years. If needed, you can purchase metal corner supports for even more support.
Drainage – How To Build Raised Beds From Wood
When building raised beds, remember that good drainage is a must for success! If beds are built on top of an impermeable surface such as concrete or rock, be sure to create a few drainage holes on the bottom sides.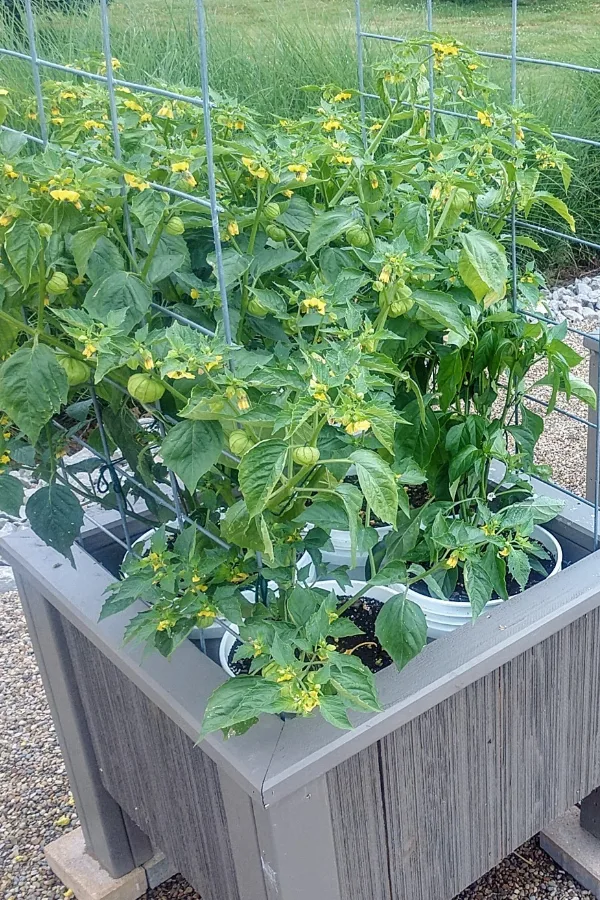 This will allow your beds to shed excess water during heavy rains. Without proper drainage, plants can easily become waterlogged.
If building on top of existing soil, it is always a good idea to put a few inches of rocks at the bottom to help drain away excess water.
Filling Your Beds With Soil
No matter how well built and durable your beds are, the real secret to growing success is filling it with amazing soil.
Raised beds should be filled with a light, nutrient filled growing soil mix that can drain well and allow for easy root growth. For more on that, be sure to check out : How To Create Great Potting Soil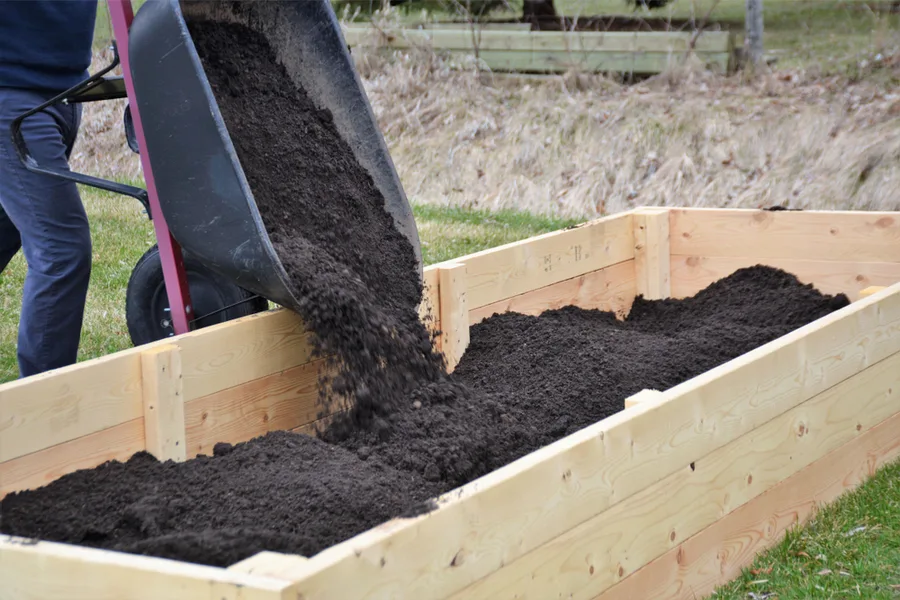 Remember as well, as the seasons progress, you will need to keep re-energizing your soil. Adding compost, composted manure, or growing a fall cover crop are all great ways to add nutrients every year.
Final Thoughts – How To Create Raised Beds From Wood
When it comes to painting, staining or protecting the wood in your raised beds, there are a couple of key things to consider.
Painting or staining the outside of the raised beds are fine, as the soil will not come in contact with it. As for the inside of the wood, avoid paints and stains should as they can leach into the soil.
You can use linseed oil as an all-natural option for treating the wood. It can be applied both inside and out without worry. Here is to building your own beautiful raised beds from wood this year!
This Is My Garden is a garden website created by gardeners, for gardeners. We publish two articles every week, 52 weeks a year. Sign up today to follow via email, or follow along on Facebook here : This Is My Garden. This article may contain affiliate links.