Looking for the best hanging basket varieties to grow this year? Plants that will keep their blooms going strong and bright all season long?
It is hard to beat the color, energy and interest hanging baskets can bring to a home. Especially when they are thriving and flowering at their best!
Hanging baskets are one of the most popular residential garden expenditures of all. Whether you live in a small city apartment with a balcony, or have a home in the country, a hanging basket always adds a little pizazz to your outdoor area.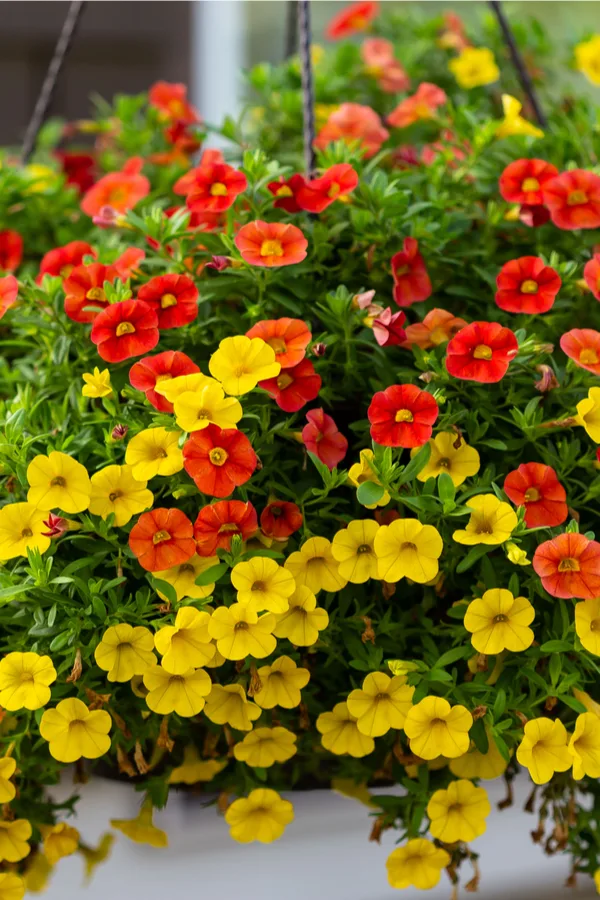 One thing is for sure, hanging baskets are expensive to purchase. And getting more expensive with each passing year! There is nothing worse than spending a small fortune, only to watch your baskets fade away by mid-summer. And that is exactly why selecting a variety that can last the entire season is so important.
The Secrets To Long Lasting Hanging Baskets
Getting your flowering baskets to stay in full bloom all summer certainly has a lot to do with the care they receive. After all, failing to water or fertilize even the best of plants consistently will ultimately result in failure. (See : The 3 Reasons Hanging Baskets Often Struggle – And How To Fix Them!)
But in addition to providing the right care, selecting the right varieties to grow plays a major factor as well.
With that in mind, below are 5 of the best of the best for hanging basket plants that can stand up to the rigors of a full season of growing – all while staying in full bloom.
The Best Hanging Basket Varieties – 5 Great Varieties To Grow!
Calibrachoa (Million Bells)
Topping our list of best varieties for flowering baskets is Calibrachoa (pictured at the top of the article). Also commonly known as the Million Bells plant, this annual produces an incredible abundance of petunia-shaped blooms that fill its canopy of foliage with color.

Calibrachoa's vibrant green foliage grows in a trailing pattern, making it a great choice for hanging baskets. It can be found in a wide assortment of bloom colors, from blue, purple and red, to orange, white, pink and yellow.
What makes this plant such a great choice is how little care it requires to stay in continuous bloom. It handles heat and dry conditions well, and requires no deadheading to force new blooms.
In fact, with consistent watering and monthly or bi-monthly fertilizing, it will bloom from spring until late fall.
For more on this incredible plant, check out our article How To Grow Calibrachoa, The Perfect Hanging Basket Plant.
Verbena – Best Hanging Basket Varieties To Grow
Verbena is one of the most underrated of all hanging basket plants when it comes to all-season flower power. Not only can this tough plant stand up to hot summer heat, it is even fairly deer resistant too.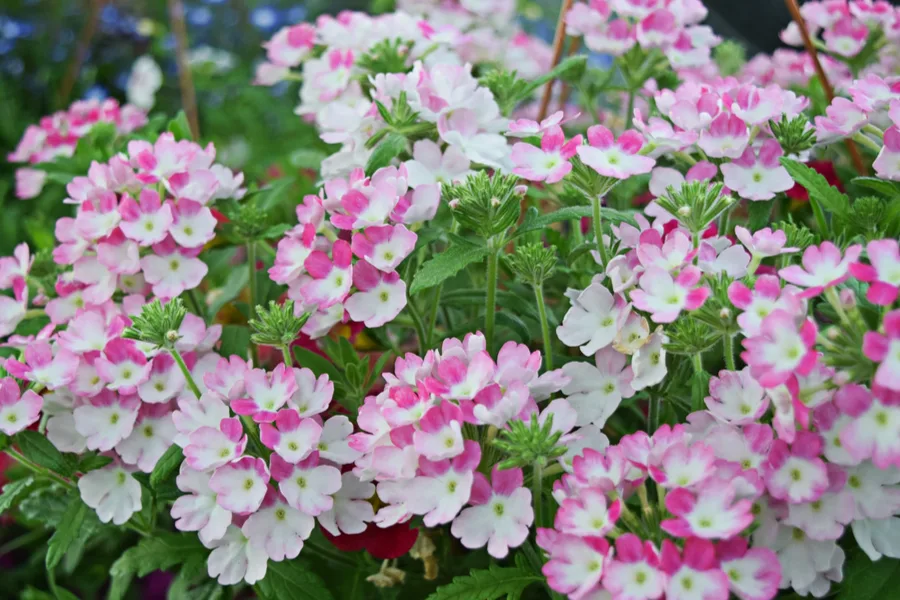 The wispy, colorful blooms of Verbena are extremely durable. Available in solid or variegated colors of blue, pink, purple, red, white or peach, verbena's light foliage contrasts well with its showy flowers.
Much like Calibrachoa, Verbena is more of a trailing plant, and its foliage will fall and cascade over the top of its basket. This is one plant that benefits from regular deadheading to keep more blooms coming on strong.
Ornamental Peppers – Best Hanging Basket Varieties To Grow
Yes! Believe it or not, ornamental peppers make for great hanging basket plants! With their tiny colorful "blooms" of peppers, ornamental peppers can fill out hanging baskets in full color. And stay that way all season long!
Varieties such Chili-Chili, Sangria, and Dwarf Chili fill plants with hundreds of colorful peppers. With their compact growth and massive bloom sets, they are quite the conversation piece!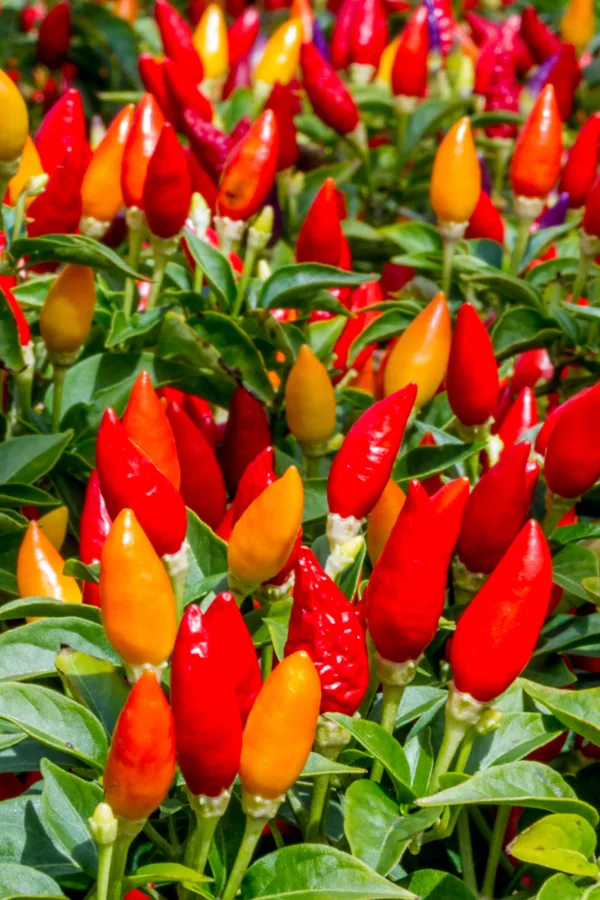 But it gets even better when it comes to growing ornamental peppers in hanging baskets. Ornamental hot peppers naturally stand up to intense sunlight and heat. It makes them ideal for full-sun locations.
Even better, they can handle a day or two without water, unlike many tender annual bloomers. Ornamental peppers are also extremely easy to grow from seed.
Best of all, late in the fall, when many annuals begin to finally fade, the peppers turn to fiery shades of red and orange for big late season color. Seed Link : Dwarf Chili Seeds
Begonias – Best Hanging Basket Varieties To Grow
The stoic begonia is a true workhorse when it comes to hanging basket varieties. Talk about an annual that can handle tough conditions!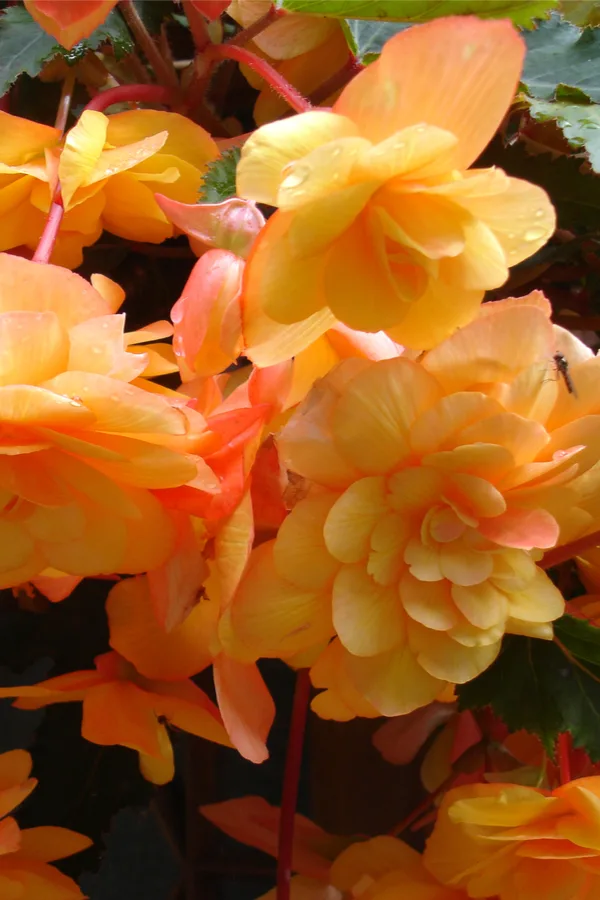 The waxy, sturdy foliage of begonias stands up well to both full sun and high heat. Its foliage is especially showy when contrasting it to its deep and colorful blooms.
Much like ornamental peppers, begonias can handle a little neglect now and then and keep on blooming. With blooms that can burst forth in shades of red, pink, orange, white and yellow, there is a color to fit any space.
Just like the other plant varieties featured today, begonias will continue blooming right up until the first hard frost. See: How To Keep Begonias Blooming Strong All Summer Long.
Impatiens – Best Hanging Basket Varieties To Grow
If you want to bring all-season interest to the shadier sides of your landscape and home, Impatiens are the answer!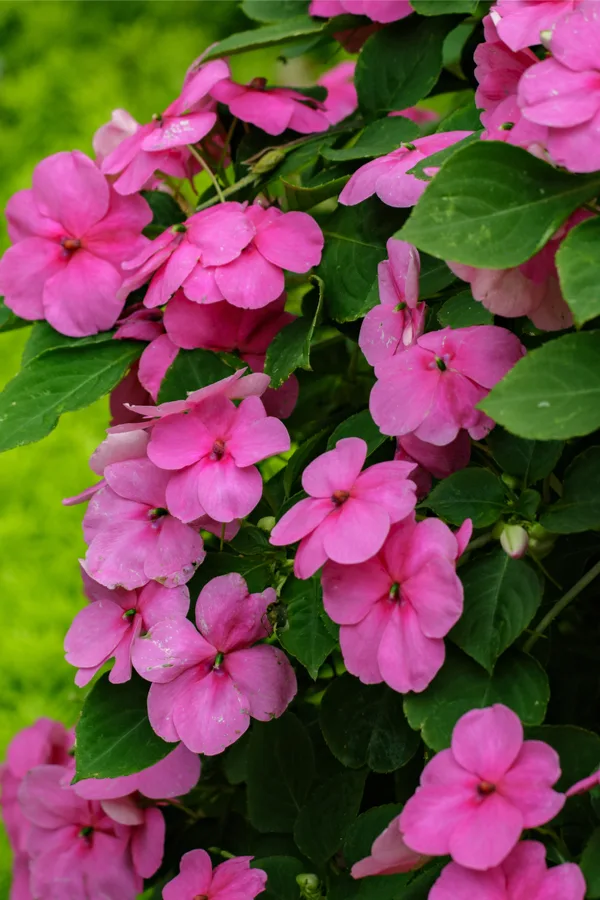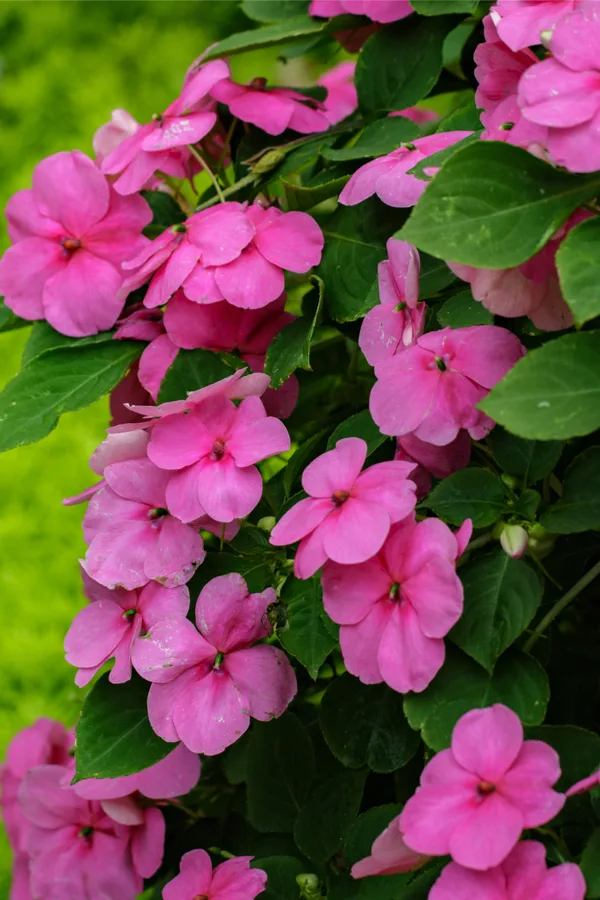 Impatiens thrive in the shade. They make an excellent choice for patios and porches. Especially ones that might only receive a few hours of direct sunlight each day. With bloom sets that engulf their deep green leaf set, they can simply be stunning to behold.
Impatiens are available in a wide array of colors, from white, red, pink and violet, to coral, purple and more. As a self-shedding annual, regular deadheading is not required to keep plants blooming. That is especially helpful to gardeners who don't have the time for constant maintenance.
They do require frequent watering, especially if temperatures soar. Although traditional varieties of impatiens prefer shade, try New Guinea impatiens for hanging baskets in partial or full sun locations.
Here is to selecting the best variety of hanging basket for your home, and to flowering success from spring til fall.
This Is My Garden is a garden website created by gardeners, for gardeners. We publish two articles every week, 52 weeks a year. Sign up today to follow via email, or follow along on Facebook here : This Is My Garden. This article may contain affiliate links.